Case study challenge invites students, alumni, and hospitality experts to weigh in
Professor Chekitan Dev's co-authored case examines options for expansion of a luxury resort. How did the industry respond?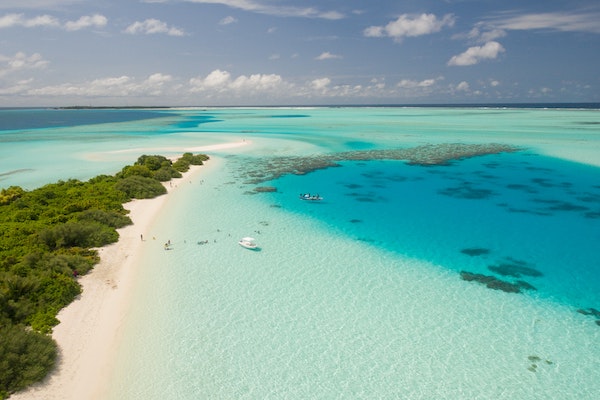 Imagine you're the CEO of Beach Enclave, a company that operates a luxury resort on Turks and Caicos Islands. You've just purchased three acres of beachfront property to expand your resort. With three possible choices of how to proceed, how do you ensure your decision makes sense financially and aligns with your existing branding strategy?
This is the scenario co-authors Chekitan Dev, professor of marketing at the School of Hotel Administration (SHA), and Laure Stroock, research associate, propose in their new case study challenge: "Beach Enclave Turks & Caicos: Creating a Luxury Villa Resort Brand."
The business case, posted to the Scholarly Commons in early June 2020, was shared with Center for Hospitality Research subscribers, students, alumni, and other hospitality industry professionals with an invitation to submit their response to the challenge. Since its release, the case study challenge has been downloaded more than 500 times, viewed nearly 3,000 times on social media, and has garnered responses from all over the United States and other countries, including Canada, Mexico, Belize, the United Kingdom, Dubai, India, and Nepal. Respondents work at all levels of small and large companies and many are Cornell graduates. Notably, we received ten individual responses from students at Christ University in India.
Readers consider three resort expansion options
Readers were given three options and asked to send in their responses, which would ultimately be compared with the solution of the real-life case protagonists, Vasco Borges and Annie Lee Borges '10, Beach Enclave's CEO and revenue manager, respectively.
Option A: Villa Collection
Beach Enclave Long Bay (BELB) would add three, five- to seven-bedroom luxury villas for sale and rental while maintaining the present model of luxury private villas with a dedicated butler and amenities provided mostly in-villa.
Option B: Villa Resort
BELB would add six, two to three bedroom beach cottages for sale and mandatory rental. A concierge would be shared across three or four beach cottages. The resort would include a Club Lounge with a full bar/restaurant, event space, and children's program, as well as upgraded sports facilities and new tennis courts.
Option C: Villas and Suites Resort
BELB would add four, two to three bedroom beach cottages for sale and mandatory rental, plus a 24-suite hotel. Beach Enclave would retain ownership of half of the suites; the other half would be converted into six condominiums for sale (two- to three-bedroom condo units). BELB would become a full-amenity resort with a rooftop wellness spa, multiple restaurants and bars, common pools and decks, and a sports area.
Hospitality industry leaders weigh in
Select reader responses for each option, along with Vasco and Annie's solution, are presented below. (Responses were minimally edited for formatting.)
Bob Alter '73
Chairman Emeritus, Sunstone Hotel Investors, California
Option A: Villa Collection
"I consider it the least risky solution. Most brands in the hospitality space have had the most success when they have stayed true to the brand. Any variance dilutes the brand's value. As the world of wealthy people has grown, it has evolved into the uber wealthy, so finding three clients to snap up the five- to seven-bedroom villas should be successful. The brand would stay pure and the opportunity to expand to other islands would be greater. The opportunity to profit from the sales would be great. The excel model might show differently but reality (MIF: money in first) will prove correct."

Read more about Bob Alter '73, who serves on several SHA advisory boards.
---
Abhay Bakaya, MMH '09
VP of Development, SH Hotels & Resorts, New York
Option B: Villa Resort
"I recommend Option B, but suggest building the cottages in sets of two or four (as duplex or adjoining structures) to generate additional scale and to give Annie more bandwidth to price her product. A small hotel development leads to added construction risk and layers of operating expense and also causes brand dilution. In the mid/long term, BE can create a platform to centralize their amenity experiences across the three properties. This could ultimately lead to a membership structure with stable revenues, where individuals buy into the option to stay at any of BE's properties across the Caribbean."
---
Carmen Lam
Principal, Crikx & Co, Hong Kong
Option B: Villa Resort
"Highest IRR [internal rate of return]. Positive EBITDA [earnings before interest, taxes, depreciation, and amortization] by year three. Debt free by year four. Offer still in line with current brand positioning while catering to needs of current customers with families looking for smaller villas with more activity options. Demand—unexplained, but RPV [revenue per visitor] trend after opening of Long Bay could be an indication that customers are looking for more ex-villa amenities and activities than what Long Bay could offer, so Option A will not be able to cater to that. In addition, to capture lifetime value of customers, smaller units are needed, which means Option B has higher potential for BE to leverage demand from existing customers. Risk— Option C requires and carries higher debt load, more selling and operating risks. Adding F&B will require additional competence beyond the current team and will reposition the brand into the 'resort with villa' category. That means a different competitive set and it may not appeal to the current customer base."
---
Jacqueline Nunley,
Head of Hospitality, Salesforce, Texas
Option C: Villa and Suites Resort
"Diversifying the portfolio is key. It may be a larger investment up front but pays off in the long run where you have EBITDA at $2.5 million. The hotel rooms will allow them to create a base business and it's more accessible for couples and smaller traveling parties. The product at five- to seven-bed villas presents a problem for return business/occupancy. Large parties typically will do something different every year. When other options are available (separate property) the villas could access/utilize the amenities of the 'hotel' as an attraction. The brand could focus on attracting destination audiences that typically travel in smaller groups/couples."
---
Martin Pinsker '08
Commercial Real Estate Investments, Canada
Option C: Villa and Suites Resort
"A mix of resort suites and 2-3 bedroom beach cottages would provide the most operational flexibility for sales with a skilled revenue manager, and could capture new group business and weddings with more predictable F&B. Unlike Option B, the combination of an all-suite resort and smaller homes would also provide flexibility to individual guests seeking privacy; they could still play host at their beach cottages for meals but retire separately. Finally, Option C may capture guests lost to Beach Enclave's competitive set properties with hotel / resort / clubhouse amenities. Thoughtful site planning and landscaping can ensure privacy for the existing villa owners and guests. On the residential sell-out side, retaining ownership of the 24-suite hotel past stabilization may be less risky than selling individual homes, given the market's volatility and new supply. The hotel also generates solid proforma returns."
---
Sabita Chettri
Finance Controller, KLA, California
Option C: Villa and Suites Resort
"The resort is already at the top position (re: Trip Advisor) on the island. Since their occupancy is seasonal, if they provide half of the resorts for sale then it can stabilize seasonality and increase revenue by adding amenities and offering personalized experiences to create value. Having a wellness spa, multiple restaurants, and bars and sports area will provide services and activities for the current consumer needs. The revenue is expected to be higher and the expenses can be minimized. IRR is lesser, which can be improved, but the NPV [net present value] shows the strength that investors can rely on to invest."
---
More than one right answer
Dev writes, "For a case researcher and writer, it is always gratifying and fun when those that analyze the case pick all three solutions, clearly telling us there is no one 'right' solution. As we read the proposed solutions, it became clear to us that the case analysts have correctly identified the three 'tensions' between the options, which can be summarized into branding, operational, and financial considerations.
Tension 1: Branding
Maintaining the current brand position to focus the firm's efforts and put all eggs in one basket, or
Broaden the 'footprint' for the brand, taking it into additional 'sweet spots' to diversify risk, but risk losing the brand's raison d'être;
Tension 2: Operational
Cashing-in on already accumulated 'experiential capital' by doing more of what has worked well for the firm in the past and selling to more of the same kind of owners and guests, or
Venture beyond the 'tried and true' to newer pastures to expand the scope and scale of the firm to attract a broader profile of third-party developers, buyers and guests; and
Tension 3: Financial
Options that offer very different financial returns, and
The most 'diversified' option offering the highest return."
What option did Beach Enclave choose?
Vasco Borges, CEO, Beach Enclave
Annie Lee Borges '10, Revenue Manager, Beach Enclave
Option C: Villa and Suites Resort
"We chose Villas & Suites for two main reasons: stand-alone and portfolio. As a stand-alone option, it provides the best financial returns, together with a wider diversification of real estate and hospitality profitability drivers; allows for full range of amenities while keeping a boutique, low-density feel; and the disadvantage of only having larger villas is solved by bringing the main Beach Enclave design ethos and signatures into a vertical development. Condos will be oversized, all master bedrooms and common living areas will face the ocean, each with ample outdoor space. Competitively, Beach Enclave Grace Bay is pure villas, Beach Enclave North Shore is being expanded with a collection of one- to three-bedroom cottages plus a club lounge, and so Beach Enclave Long Bay will be differentiated by becoming a full-service resort. As a portfolio, the Villas & Suites option creates a new 'proof of concept' for the company. The three-property model (villas, cottages, suites) creates multiple opportunities for Beach Enclave to expand as different property models might be better suited for different locations."
Professor Dev and Ms. Stroock deeply appreciate the efforts of all those who took the time to send in their thoughtful responses. Their solutions made it clear that hospitality branding decisions can be complicated, and a careful consideration of multiple factors is needed to rank the available options and pick the "right"' solution. Please contact the Center for Hospitality Research if you would like to engage with us on more case studies.