Park Fellows alumni spotlight: Austin Rothbard, MBA '00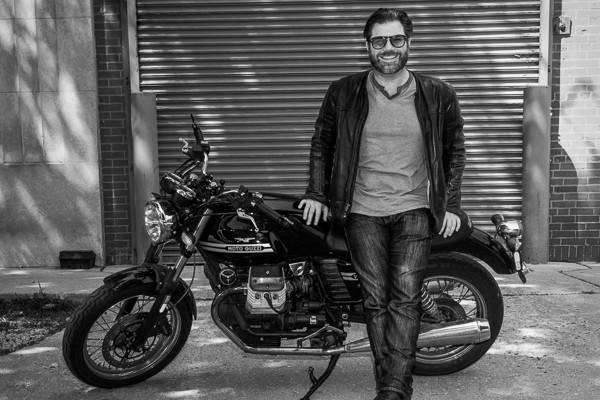 We caught up with Roy H. Park Leadership Fellow alumnus Austin Rothbard, MBA '00, to learn more about his journey and impact since graduating from Johnson. Rothbard has had a varied and exciting career path, which includes founding his own business, Twisted Road, a peer-to-peer motorcycle rental company.
Q: The Roy H. Park Leadership Fellows program focuses on increasing our capability as leaders to make a personal impact. Tell us about your journey after Johnson and how you are driving impact as an entrepreneur.
The last 20 years have been interesting—and non-linear. I started as a Bain consultant, and then moved on to various strategic and operating roles in corporate America. In fact, I've been lucky to be able to run four different companies (including Brunswick Billiards and World Kitchen, Pyrex's parent company). But then in 2017, I departed from this track to start my own business, Twisted Road, a peer-to-peer motorcycle rental company.
As a recent motorcycle rider, I often found myself muttering the same six words whenever I'd travel. "I wish I had my bike." You see, riders want to see the world on two wheels, just as photographers want to see the world through their camera. But it's easier to travel with a camera than a bike.
Once I realized that there was another major industry issue—that there are many bikes sitting idle in garages—I decided to solve both problems. Twisted Road connects riders with bikes so they can ride the world. Through our network of privately-owned motorcycles, riders are filling their dreams while owners are making extra income.
Nothing really prepared me for this journey. Sure, I had run companies with between $20 million and $500 million revenue, but never anything with zero! And the path was challenging. In the early days, I was working in my kids' playroom on a folding table with a borrowed computer. The company has grown nicely since then, and we have a small team, 2,000 motos on the site, and a passionate community.
Every time someone rents a bike through our site, two people are happy: the rider and the owner. We receive hundreds of pictures a month from our community, highlighting the adventures they've had and new friends they've made.
We are all mired in the daily pressures, stresses, and tasks of our jobs, and I am guilty of not taking enough time to celebrate the wins. But when I take that time to reflect and meditate, I quickly recognize how far we have come. Although I've been a leader in corporate America, this sort of leadership is more nebulous. When we are leading the moto-community through a better experience, we are creating intangible memories that can't be replicated.
I remember when I was at Johnson and Clint Sidle, [former director of the Park Fellows program], was guiding our cohort through meditation. Throughout this entire exercise, he employed visioning tools to help us get to where we wanted to be in life, not just in business. The Park program was really the catalyst for getting this started.
On the Twisted Road website, the company is defined as committed to "making your own path." Can you describe "the ride" so far as founder of this company, and where the road may be headed?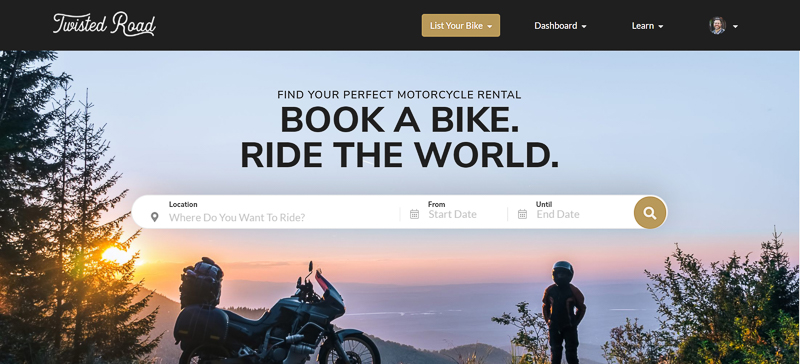 Life isn't linear. Every one of us is on their own journey of growth and development, of learning and evolution. Although we plan with diligence, life takes unpredictable twists and turns. Starting this company has been exciting and fun but also extremely stressful. We are building a community, not a rental company. There's a big difference.
There are many ways that we build these connections. Although we have local Twisted Road events and rides, the one thing we do that truly fosters community is that we connect with every rider and owner during every ride. This is always done through text, and during these interactions we encourage open communication between owner and rider. When we do this, we are helping create friendships and take the experience to the next level.
A short time ago, I received a rewarding email. One of our users who lives in Portland was riding a rented motorcycle through Peru—not one of ours, as we are still only in the United States. While riding he met a group of six other riders and they quickly began talking. It turned out that these riders were from Trinidad and also riding through Peru. One of the Trinidadians recognized our logo on his shirt and said "is that a Twisted Road shirt? We love those guys!" When our brand was recognized by international riders, we knew we were onto something.
As for the future? We will continue to build this community, two wheels at a time.
Members of the Park Fellows community share a commitment to evolving personal leadership and making an impact. What advice would you share with other entrepreneurs or rising leaders?
I'd like to share a quick story. At the end of my tenure as president of Brunswick Billiards, the team threw me a going-away lunch. The VP of sales addressed the company and said: "The first time I met Austin, he and I were checking in at the airport before traveling to visit customers. He suggested that I check my bag under his account, as we could avoid paying the $25 airline fee. It was at this time I realized that Austin was very cost-focused".
Why do I tell this story? We go through life with purpose and focus, but rarely see the impact we are having on people around us. A minor gesture to save $25 had a major impact on how this employee spent money. We always look at impact as the tangible results on a company, a program, or our families. However, our impact is always greater than we can ever comprehend.