Johnson offers new courses in fintech, digital business, and leadership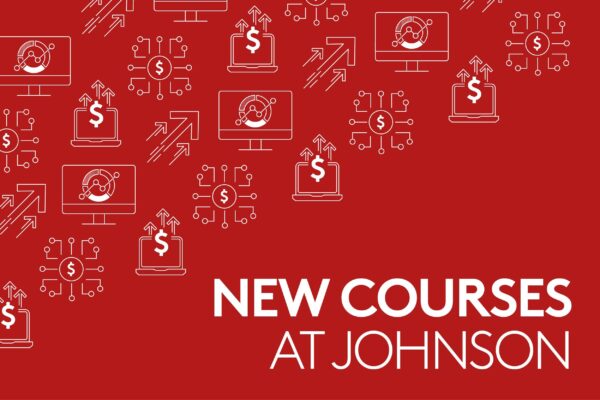 Johnson recognizes that business school curriculum must continually evolve and change to prepare new leaders to meet the challenges of today's rapidly changing world. To equip future business leaders with strategic, targeted analytical skills, Johnson's faculty created new courses in fintech and big data, digital wealth management, and digital business operations. And in a new, capstone course, students will learn first-hand from the world's top business leaders about how to navigate great challenges in leadership. Read more about each new course below.
Finance
 Demystifying Big Data and FinTech (NBA 5600)
Led by Will Cong, associate professor of finance and Rudd Family Professor of Management. Fall 2020 / 1.5 credits
The goal of the course is to give a systematic and rigorous introduction to the emerging areas of financial technology, digital economy, and applications of big data, machine learning, and AI in business settings. This elective is comprised of seven intensive sessions of lectures, discussions, guest talks by practitioners, and readings.
"Many important topics concerning fintech and data science seem disconnected, yet they are attracting much attention and capital," said Cong. "I thought it would be helpful to introduce organizing frameworks based on rigorous academic studies to help students understand the basics of distributed ledgers, digital currencies, online platforms, AI and big data analytics."
When asked what distinguishes this course from other Cornell fintech courses, Cong responded: "Most other fintech courses are offered by statistics, computer science, or engineering departments. Our focus is not on the technical details, but rather on the economic principles and business models of fintech and economic big data."
Digital Wealth Management (NBAY 6770)
Led by Peter Balnaves, lecturer of management and former partner, managing director, and recruiting partner for global technology at the Boston Consulting Group. Spring 2021 / 1 credit / prerequisite: NBAY 5500 or TECH 5310.
Digital Wealth Management takes a deep dive into the logistics and fundamentals of robo-advisors—online digital platforms that provide investment advice and portfolio management services based on data science, statistical models, mathematical rules, and financial algorithms. Robo-advising services rely on software that automatically allocates, manages, and optimizes clients' financial assets. Students will learn about the optimization methodology as well as the operating, technology, and business models that robo-advising is built on.
"The convergence of mathematical finance with advances in technology and the emergence of fintech business models is creating significant disruption in the financial services market and producing innovative new business models," Belnaves said about why he was inspired to create this course. "Robo-advice is considered a breakthrough in wealth management that brings investment advice and portfolio management services to a wider, underserved audience at lower costs, compared to traditional human advisors. These advances have attracted hundreds of millions of dollars in venture capital funding, producing powerhouse startups like 'Betterment' and 'Wealthfront.'"
Operations and Technology Management
Digital Business Operations (NBA 6850)
Led by Vishal Gaur, Emerson Professor of Manufacturing Management, and professor of operations, technology and information management. Spring 2021 / 1.5 credits
The ability to collect a variety of data through a diverse array of technologies has disrupted industries, led to the emergence of new business models, and transformed many aspects of services and supply chains. Digital Business Operations addresses this new paradigm from the perspective of operations management. The course is designed for students who wish to start a new, data-driven business, work in the tech industry or in tech consulting, and apply concepts in machine learning and real-time decision models to business processes.
"Business operations have shifted dramatically in the last decade from managing things to managing data," said Gaur. "Thus, I increasingly view companies from an operational lens not as physical factories, but as data factories. The inspiration for this course is to teach operations management principles in this new context and for the new needs faced by our graduates."
The course uses case studies and covers topics such as online marketplaces, shared economy firms, digitalization of manufacturing and services, and the future of work, Gaur said. "We also discuss concepts for the organization of data infrastructure and processes in an organization's data factory.
"My main goal for MBA students is to make them adept at the management skills required for transforming business using data," said Gaur. "They need not learn engineering skills like computer programming or algorithm design, but should be able to drive the best decisions regarding new technologies and data."
Leadership
Profiles in Leadership (NBA 5390)
Led by Drew Pascarella, associate dean for MBA programs, the Rempe Wilson Distinguished Lecturer, and senior lecturer of finance, and Rob Symington, visiting senior lecturer and senior advisor at Avenue Capital Group. Spring / 1.5 credits / non-Johnson master's students are welcome to enroll
Profiles in Leadership, Johnson's premier platform for C-level executive speakers, enables students to engage regularly with industry luminaries such as Irene Rosenfeld, former chair and CEO of Mondelēz International, and hedge fund manager David Einhorn, founder and president of Greenlight Capital, among others. Each session will include a presentation by the featured speaker followed by a robust discussion about the lecturer's experience, topics he or she raised, and current events. Students will be required to research each lecturer and submit a topical question via Canvas prior to the lecture.
"We are looking for great lessons," Pascarella said. "We want to hear about [each leader's] struggles, the time the model couldn't be relied upon, the unforeseen disaster, and how each leader used their skills to make critical leadership decisions.
"This is a capstone course," noted Pascarella. "As MBAs are wrapping up their experience at Johnson, we'd like for them to seal in the lessons learned throughout their time as a student by hearing directly from the best in the industry. As students learn about how luminaries approach challenges, break down and solve problems, and plan for the future, students can chart their own paths forward as they leave Johnson and attack challenges and problems of their own."