New faculty introduction: Nathan Yang
Yang is an assistant professor of marketing at Dyson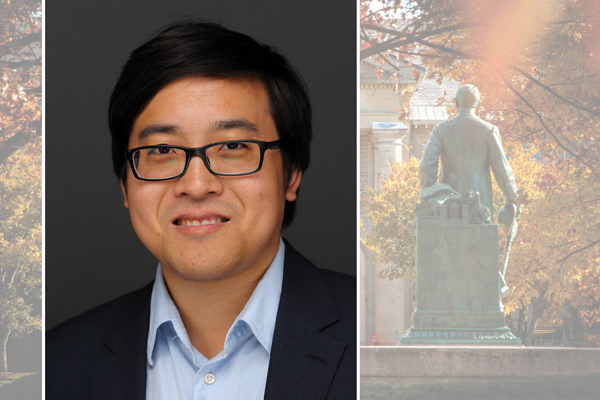 With the academic year upon us, meet the newest faculty from across the SC Johnson College of Business and learn about their academic focus, teaching and interests.
Nathan Yang | Assistant Professor | The Dyson School
Education/Experience: PhD Economics from University of Toronto. Previously assistant professor of marketing at McGIll Desautels
Class(es) teaching this year: Marketing for non-majors (AEM 2400) in undergraduate program at Dyson.
What is your research/teaching focus?
My main research streams include behavioral analytics, empirical industrial organization, (mobile) health and wellness, and retail strategy. As for teaching, I have in the past taught the undergraduate marketing core, digital marketing, and visual listening (i.e., computer science vision meets marketing analytics).
What attracted you to the SC Johnson College of Business, specifically Dyson?
I was attracted by the faculty's breadth and depth of research excellence.
Have you adapted your research or teaching focus in any way because of COVID-19?
Much of my past and ongoing work is in direct collaboration with large national weight loss services as well as popular mobile fitness apps. As COVID-19 is especially dangerous for those with preexisting conditions, like diabetes/obesity, developing a better understanding of the behavioral mechanisms and predictors of healthy lifestyles is more important than ever. With the rapid innovation in mobile health apps, I think that my work on behavioral analytics (i.e., behavioral science meets machine learning) can allow them to scale-up healthy nudges to a large population of users.
What are you most looking forward to during your first year at Dyson?
Learning about all of the interesting work my colleagues are working on, and exploring potential research collaborations with them.
When did you know you wanted to be a professor?
Last year of my undergraduate program. I have to admit, being a professor wasn't on the top of my "dream job" list when I was young.
What first sparked your interest in your research/area of study?
Knowing that my research can have a real impact on how firms operate.
How did you know you wanted to teach?
Most people wouldn't be able to tell by looking at me, but my first job was at a local YMCA near my home, working on the gym floor. I enjoyed helping clients reach their fitness goals in a healthy manner, and through that experience, I thought that being a mentor would be a rewarding occupation.
What do you like best about teaching?
Keeping in touch with students, and learning about how the insights I taught them are affecting their new roles in industry/government.
What's the best book you've read this year?
"The Book of Why" by Judea Pearl and Dana Mackenzie, as well as  "Free: Why Science Hasn't Disproved Free Will" by Alfred R. Mele.
What do you do to recharge?
Pre-COVID: Traveling to visit family and friends during the summer; Post-COVID: Going for a scenic hike with my wife and daughter.