New faculty introduction: Omid Rafieiankoopaei
Rafieiankoopaei is an assistant professor of marketing at Johnson.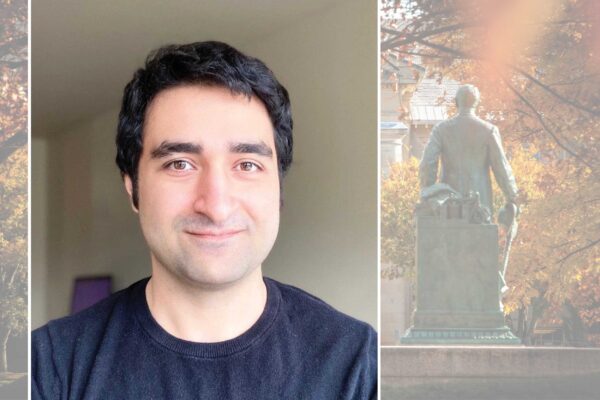 With the academic year upon us, meet the newest faculty from across the SC Johnson College of Business and learn about their academic focus, teaching and interests.
Omid Rafieiankoopaei | Assistant Professor | Johnson
What are your research and teaching areas of focus?
Both my research and teaching focus on data analytics and digital marketing. In my research, I would often like to combine these two areas and answer questions such as "how can we use new methods from machine learning and data analytics to create value in digital marketplaces?", and "what are the marketing and economic implications of adopting such data analytics tools?" In line with my research experience, I will be teaching classes on data analytics and digital marketing. 
What class(es) will you be teaching this year?
I will be teaching Summer Data Analytics Core in summer 2021. 
What attracted you to the Cornell SC Johnson College of Business and to the Samuel Curtis Johnson Graduate School of Management, specifically?
Breadth and diversity in faculty's areas of expertise as well as their openness to new ideas. I am doing multidisciplinary research and I feel that Johnson is a great place for this kind of research. Given the breadth of knowledge that exists in the school, I also think it's a productive environment for anyone who is interested in learning something new.  
Have you adapted your research or teaching focus in any way because of COVID-19?
My research did not change so much, apart from getting used to Zoom meetings instead of in-person meetings. My teaching has not been directly impacted because I am not teaching in Fall. But I'm closely watching my colleagues and the innovative ideas they use and it has made me think more deeply about teaching. There are so many new opportunities that we have started considering as a result of the pandemic and I believe that these innovations improve students' quality of learning.   
What first sparked your interest in personalization?
I have always been fascinated by the fact that people can be too similar and too different at the same time, in terms of their taste. Studying personalization allows me to quantify the extent to which people's tastes are different from each other. Also, I believe given the massive data collected by the companies on each user, it is increasingly important to understand how personalization algorithms work and what implications they have for privacy, fairness, and competition. 
When did you know you wanted to be a professor?
When I was in high-school, one of the things I really enjoyed was teaching subject matters that I was good at to the students who were in the lower grades. One of the coolest things about this was that I realized how much I can learn when I teach. During college, I came across a series of applied papers that used mathematical modeling to answer important social science questions and it was the time that I felt like that I want to be in a profession where I can do that kind of work and teach it to the students also.
What are you most looking forward to during your first year at Johnson?
I'm looking forward to interacting more with my colleagues and learning from their experience. 
What do you do to recharge?
Watching movies (especially classic), shows, standup comedy, reading fiction, walking, and listening to music.