New faculty introduction: Tyrell Stewart-Harris
Stewart-Harris is a lecturer in management communication at SHA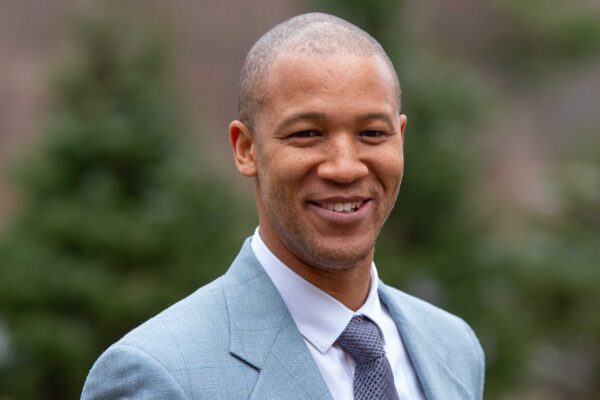 Tyrell Stewart-Harris | Lecturer | SHA
Education/Previous academic role: Ph.D. in Rhetoric and Composition from the University of Illinois at Chicago / Assistant Professor of Writing at Ithaca College
Class(es) you'll be teaching this year: Management Communication I (HADM 1650)
What is your research/teaching focus?
My teaching area is management communication, which focuses on helping students to understand how to make logical communication choices so that they can become effective leaders in their field. My research is about how housing integration was marketed to all-white communities during the 1960s and 70s; specifically, I looked at how some communities were able to effectively integrate because the local governments were able to understand what would motivate their citizens. I think that my teaching and research connect because they both are related to understanding the importance of audience when communicating.
What attracted you to the SC Johnson College of Business, specifically SHA?
What attracted me to SHA was the dedication of the faculty, staff, and students to being the best. SHA seems like the kind of school where everyone is trying to learn and improve as a part of a community, and I was excited for the opportunity to join such a space.
Have you adapted your research or teaching focus in any way because of COVID-19?
The pandemic has been an interesting time as a teacher because of the rapid change in technology and teaching methods. Traditionally classroom teaching doesn't work as well online, so I've been working on finding new ways to break up classroom sessions so that students are always working and doing something with minimal lecturing. It's hard to stare at a zoom screen for 75 minutes, so I want to make sure that each moment of class has something tangible to make up for the fact that we're not able to be in the same room anymore.
How did you know you wanted to teach?
I first knew that I wanted to teach when I was an undergraduate writing tutor. As a student I really enjoyed talking with other students about their writing and research, so I thought the best way to keep doing that would be to stay in school and eventually start teaching. My plan worked.
What do you like best about teaching?
The best aspect of teaching is that there is always something new to learn or do. Teaching is something that changes with the rest of the world, and I appreciate being in a field that asks me to change with the times. I also like working with different students each year and learning about their lives and future goals.
What do you do to recharge?
I exercise on a regular basis so that I don't ever find myself feeling too rundown. I really enjoy taking random fitness classes, but all of that is shut down right now, so I'm usually following along with an exercise video or taking my dog on long walks at one of the local trails. Between semesters, I like to plan a large meal, invite friends over, and then eat until I start to feel a little ill.