Chris Marquis champions the B Corps model of resilient and sustainable capitalism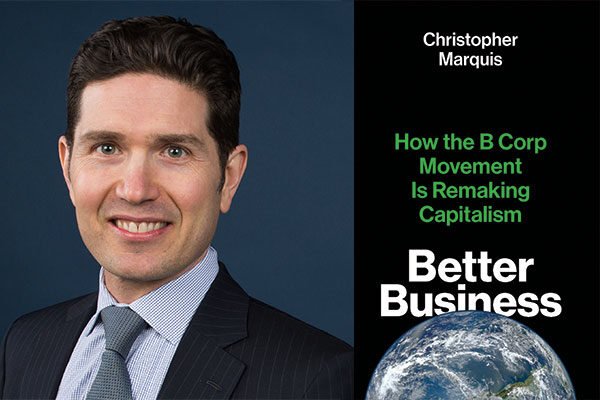 In his new book, Better Business: How the B Corp Movement Is Remaking Capitalism (Yale University Press; September 13, 2020), Christopher Marquis takes a comprehensive view of the value of B corporations and argues that a more resilient and sustainable capitalism should focus on environmental, social, and financial performance.
"Businesses can only truly thrive when they benefit everyone affected by their operations with a new bottom line focused equally on people, planet, and profits," says Marquis, who is the Samuel C. Johnson Professor in Sustainable Global Enterprise at Johnson.
A B Corporation is a company whose social and environmental performance has been certified by the nonprofit B Lab. To become a B Corp, a company must attain over 80 points on a demanding audit of its operations in terms of workers, customers, community, environment and governance. B Corps span 150 industries and 71 countries, with over half headquartered outside the USA.
At a time when a growing number of consumers are demanding a more conscious and equitable form of capitalism, the B Corp model is exploding and influencing businesses of all sizes across all sectors.
"All companies can and should be more like B Corps."
"My core argument is not that there should be more B Corps, but that all companies can and should be more like B Corps," notes Marquis. "By using the accountability and governance tools created by the B Corp movement, organizations can be more socially responsible and better managed. There are now about 3,500 B Corporations in the world and the momentum is picking up."
Marquis adds that the larger message is that B Corp standards can be highly useful as a playbook for good corporate management. The assessment is used by over 100,000 non-B Corps to manage their operations. These tools and processes are not just about a company being more socially responsible—like recent statements from the Business Roundtable and World Economic Forum suggest, attending to all stakeholders is a better way to run a business. Measuring and achieving social and environmental goals also aids in achieving bottom-line benefits.
Our economy's huge structural problems require a holistic solution
"I do think that people are more aware than ever that we need a change, and the shift to a more stakeholder-driven economy can and will happen," says Marquis. "The crises of the last year have only further magnified the huge structural problems in our economy, and they require a holistic solution. While it is regrettable that we have had to come to a crisis point in terms of income inequality, racial justice, climate change, and the COVID-19 pandemic, I am cautiously optimistic that in the next 50 years, the pendulum will swing back to a stakeholder-driven system."
Marquis' teaching and research examines how the interaction between corporations, governments, and civil society lead to socially and environmentally beneficial outcomes. His research has been widely published in peer-reviewed journals including the Academy of Management Journal, Academy of Management Review, American Sociological Review, Harvard Business Review, and many more.