New faculty introduction: Tommaso Bondi
Bondi is an assistant professor of marketing at Johnson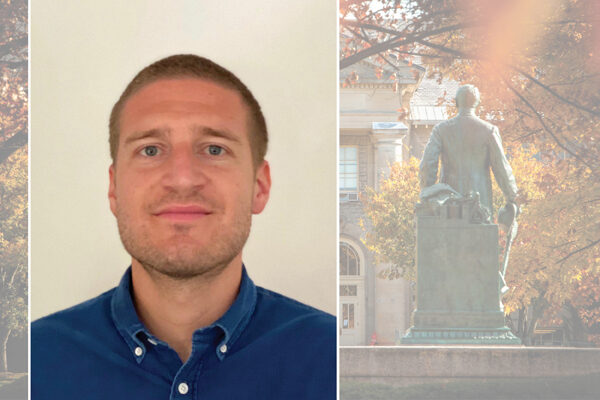 With the academic year upon us, meet the newest faculty from across the SC Johnson College of Business and learn about their academic focus, teaching, and interests.
Tommaso Bondi | Assistant Professor | Johnson
What are your research and teaching areas of focus?
I'm an economist by training, interested in applied theory and behavioral and experimental economics. Over the last few years, I've started applying these methods to study topics in digital marketing. The internet is changing how we discover and consume new products, and in the process creating new potential biases in beliefs and perceptions. My empirical work has focused on the arts industries, and particularly books and films. I'm  currently studying how small businesses are reacting to Amazon's growth; how the presence of online consumer reviews alters competition; and how consumers simplify complex choice environments to make decisions.
What class(es) will you be teaching this year?
Together with Sherif Nasser, Douglas Stayman and Kaitlin Woolley, I'm currently co-teaching the MBA Marketing Core in Ithaca. Beginning in October, I'll be teaching Digital Marketing at Cornell Tech, in NYC. 
What attracted you to the Cornell SC Johnson College of Business and to the Samuel Curtis Johnson Graduate School of Management, specifically?
The short answer is Cornell is a wonderful place. Going through the list of its faculty and alumni is equal parts inspiring and humbling, and walking on campus still gives me goosebumps. Johnson's faculty is world class, and nevertheless, I felt comfortable and welcome twenty minutes into my first visit, a year ago. Also worth mentioning, since my appointment is joint between Johnson and Tech, that I was impressed by the vision behind Cornell Tech. In so many ways, it represents the multidisciplinary, forward looking type of research and teaching environment that I was craving. 
When did you know you wanted to be a professor?
It might sound funny, but I made the decision as a kid. I've never had a plan B, which was both naive and perhaps useful. While the broad plan never changed, its details evolved a lot over time. As a teenager, I thought I'd be a mathematician; in my early 20's, however, studying number theory in college, I started to miss thinking about human behavior, and decided to switch to economics, and eventually marketing. In the future, in my spare time, I want to learn much more psychology and anthropology. 
What's the best books you've read this year?
The best fiction book I read is "A Fan's Notes" by Frederick Exley, a fictional memoir set in Watertown, upstate New York, in the 1960's. It is dark and intense — often tough, and always brilliant. On the non-fiction side, two standouts were "Why We're Polarized" by Ezra Klein and "Behave" by Robert Sapolsky.
What do you do to recharge?
Mostly, I take photos. I grew up in awe of William Eggleston, Diane Arbus and Stephen Shore's work, among others; whenever possible, I leave for a road trip in the US and photograph the people and places I encounter. I'm also an avid record collector, particularly soul, jazz and funk from the 60's and the 70's. Last but not least, I have to mention my favorite soccer team, Inter Milan — I rarely miss a game.