A life of public service defines Connell Rae's Dyson experience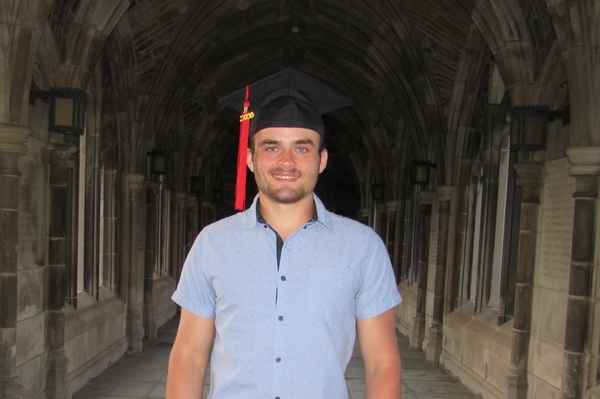 Connell Rae '20 is from Long Hill, NJ, a small town that is 45 minutes from New York City, NY. Originally interested in attending a military service academy, Rae discovered during the application process that he would be a better fit for a Reserve Officer Training Corps (ROTC) program. That's when Cornell University became a bright blip on his radar. Rae conducted a great deal of research via the web to learn more about Charles H. Dyson School of Applied Economics and Management students, faculty, and alumni. He was pleased to discover the collaborative approach to learning and encouragement for students to pursue their passions, both inside and outside of the classroom. These characteristics strongly appealed to Rae, a person with an outgoing, extrovert personality. His choice was clear, as Rae applied early decision without even visiting the Ithaca, NY, campus.
Becoming a Cornellian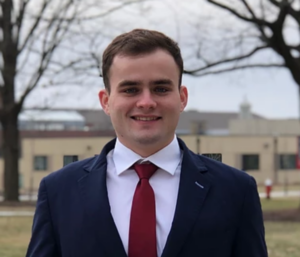 Upon arrival, Rae immersed himself in the Cornell culture including the ROTC program that afforded one-on-one time with some of the Army's finest officers and non-commissioned officers. The Sprint Football program reinforced a competitive and physical environment through great coaches and teammates. Dyson professors offered strength and knowledge to Rae as a student and as a teaching assistant. However, just as important as Cornell's faculty and staff were to his personal growth, peer students and recent alumni served as sources of inspiration. Many became entrepreneurs launching new companies, securing patents, aiding in research for prestigious professors, and competing athletically at the top of their sport.
"I encourage students to get involved in as many activities as possible," says Rae. "This includes sport teams (intramural, club, varsity), Greek life (social and professional), clubs, student organizations, and more. Don't be intimidated by the fear of being cut or rejected. I found that I often learned more about myself from those experiences. Get involved, expand your network of friends and acquaintances, and make an impact on the campus around you."
Our business is a better world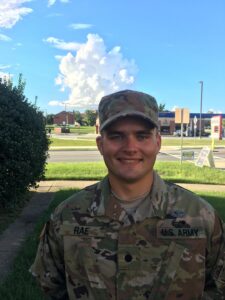 Rae wasn't intimidated by the people he soon found himself surrounded with. Instead, Dyson's high standard of public service aligned with his core belief of concern for others and society-at-large. He served as a volunteer firefighter for the Millington Fire Department in Millington, NJ, and chose to forego a summer internship on Wall Street with fellow classmates in order to represent his country in Peru during joint training exercises with the Peruvian military, and honed his skills as a military leader by undertaking arduous military training at bases throughout the United States. In addition, he was appointed Battalion Commander of his ROTC unit and collaborated with Dyson's dean to analyze issues impacting economic development in the New York Southern Tier as part of the newly-launched Grand Challenges initiative.
Rae selflessly underwent a potentially dangerous bone marrow donation procedure in Rochester, NY, to aid a military recipient whom he has never met. This required Rae to place his academics, extramural athletics, and social activities on hold. All of this was done without fanfare despite him going above and beyond to make a lifesaving gift; another example of his enormous generosity.
"Looking back on prior experiences, I noticed a theme of public service throughout my life," says Rae. "My experiences, and, hopefully, future endeavors will continue to further my passion for public service. That goes hand-in-hand with Dyson's motto of, "Our business is a better world."
Much deserved accolades
In February 2020, Rae was a recipient of the Class of 1964 John F. Kennedy Memorial Award for Public Service, including him amongst a distinguished group of alumni making their mark in public service in the United States and abroad.
Nominator, David Lennox, director of Undergraduate Studies and senior lecturer in Management Communication, praised Rae's leadership. "As evidenced by his success at Dyson, Rae will be an asset to any organization in which he serves," says Lennox. "I am impressed and pleased he has chosen to serve the public good, ahead of personal gain."
"The review committee was impressed with Rae's accomplishments in ROTC while maintaining a near-perfect grade point average in a demanding major," says Cynthia L. Wolloch '64, chair, Cornell Class of 1964 John F. Kennedy Memorial Award. "His on-campus leadership, experience in Peru, and service as a bone marrow donor speak to laudable diversity in Rae's commitment to public service. We were also attracted to his goal of improving the well-being of service members and veterans, beginning with early practical measures and moving through his career to positions of policy responsibility."
Next steps
In July, Rae reported to Fort Benning, GA, to begin active duty service as a Second Lieutenant in the Armor Branch, specializing in tanks and reconnaissance. After approximately a year, he will transition to another military installation to fulfill has four-year commitment.
"Cornell's culture requires that we look out for and invest in each other, says Rae. "That means taking time to be mentored and serving as a mentor. Now, as a Cornell alumnus, I am excited to be a part of the alumni network that shapes future generations of Cornell students."