Johnson celebrates National Coming Out Day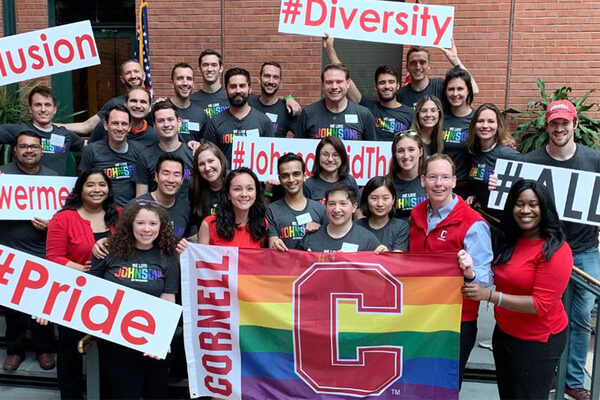 October 11 marks the 32nd National Coming Out Day, an annual LGBTQ+ awareness day observed in support of coming out as lesbian, gay, transgender, or queer. Johnson has an active LGBTQ+ community, including the student organization Out for Business, which works to foster a supportive campus climate and professional networks for LGBTQ+-identified MBA students and the workplaces they go on to lead.
To commemorate National Coming Out Day, some of our MBA students are sharing their stories and perspectives.
Baron Munoz '21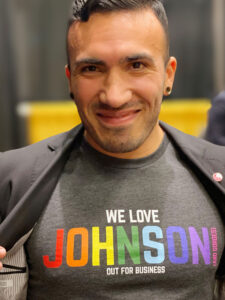 "Admitting who you are to the people you love the most can be a terrifying experience. Coming out to my mom was easy, but my father shut me out. At that time, I was an international student attending college in the U.S. with the help of my parents, and my father initially threatened to stop paying for my school and living expenses. In a moment of bravery, I told my dad that if he didn't want a gay son, I didn't want a bigot as a father. I left the room ready to face any challenges with or without his support. It took us time to move beyond this, but eventually my father apologized and took back his threats.
"Since that time, he has become one of the most accepting people I've ever met often surprising me with his understanding of and empathy for the LGBTQ+ community, and I feel proud of being part of that change."
Jackie Murphy '22

"In fourth grade, my best friend Sarah and I refused to wear anything but Gap boys. My Mom convinced me one day to wear this pretty dress to try and curb the Gap cargo shorts I had been rocking all summer. When I showed up to school reluctantly wearing the pink dress, I made eye contact with Sarah from across the room and I will never forget the look of betrayal on her face. Sarah and I didn't talk for an entire week, and I swore to never wear a dress ever again. I should have known then just how gay I was, and why Sarah and I were such good friends.
"I accepted society's roles though, and never questioned my sexuality until junior year of high school where girls would talk about their crushes. I knew I didn't feel the 'boy crush' that other girls were chatting about. I couldn't keep that feeling away, it just kept badgering me. One day, it just clicked. I was a lesbian. The following month I came out to my parents, and eventually my sisters. I'm not going to say it was easy-peasy with the family, but we have grown so much over the years that I think they would choose my girlfriend in a breakup because of how close they are."
Jordan Hunt '22

"The first time I came out was in the fifth grade. A classmate asked if I had a crush on anyone, and I answered honestly—with the name of a boy. I did not know what 'gay' meant, and I did not know that it had anything to do with me. But, my classmate's reaction told me everything: boys liking boys was weird and shameful.
"I am grateful to the many people who untaught me that lesson over the years. Family, friends, mentors, and classmates have helped me find acceptance. However, it is only because of out and visible members of the LGBT community that I learned to truly love this part of myself. Happy National Coming Out Day, y'all!"
This story was created with the assistance of Johnson Out For Business, the business club for lesbian, gay, bisexual, transgender, and queer (LGBTQ+) Johnson students, their partners, and active allies.