Student Perspective: A participant's view of the virtual MBA Stock Pitch Challenge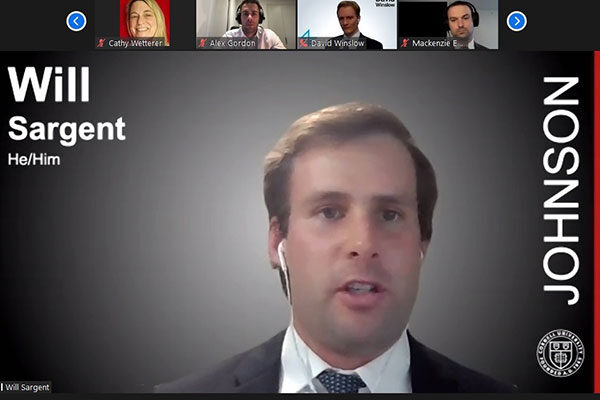 Due to the unprecedented times we live in, the 2020 MBA Stock Pitch Challenge hosted by the Parker Center for Investment Research was held virtually for the first time this year. This required adaptation and resilience in a time of uncertainty. Lakshmi Bhojraj, Breazzano Family Executive Director of the Parker Center, Susan Hu, program coordinator, and Cathy Wetterer, administrative assistant, carefully planned this event for a virtual environment and all were accessible throughout the competition.
Leading up to the Stock Pitch Challenge, my teammates Will Sargent, Tom Sassos, and myself, all MBA '22, were selected to compete through an internal vetting process by Johnson's Investment Management Club. We each presented an equity recommendation for ten minutes and then fielded questions from second-year board members for five minutes to better simulate an actual stock pitch competition atmosphere. It was fascinating to see how our fellow club members showcased their different views versus the market on the stocks they presented.
Preparation
We all met at the Parker Center in Sage Hall on Tuesday, Nov. 3. We set up our laptops and brought out our snacks as we were settling in for a 13-hour grind. We stayed socially distanced, sitting further than six feet apart, and we took our masks off only when we had snack breaks.  We waited patiently for the stock prompts, not knowing what to expect.
We received the details at 9:00 a.m. Each team had to cover Forward Air Corporation, an asset-light truckload and less-than-truckload company. For the next two categories of stocks, we were presented with three potential choices and had to select one and outline our investment rationale. The second group of stocks were all professional services firms, including Korn Ferry, Kelly Services, and Heidrick & Struggles. The third group were telecommunications firms, including Interdigital, Avaya Holdings, and Calix.
We realized that none of us had covered or traded any of these stocks before and we would have to leverage our backgrounds to the best of our abilities. Will, colloquially known as the "tech guy" in our group, volunteered to cover the telecommunications sector. Tom was drawn to the professional services firms, particularly one that focused exclusively on executive search. I agreed to cover Forward Air Corporation, since I had researched railroad stocks in the past. We expected to be familiar with one or possibly more stocks given to us in the prompt, but came to realize that we would have to learn these industries from the ground up to better understand how our stocks operated within them. This was the first challenge.
Heading into the competition, we knew we had to deliver three solid, 10-minute presentations followed by a Q&A we would field as a team. Answering questions as a group proved to be our second challenge. To address this predicament, we met multiple times over Wednesday and Thursday to practice our investment pitches and bring our teams up to speed on the stocks we covered. As a change of pace, we even assumed the role of judges to query one another with difficult questions that we anticipated. Factoring in timing was also critical; in the past, we had witnessed stock competitions where time limits were strictly enforced. The thought was etched in the back of our minds that we needed to make these concerted efforts to better prepare ourselves for presentation day.
Presentation day
On Friday, the day of the competition, we presented during three separate time slots over Zoom. After we wrapped up each presentation, we immediately joined a separate Zoom call to further rehearse for the upcoming presentation and Q&A. We discussed how the prior presentation went and how we would improve going forward for the next presentation. During these preparation sessions, Tom, Will, and I really came together to encourage each other and align our thoughts. We would give one another structured feedback after presenting and ask questions to better prepare one another for the real pitch.
Final reflections
As I reflect back, even though the competition was very demanding and time-intensive, it was well worth it in the end. We appreciate the carefully crafted advice we received from second-years who attended the competition last year as well as from members of the Investment Management Club. I would be remiss if I did not also acknowledge my friends Will and Tom, who were great to work with on an interpersonal level and encouraged me to think about my stock and industry from different viewpoints.
As a group, we received valuable feedback from the judges, gained a hands-on experience in equity research, and learned how to work more efficiently under pressure as a team. We also made connections with MBA candidates at other business schools and even shared book recommendations. It was certainly an experience we will never forget and will fondly look back on years from now.