Student Voices: Meet Louise Loyst, Executive MBA Metro NY Class of 2022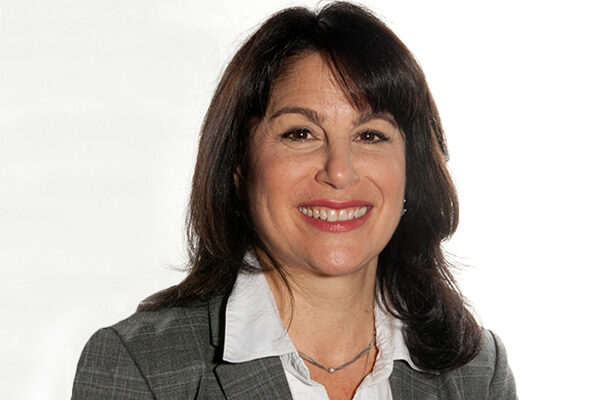 Technology sales executive, firm believer in the power of education and investing in yourself, and eager to embrace all that life has to offer, meet Louise Loyst, Executive MBA Metro NY Class of 2022.
The director of business development at Dayton T. Brown, an engineering and testing company, Louise is a graduate of a 3/2 engineering program and holds a BA in mathematics and a BS in inter-discipline engineering and management. As a student in Johnson's Executive MBA Metro NY program, she connects with classmates on alternate Saturdays and Sundays. Learn more about Louise in this Q&A.
Why did you decide to pursue an Executive MBA? What career goals will it help you achieve?
I had a successful career and then took a number of years off to raise my children. After re-entering the workforce, I find myself wanting to grow and explore other interests. I felt that an MBA would help in my quest to find the best career match for my skill set. I also love to learn and be my best in whatever I pursue. It is easy to settle where we land because we get comfortable in our incomes, but this does not allow us to embrace all that life has to offer. The MBA offers the network, knowledge, and resources to help achieve goals even if they might not be clear entering into the program. An investment in yourself always has an ROI. Education is always with you, no matter where you go.
Why did you choose Johnson at Cornell?
I knew that if I was going to go back to school, I wanted to attend one of the best universities. When I researched MBA programs, it was clear that Cornell had so much to offer and worked well with my schedule! Classes are held every other weekend and do not interfere with work obligations. In addition, Cornell personnel were so kind, down-to-earth, and really made me feel like this was the place for me. I could visualize myself as a part of this community. So many successful alumni have had such a positive impact on the world (for example, Ruth Bader Ginsburg '54), and I wanted to be among bright minds. I also visited the Ithaca campus when my children were looking at colleges. They would joke around and say, "Mom loves this school so much, she will attend." Little did they know that would be my future!
What aspects of the Executive MBA Metro NY program do you most value?
I love the tight-knit community created in my 2022 cohort. We have helped each other network in various industries to pivot into new careers or make a career move to another organization. The majority of us are local, so have connections in the Metro NY area. The professors are fantastic. I have already implemented some of what I've learned at work, including processes from our critical thinking class. I also love that career counseling is integral to the program. Connecting with a counselor has helped me better understand where my interests lie today.
 Did you have second thoughts about starting your MBA during the pandemic? If so, what tipped the scales in favor of starting this year?
I started thinking about the program a few years back, before the Cornell Tech campus was finished. Back then, I went to the Cornell Club in New York City and really took in all the information offered regarding Cornell's MBA programs. The timing was right for me to seriously consider applying to the program this year, with my youngest going off to college.

The Cornell EMBA was my first thought. The pandemic made it a bit easier in that my business travel was halted, and because I'm working remotely, I do not have any commute time. This little bit of extra time makes the program more manageable. It is a challenge with work, family, and school, but with proper time management, it all works out. The pandemic almost made it easier to transition going back to school after being out for more than 25 years.

Zoom can be a challenge with long days, but the professors do a great job of incorporating breaks often.  Cornell has done an amazing job with integrating virtual get-togethers so the cohort can get to know each other. I do look forward to the day we can be in the classroom. In a positive light, the pandemic actually helped me ease back into school after so many years being out.
What, if anything, surprises you about your virtual classes?
To be honest, I had no idea how hard it is to sit for such a long time. The professors are aware of this challenge, and realize that after about an hour and 10 minutes, a quick 5- or 10-minute break is needed. You hear of Zoom fatigue, but until you experience it, it's hard to understand. I am grateful for the much-needed breaks so we can continue and pay attention. I am also surprised at how interactive the classes are. We all just jump in when we have something to add. I love learning and this forum just makes me proud that I have been able to navigate in this challenging environment and adapt. We, the class of 2022, are the class of resiliency!
Are you connecting with your cohorts and making new friends in spite of virtual classes and social distancing? Can you describe what it's like to make new connections in a purely virtual setting?
It really is amazing how close you become to the people in your assigned groups. I feel as if I have known them for so much longer. We help each other get through material and complement each other when some are stronger in certain subjects. We are comfortable enough with each other to speak openly and be transparent. I have not met anyone in my cohort in-person due to COVID.

Some of the members have had outdoor functions in the city, but I have to be extremely cautious and do not participate in activities in the city. They share pictures and I love seeing the few that can gather and have a wonderful time. I still feel comfortable enough with many of the members to reach out; we use Slack, so we are constantly communicating. One of the members was such a wiz in stats and gave me a virtual one-on-one lesson. I received my highest grade after that lesson. Everyone is there, cheering each other on, and lifting spirits when you don't feel as confident in the material. It is truly an amazing group! I feel privileged to be a member of this diverse group of bright people.
Have you joined any student clubs? If so, which ones?
I manage my time so I can try to take advantage of all that Cornell offers, participating in many of the webinar series and joining groups. I recently joined the Women Entrepreneurs program (W.E. Cornell, a program that helps STEM women commercialize their innovations and overcome the challenges of leading a growing technology-based business). I have always had many ideas but never pursued them. This club offers the opportunity to share and explore your business ideas. It is a fantastic program directed by Andrea Ippolito. (Ippolito holds a dual appointment as a lecturer in the Cornell SC Johnson College of Business and in the Cornell College of Engineering.)
What's one thing you've learned so far from your MBA experience?
Be yourself. It's okay to ask questions, because most likely everyone has the same question but is waiting for someone else to ask. No one judges. I have learned that I have a greater capacity for learning than I thought I did. I was concerned with so much time away from school that learning might be so much more difficult. It is challenging, but the teams, professors, and the whole cohort are there to support one another. I feel gratitude every day for this experience.
What have you most enjoyed about being a Johnson MBA so far?
The people! I love working in groups. We openly share and help each other out. I also really have enjoyed participating in the webinars and learning from alumni at other organizations about what has been successful and the steps I need to take to move ahead in my career. I have networked with Cornell alumni to learn about their career journeys. The Cornell network is amazing. People are so open and willing to share and help. It is a group I am proud to be a member of.

I truly love my Cornell experience so far. It gives me hope for a better future. I know I will find what I was meant to do with my talents.