Life is service
SHA's ethos inspires mentorship and support through career network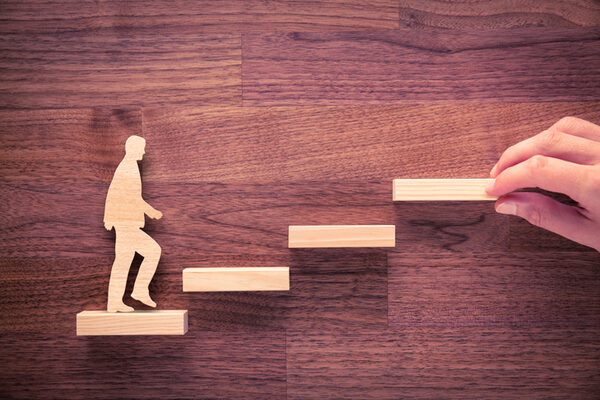 Last fall, Ben Okon '10, a senior manager at Bain & Company, reached out to the School of Hotel Administration's Career Management office; he was looking for outstanding seniors interested in learning more about careers in the consulting industry. One name rose to the top: Liam O'Brien '20. Career Management staff connected them and they got to work. Within 12 months, Okon helped O'Brien reach his goal of getting an offer for a professional position in consulting. Their relationship highlights the importance of the SHA network and alumni who are ready to give back to the school.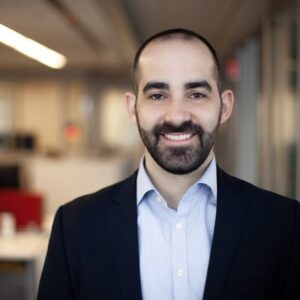 Mentor and mentee
Okon has been helping Cornellians with recruiting and career coaching since he graduated over 10 years ago, advising them on how to address the same challenges he had as a student. Consulting is a tough industry to break into, Okon says, and getting a great job offer is far harder than submitting a resume and answering a few behavioral interview questions. He decided to partner with SHA's Career Management office as one way to help build a coaching ecosystem for those interested in consulting careers.
"It takes a lot of personal effort and a village of supporters to get prepared," Okon says. "Students have to recognize that they are interested early in their recruiting process and have enough exposure to understand a complex industry. They need to know which companies to target, learn about the recruiting approach, prepare well for the case interviews, refine their resumes and their recruiting stories, and ultimately figure out how to get through a very selective process." Okon coached O'Brien through the complicated case interview process, spending hours practicing cases over the phone and through Zoom.
Disappointment and opportunity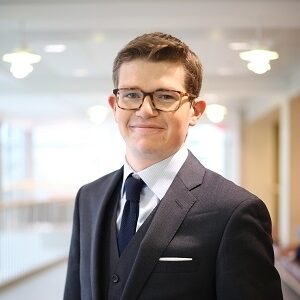 Unfortunately, O'Brien didn't get an offer from Bain & Company, his top choice for companies, during the fall recruiting cycle. However, he kept in touch with Okon, who continued to provide guidance and helped connect him to contacts at other companies. "By leveraging Ben's network and advice, I was able to secure a job offer from another consulting firm," O'Brien says.
Meanwhile, the COVID crisis shook up the recruiting game and Okon suggested O'Brien reapply to Bain; after all, he had impressed a number of people during the fall recruiting cycle. "Fortunately, this time around everything worked out," O'Brien says. "I got an offer from Bain."
For Okon, each SHA student he has met has been unique and memorable in his or her own way. O'Brien was no different, as he came to see through their work together.
"Liam is an incredibly genuine person, with a combination of humor, coachability, patience, determination, and maturity that made me want to invest in him," Okon says. "I know he will come to work every day hungry to find the best answer for our client, while caring as much about his teammates' experiences as much as he cares about his own."
The SHA network
For O'Brien, the "Hotelie" network is what makes SHA so special.
"Without Ben's help, my job hunt would have been significantly more difficult," O'Brien says. "Career Management was also incredibly proactive about putting me into contact with alumni at companies that I was interested in. Our motto at the Hotel School is 'Life is service—the one who progresses is the one who gives his fellow men a little more.' The alumni network certainly embodies that ethos."
According to Okon, SHA's "service" element was the theme that attracted him to the school in the first place, and he himself has been the recipient of this service ethos many times during his career.
"I don't think I have ever reached out to a SHA alum for help and waited more than six hours for a reply," Okon says. "That includes a time in 2011 when, as a recent graduate, I e-mailed the CFO of a Fortune 500 hotel company without realizing quite who he was. I received a response three hours later—while he was on a business trip to China—offering to introduce me to someone in the organization who could help me. If he can invest in people like that, so can I."
For Okon, the Hotelie alumni network is the strongest he has ever experienced.
"The Hotelie network has a magical balance of scale and intimacy," he says. "It unites people with an underlying value for service, a high degree of achievement, and a set of unique, shared experiences—all-nighters for HEC [Hotel Ezra Cornell], drinking wine in class, learning how to make hospital corners in a housekeeping 'lab,' among others. It all comes together to create a very, very powerful force greater than the sum of its parts."
Paying it forward
O'Brien is also all about giving back. As a student, he was an admissions ambassador for SHA, helping high schoolers make their best choices. As he moves forward as an alumnus, he hopes to find ways to help other Hotelies find the best career opportunities for them.
"Nothing is more gratifying than putting people with shared interests in touch," O'Brien says. "It's really a win-win scenario."
His advice to SHA and Cornell students graduating into a difficult marketplace: "Don't give up! Be tenacious and keep reaching out to alums who seem interesting. You really never know when something will shake out. One second you'll feel stressed and discouraged, but before you know it, you'll have some amazing options on the table."
Okon, who graduated during a time that was still feeling the reverberations of the economic collapse of 2008, agrees. "These are unprecedented times, but those on the job hunt should not dismay," he says.
"Though COVID is a different situation, I graduated in '09 when we had our own set of economic challenges, and things looked and felt bleak," he said. "With over ten years of hindsight, I sometimes reflect on how fortunate I have been. There's no single trick, but if I had one piece of advice, I'd say that you make a lot of your own luck, with patience and determination. And after you do get lucky, remember to do your best to create some luck for other people, too."