Student Voices: Meet Onyinye Akujuo, Executive MBA Americas Class of 2022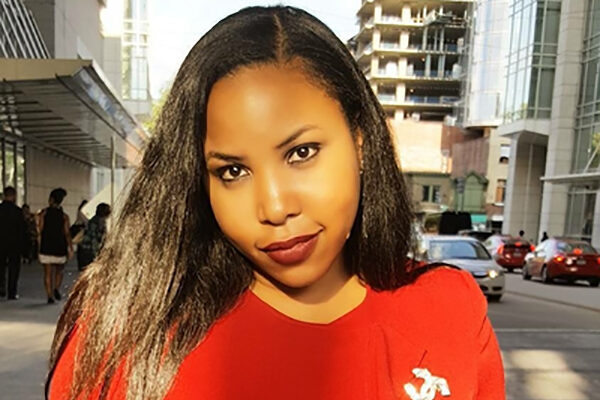 Grants manager and funding strategist with roots in the transportation and transit industry, Emerging Markets Institute Fellow, and class chair—meet Onyinye Akujuo, Executive MBA Americas Class of 2022.
The director of grants for the JPS Foundation at JPS Health Network, Onyinye lives in Fort Worth, Texas, and holds a master's in corporate communications and integrated marketing from the New York Institute of Technology. As a student in Johnson's Executive MBA Americas program, she connects with classmates throughout North and South America through live, interactive videoconferencing during weekend classes held every other Saturday and Sunday. Learn more about Onyinye in this Q&A.
Why did you decide to pursue an executive MBA? What career goals will it help you achieve? 
I decided to pursue an executive MBA because I wanted to meet all of the business challenges in today's environment. I wanted to gain real-world executive competencies that transcend across various industries, roles, and responsibilities. It will help me to achieve stronger quantitative, entrepreneurial, and decision-making skills required to run my own business or firm in the future.
Why did you choose Johnson at Cornell?
I chose Johnson at Cornell because it is one of the top business schools in the country. Its reputation is unmatched, and it commands the respect of business worldwide. It is known to produce some of the most successful people in all aspects of business globally. Johnson at Cornell provides for a premium collaborative boardroom environment, which provides convenience for executives like me who are going back to school while working a full-time job and preparing for elevated business challenges.
What aspects of the Executive MBA Americas program do you most value?
I value the team-based approach to learning; I feel it is the most realistic way to approach executive leadership. I also value my professors; many of them have taken time out from their busy schedules to assist with questions or even provide mentorship. I value all of the courses that I have taken thus far, especially Negotiations, Marketing, and Managing and Leading Organizations. They have provided me with invaluable tools that I am currently using in the workplace. Lastly and most importantly, I value my fellowship with the Emerging Markets Institute (EMI). I am the chair of our EMBA Americas Class of 2022, and I am really excited to learn more about how Cornell will grow in the global market space considering our new normal. I have learned so much from Professor Lourdes Casanova. I value her, too!
Did you have second thoughts about starting your MBA now, during the pandemic? If so, what tipped the scales in favor of starting now? 
I was initially skeptical about how attending courses and developing relationships would play out. Now that I have been in the program, I have truly adapted to the 100-percent virtual environment. Virtual environments are the way of the world now. What tipped the scales for me was watching how companies started to lay off workers at all levels. I felt that I needed to learn how to become indispensable.
Are you connecting with your cohorts and making new friends in the Executive MBA Americas virtual class environment? Can you describe what it's like to make new connections in a purely virtual setting?
I am definitely making new friends in our program, and while some might find it challenging to connect with people you do not know virtually, it feels pretty normal to me. I have new friends now in many of the cities and countries that are represented in the program. I enjoy "donuting" on Slack and having "virtual coffee" with new people each week. Our EMBA Americas advisors have also set up speed networking sessions to allow us to get to know each other in Zoom breakout rooms. I find it very exciting to speed network with people from Canada and South America, all at the same time, without leaving the house. While it is important to have face-to-face interaction, being behind the webcam has also brought a new sense of camaraderie with my cohort that would not have been effective for networking or building new relationships a few years ago.
Have you joined any student clubs? If so, which ones? 
I joined the Johnson African Business Society (JABS), Cornell Real Estate Council (CREC), and the Association of Cornell Women in Real Estate.
What's one thing you've learned so far from your MBA experience?
One thing I've learned so far is to be adaptive! It will help with building relationships and succeeding in this program. You will learn that besides getting an A, learning different ways to adapt and solve a problem with a group of people who think differently than you is paramount in this experience. You will quickly learn to value other people's input and build stronger solutions by working collaboratively to achieve common goals.
What have you most enjoyed about being a Johnson MBA so far? 
I have enjoyed getting to know my teammates and building relationships virtually with [students in] other boardrooms. I have enjoyed the immense benefits of being a Johnson MBA from attending virtual conferences and seminars to gaining access to alumni who are disruptors in the business world. I have learned so much about new and intriguing topics that have ignited my interest. I have enjoyed the career coaching aspect of being a Johnson MBA. I truly appreciate their investment in positioning me for success.