Noteworthy: 12th Annual CIRECC Brings First Cornell Triumph in Five Years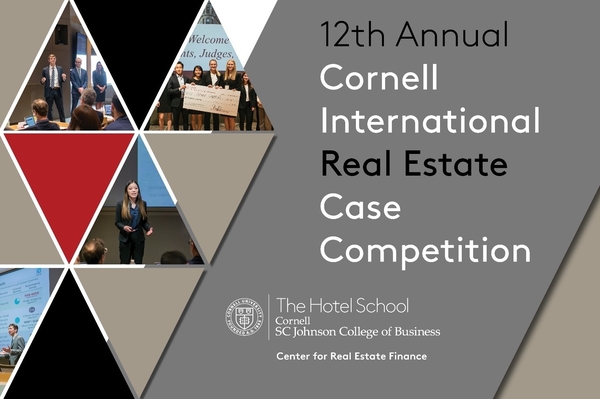 The 12th Annual Cornell International Real Estate Case Competition (CIRECC) held its final round on Friday, November 6, 2020, culminating five intense days of analysis, preparation, and coaching. This year's winner was Cornell's own WEBS Group. Cornell had not won this event since 2015.
Sponsored by the Center for Real Estate and Finance (CREF) and developed by the School of Hotel Administration (SHA),CIRECC is the largest undergraduate case competition in the world, attracting student teams from across the globe. Competitors are tasked with analyzing a commercial real estate transaction, rendering a recommendation, and providing a presentation of their analysis and proposal.  The judging panel consists of industry professionals who –unaware of school affiliations– evaluate each group's investment recommendations, approaches to problems, and presentation skills.
Case competitions are "accelerators for experience"
SHA Professor Daniel Lebret coaches CIRECC teams and the Cornell Real Estate Club to provide vital practical experience for students. "Dealing with an investment case, and pitching it to investment professionals, is 99% of what they're doing once they graduate." Carol Wang '21, is a veteran of several competitions, and appreciates the "unique opportunity to apply classroom knowledge to a real-world scenario."
 Teaching real estate for real-world application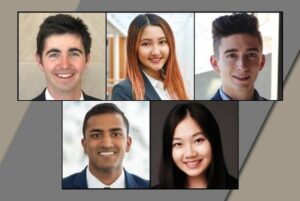 Lebret hailed SHA professor Daniel Quan's vision in creating CIRECC. "What Dan has achieved is to really create a bridge between the industry and the classroom; the industry gets to see what we're teaching and influences it in ways they'd like their future employees to be trained."
In classes and clubs, Lebret skews students toward leadership. Wang and Timothy Bergin '21 had both competed in Vancouver last year, placing third. Now seniors, they built this year's WEBS team. "We looked for passionate people we want to work with, and work well with," Bergin said. "Juniors will be in our shoes next year."
A fictional challenge, real-world elements
This year's challenge was to strategize a successful redevelopment of The Forum, a retail complex in fictitious Troy, CA, with an appealing downtown location, a prosperous demographic in a growing city, a bankrupt big-box anchor tenant, a struggling national economy.
Lebret was pleased that his students addressed "the elephant in the room" – in this case, the distressed tenant. Rather than evicting or waiting for the tenant to fail, the team simply budgeted a buyout, taking some heat from the judges for the expenditure, but stressing the avoidance of uncertainty with poise and common sense.
The winning solution was both pragmatic and creative
WEBS used market analysis to envision the Forum as a fitness hub for the neighborhood's millennials, dividing the space to accommodate a high-end gym and an activewear chain, establishing a (daring but proven) percentage-rent plan, and an attractive rooftop design. Tim Bergin explained, "What makes sense is generally the best real estate proposal: those people love to work out, so why not give them what they want?"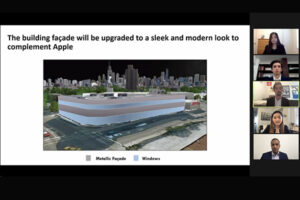 Case competition benefits are lasting – for all involved
Lebret sees nothing but benefit to this event. Professional relationships grow through team collaboration, and Bergin acknowledged a helpful "alumni network" component. Wang sees competing teams developing collegial relationships. Winning bolsters resumes and garners interviews. Judges peek at upcoming talent. "As a teacher," adds Lebret, "these motivated and serious students challenge me like crazy."
Five days of preparation brought 14 teams down to three: Perpetuum Partners from Indiana University in 3rd place, and Summit, from the University of British Columbia, in 2nd.  "You all have a great future in real estate," enthused judge Saul Goldstein '92. Founder Dan Quan added, "Students: you're getting better all the time." And in closing, CREF Director Steve Carvell almost-wistfully offered, "Maybe you can all participate next year, live, in New York City."
Watch the full CIRECC recording here.