Hospitality professionals balance robots and human touch for post-COVID-19 era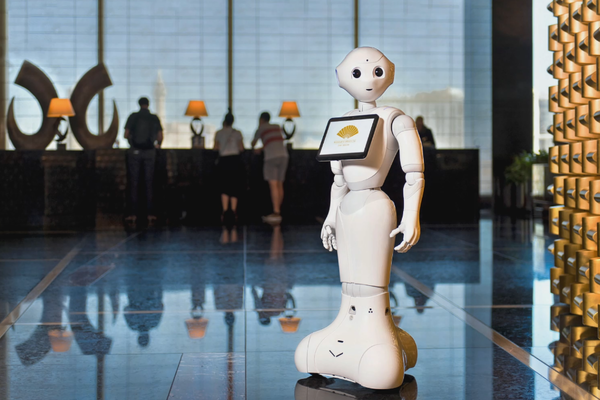 "We're at the cutting edge of technology that, as kids, we laughed about and that is now becoming our reality," said David Sherwyn, John and Melissa Ceriale Professor of Hospitality Human Resources and a professor of law, when he led a panel of experts in a discussion about automation and customer service in October. The webinar, Robots in the Hospitality Industry: Adopting new technologies while maintaining the human touch, was hosted by eCornell and the Cornell Center for Innovative Hospitality Labor and Employment Relations (CIHLER) in the School of Hotel Administration. Sherwyn is the academic director of CIHLER.
The webinar's speakers are all actively developing and implementing automated services for restaurants and hotels. Sherwyn moderated the discussion, which featured Linda Pouliot, founder and CEO of Dishcraft Robotics, Peter Sieff, CEO of ST Engineering at Aethon, and Steve Rimmer, a principal in New York Metro Transaction Services at PwC.
Key takeaways from "Robots in the Hospitality Industry"
Each speaker offered insights into the development of automated service innovations that respond to customer concerns brought about by COVID-19.
1. New service models emerge.
"We're having this conversation because of the amount of innovation," Rimmer noted, showing images of robots working as touchless hotel room cleaners, desk clerks, and waiters. Collaboration in the modular approach, he added, is increasing the potential to expand robots' cognitive abilities and will allow them to provide increasingly "effective, service-minded automation."
2. Innovative interactions increase robots' versatility.
Sieff reported that Aethon already uses its robots safely in the healthcare industry. Now the company is focusing on a class of autonomous robots working in both front-facing and back-of-house hotel settings.
Out of the customer's view, machines can clean linens, floors, and air, and move dirty dishes and towels from floor to floor without requiring special infrastructure. Front-facing robots can interact with guests in a variety of ways: as desk clerks, waiters, porters, and more. Guests can interact with robots via a phone app.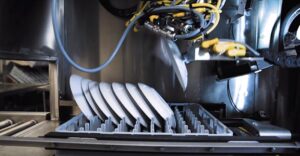 3. Touchless dishwashers simplify things for restaurant managers.
Dishcraft supplies restaurants and institutions in the San Francisco Bay area with dishes, cups, and flatware. "No human hand touches a dish before a chef plates it," founder Linda Pouliot vows, a valuable claim in the COVID-19 era.
Dirty wares are returned to drop stations and washed by robots in a centralized dish hub; clean ones are delivered daily. Acknowledging this model as a major adjustment to traditional restaurant routine, Pouliot asserted that Dishcraft's service is reliable and convenient, forestalling many inconveniences.
Eventually, Dishcraft operations will integrate into existing restaurants, and even take on other types of kitchen work. For employers, Pouliot quipped, "It's one less thing on your plate," freeing operators from worries about hiring, breakage, and inconsistent cleanliness.
4. Employer-Employee relations adjust to automation in the service industry.
Sherwyn asked the group to address the inevitable labor concerns in replacing humans with robotic workers. Rimmer replied that, of course, unions and labor reps are concerned about jobs, but they're also concerned about members' safety, so they're focusing on that shared goal.  "Technology is coming, and no one's so naïve as to think that tech won't replace employees. People used to hand their suitcase to a bell-person, and now their suitcase is on rollers."
5. The hotel of the future will redefine luxury.
Society and technology will adapt together. Sieff commented that definitions of luxury are changing; "high-touch" was once the epitome of service, but now contactless delivery—and its implied safety—is desired. Larger guestroom waste receptacles will accommodate take-out containers and tipping won't be necessary. Pouliot foresees a partnership between Dishcraft and Aethon: "Tedious kitchen tasks will be phased out." Rimmell believes investments in time and effort are producing cost-effective solutions.
Learn more by viewing the webinar, "Robots in the Hospitality Industry: Adopting New Technologies While Maintaining the Human Touch".