Student Voices: Meet Daniel Bazarko, Executive MBA/MS in Healthcare Leadership Class of 2022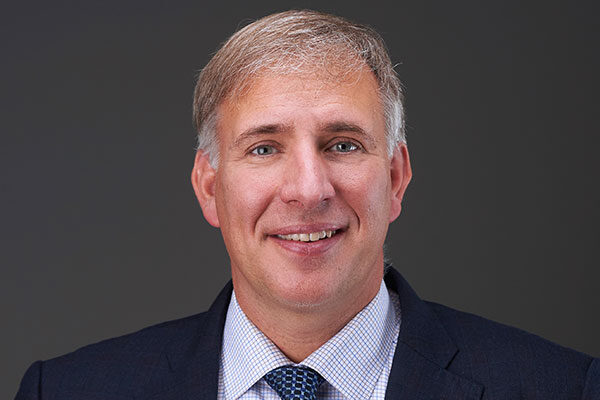 A senior accountant who built his career in large pharma and biotech and who has worked abroad in Ukraine, Russia, and Australia, meet Daniel Bazarko, Executive MBA/MS in Healthcare Leadership Class of 2022
A senior vice president and chief accounting officer at Alexion Pharmaceuticals, Dan holds a BBA in accounting from the University of Notre Dame and is a certified public accountant. As a student in Johnson's Executive MBA/MS in Healthcare Leadership, a dual-degree program offered in partnership with the Weill Cornell Graduate School of Medical Sciences, he connects with classmates on alternate Saturdays and Sundays. Learn more about Dan in this Q&A.
Why did you decide to pursue an Executive MBA/MS in Healthcare Leadership?
I am a naturally curious person and am always interested to learn more. Pursuing an MBA was always on my "professional goals wish list." During my career, I was fortunate to have two separate opportunities to live and work abroad. I spent five years in Russia and Ukraine, and later in my career I lived and worked in Australia. Both of these expat assignments were amazing career development opportunities but they also made it impossible to fit in an MBA program.

At every point of my career, I interacted with friends and colleagues who pursued MBAs. I was always intrigued to hear about the depth and diversity of what they were learning and how much each person liked the MBA experience. Every time I spoke with someone who shared their MBA journey, I had an inner voice in my head saying, "Yeah, I would really like to do that." Everyone clearly learns a lot via work experiences that present complex problems. However, I never stopped thinking about going back to school as the idea of a more formal classroom learning environment with subject matter beyond what my daily work life touches truly excited me.
 What career goals will it help you achieve?
My ultimate career goal is to develop future leaders and there is no doubt the Executive MBA/MS in Healthcare Leadership will give me an additional set of great skills to achieve that goal.
Why did you choose Johnson and Weill Cornell?
I choose Cornell because I wanted a top-tier MBA program and the opportunity to learn from the best and brightest, both inside and outside the classroom. I knew that Cornell has top-ranked faculty and that my cohort of classmates at Cornell would come from a wide spectrum of leaders across the healthcare ecosystem. I was excited to be part of a cohort of talented, motivated and highly experienced professionals. I was also was intrigued about the opportunity to not only study and earn an MBA but also obtain an MS in Healthcare Leadership. I spent the bulk of my career in the life sciences space and I have a strong passion to work for a company that ultimately serves patients. I felt a deep connection to the MS in Healthcare Leadership piece of the MBA/MS program, and that drove me to select Cornell.
What aspects of the Executive MBA/MS in Healthcare Leadership program do you most value?
I value the classmates in my cohort. They bring a wide range of experiences and I learn from them every time we are together. My cohort incudes senior leaders from all areas of the healthcare ecosystem and I enjoy hearing their insights and experiences both in class and in working together in smaller teams.

My current boss (our current CFO) and my former boss (our prior CFO) have MBAs from top schools and were highly supportive of me pursuing an MBA program. Both told me that my classmates would be an important part of my knowledge-building experience. They were absolutely right. I also have a tremendous amount of respect for the faculty. They are clearly experts in their field and are easily accessible when you have questions. I have already implemented some of the leadership skills I learned in class and there is no doubt the program will teach me many new skills.
Did you have second thoughts about starting your MBA/MS during the pandemic? If so, what tipped the scales in favor of starting this year?
No—I was excited to start and ready to go. My company suggested that most employees not involved in clinical trials or manufacturing work 100 percent remotely for the next several months. At work, we have all adapted quickly to deliver results effectively and efficiently via a virtual environment and I was confident that school would also be productive in a remote setting. Zoom is a great tool and both the professors and my classmates have all adapted to the unique situation.
What, if anything, surprises you about your virtual classes?
I think there are many ways to conduct virtual classes and each professor has brought their own unique perspective to how they conduct class. Some use multiple cameras and that helps. In addition, I am a big fan of the class recordings, because I can go back and review specific items covered in class as my schedule permits. The virtual classes are clearly effective and remarkable learning takes place each class session. I have adopted some of the creative ways my professors and classmates leverage Zoom at work.
Are you connecting with your cohorts and making new friends in spite of virtual classes and social distancing? Can you describe what it's like to make new connections in a purely virtual setting?
Yes, for sure. Through virtual team-building events, you get the sense that you are making friends and meeting people. I truly have gotten to know the personalities of many of my classmates, even though we have not met in person. As the term has moved forward, we have had Zoom happy hours and other team-building sessions where the focus is learning about each other and not any specific class work or assignment. Although the virtual setting works to make new connections, I must admit that I am excited to meet my classmates in person when the pandemic is over.
What's one thing you've learned so far from your MBA/MS experience?
I have already learned there are so many things I can still learn. I have also gotten a much better understanding of the breadth and diversity of roles people have in the healthcare industry. My career has been focused on working for large pharma and biotech companies and it is awesome for me to interact with my class cohort, who have totally different work experiences in completely different parts of healthcare. I learn from what they are doing and their experiences definitely broaden my outlook on all the innovative and wide-ranging ways we can help patients extend and enhance their lives.
What have you most enjoyed about being a Johnson and Weill Cornell MBA/MS student so far?
I am very happy I decided to pursue the program. It is definitely something that requires a well-thought-out work/life balance but it is also completely worth it. When I talk to my colleagues at work I can't help show my enthusiasm for the program. I am really learning many new things and honestly, the program is even more fulfilling than I expected. I am excited for each class weekend and look forward to continuing my journey in the Cornell MBA/MS program.