Student Voices: Meet Axel Létondot '19, MPS '21, CEMS '21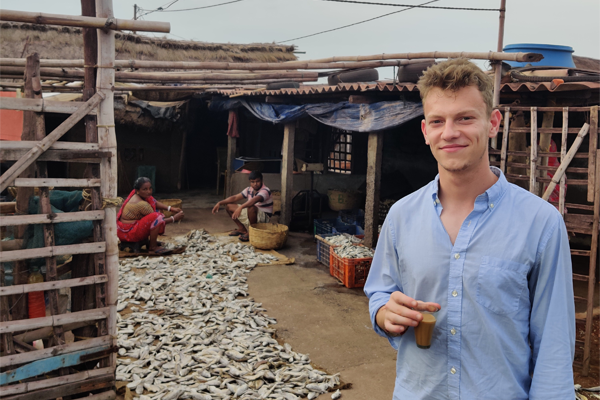 A world-traveler with a passion for solving complex international issues related to economic development and food security—meet Axel Létondot, MPS in Applied Economics and Management and CEMS Master in International Management (MIM) Class of 2021.
Axel is working around the clock. As a student in the Master of Professional Studies (MPS) in Applied Economics and Management (AEM) program, Axel is learning how to work across time zones as he collaborates with students from all over the world through the CEMS Master in International Management (MIM) program.
A native of Paris, France, Axel earned a bachelor of science degree in International Agriculture and Rural Development from Cornell University's College of Agriculture and Life Sciences (CALS). His undergraduate studies took him to India, Colombia, Zambia, and Kenya, where he worked for several international non-governmental organizations and associations concerned with food security.
Inspired by these experiences, Axel is developing his knowledge of international economics so he can lead future projects and initiatives that spur sustainable economic development and food security. Learn more about Axel in this Q&A.
Why did you decide to pursue a CEMS degree at Dyson?
I wanted to expand my understanding of the way in which business is done on a global scale. I also wanted a stronger business foundation before I entered the workforce. I felt like the CEMS community would be an important global network to be a part of both now and later in my career.
What career goals will it help you achieve?
As a young professional interested in leading collaborative initiatives in different parts of the world, I believe the CEMS MIM program will make me a better global citizen and team leader. Not only will it equip me with the hard skills that are important for any manager; the program will also develop the soft skills that are needed, as well.
What aspects of the CEMS program do you most value?
In my opinion, one of the most valuable aspects of the CEMS program is its global network. It is not uncommon for me to communicate daily with people who are located across three different continents.
Are you participating in extracurricular activities?
Yes, I am involved in a few different activities. I am working as a student researcher at the Tata-Cornell Institute for Agriculture and Nutrition (TCI). I had the privilege of managing their social media pages and I am currently in the process of putting together a podcast for them.

I am also working with a consulting company called DeftEdge that does work for a handful of United Nations agencies. Most recently, I have been doing impact evaluations for the United Nations Children's Fund (UNICEF) and analyzing the extent to which the organization considered children with disabilities in their projects.
Is there a faculty or staff member that has gone above and beyond to help you?
It's hard to name just one professor who has looked out for me. Through multiple classes and extracurricular activities, I have managed to build a strong network of professors whom I can look to for help.
What's one thing you've learned so far?
I've learned how to handle multiple projects and how to work with two international teams of talented individuals. It has forced me to experience work over multiple time zones and handle different work cultures.
What have you most enjoyed so far?
I became a CEMS student body representative and it allows me to connect directly and frequently with the global CEMS community. I am on two project teams that are made up of student representatives from all over the world. We meet regularly to improve communication within the CEMS network and its relationships with corporate partners.
What words of wisdom do you have for future and current CEMS students?
Run for a position! This is a fantastic opportunity to connect with the CEMS network and force yourself to learn important pre-professional skills.