Student Voices: Meet Steve Wong, Johnson Cornell Tech MBA Class of 2021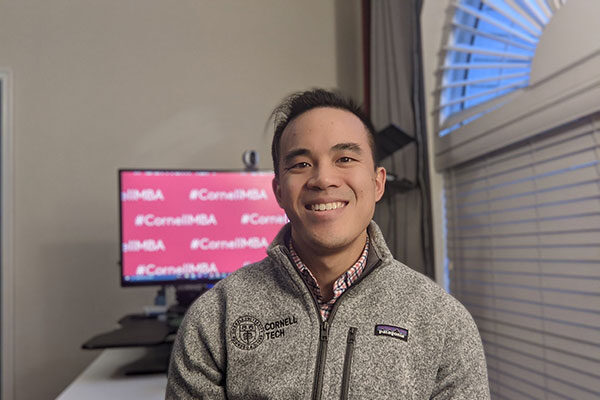 A CPA grounded in both accounting and technology who is passionate about product management and who relishes working in cross-functional teams with students in other disciplines, meet Steve Wong, Johnson Cornell Tech MBA Class of 2021.
Steve worked as a CPA at Deloitte & Touche for four years before pivoting into technology consulting at Booz Allen Hamilton, where he served federal clients in the Washington, D.C., area as a product owner. He holds a dual bachelor's degree in accounting and information systems from the University of Maryland, College Park.
As a Johnson Cornell Tech MBA student, he took core classes over the summer with students in Johnson's residential, Ithaca-based One-Year MBA program. He and his Johnson Cornell Tech MBA cohorts are continuing their degree program working on cross-functional teams with engineering, law, and computer science students in programs based on the Cornell Tech campus in New York City. Learn more about Steve in this Q&A.
Why did you decide to pursue an MBA? What career goals will it help you achieve?
I always wanted to obtain an MBA after working for a few years to further round out my skillset. But the catalyst was my recent discovery of product management in the tech industry. The thought of owning and building something for people to use and love was (and is) very attractive to me. Once I discovered the Johnson Cornell Tech MBA program, I thought that the opportunity to formalize my product management skill set through Studio and learn leadership skills alongside future tech leaders was too good to pass up.
Why did you choose the Johnson Cornell Tech MBA program?
The Studio program provided a great opportunity to collaborate with students from other disciplines across Cornell Tech's programs. Being able to work with students in a wide variety of disciplines—including Law, Technology, and Entrepreneurship; Engineering and Computer Science; Connective Media; Urban Tech; and Health Tech—provides a richer experiential learning environment than what you might find in a conventional MBA program.
What aspects of the Johnson Cornell Tech MBA program do you most value?
I value the culture of feedback and improvement through iteration. Improvement through iteration is done not only within our class and Studio projects, but also at the faculty level. I've been impressed with the level of engagement and openness to student feedback from the staff and faculty. We all understand that learning in a hybrid environment does not go without its own challenges, but we appreciate both students and faculty coming together and voicing what works well and not so well.
What, if anything, surprises you about your virtual classes?
The level of engagement among our classmates and faculty! A key value of business school courses is live discussion; despite the virtual format of our classes, we have not missed this benefit.
Are you connecting with people and making new friends in spite of virtual classes and social distancing?
I sure am! Johnson and Cornell Tech have made it a point to host various virtual events for students and faculty throughout the term. Additionally, our cohort has been extremely proactive in self-organizing events and get-togethers across our program. For example, one thing I've helped start up is a group for Cornell Tech students to engage with one another in professional recruiting for product management.
Have you joined any student clubs? If so, which ones?
Yes, I joined Big Red Ventures and the Emerging Markets Institute Fellows program.
What's one thing you've learned so far from your Johnson Cornell Tech MBA experience?
There is immense value in diversity. We have colleagues hailing not only from various industries and academic backgrounds, but also ethnicities. I've met and worked with brilliant classmates who have contributed richly different thoughts and ideas in our classes and Studio projects.
What have you most enjoyed about being a Johnson Cornell Tech MBA so far?
Getting to experience both the wide breadth of the Johnson MBA and the tech focus of the Cornell Tech program.