Student Voices: Meet Thatcher Hollis '24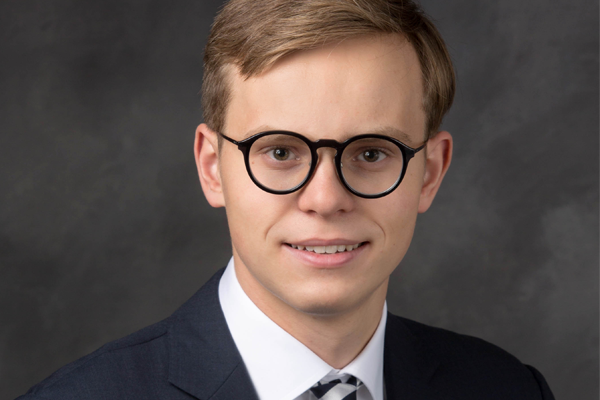 A former delegate to the World Food Prize Global Youth Institute who calls Waterloo, IA, home–learn why Thatcher Hollis '24, joined Cornell's Charles H. Dyson School of Applied Economics and Management.
Thatcher is blending his passion for agriculture with a deep and intentional focus on finance. He comes to Cornell as both an entrepreneur and former student body president of his high school. Whether through internships, clubs, or relationships, Thatcher aspires to build a repertoire of experiences that serve as the foundation for his future career.
Why did you decide to pursue a degree at Dyson?
Growing up on a farm my entire life, I knew I wanted to work in agriculture. I went through stages where I was really passionate about the science, engineering, entrepreneurship, and financial aspects of the industry. In the past year, I decided that I really wanted to pursue a high-quality business degree that was focused on finance while I continued pursuing a career in agriculture.

As I was researching universities with high-quality business and agricultural schools, Cornell stood out from the rest. The unique marriage between Cornell University's College of Agriculture and Life Sciences (CALS) and Cornell SC Johnson College of Business was extremely attractive to me. After applying and getting accepted, I decided that Dyson would offer the scope and rigor I was looking for.
What aspects of the program do you most value?
I value the community the most. From students in my graduating class to upperclassmen, professors, advisors, and alumni, everybody is willing to help. Compared to similar business schools, Dyson's culture stands out from the rest.
What have you most enjoyed so far?
I've enjoyed the classes! I feel like I have already learned so much in my short time here. Whether a class is super simple and has a relatively narrow focus or is a large difficult lecture, I feel as though each day is valuable and productive.
Are any of your classes virtual?
During the fall 2020 semester, all of my classes were virtual except for physical education, which was bowling. At first, I was disappointed to have so few in-person classes. Ultimately, I was surprised and impressed by Cornell's ability to adapt to a virtual learning environment. The professors have done an exceptional job of teaching using tools like Zoom and Canvas.
What's one thing you've learned so far?
I've learned the importance of networking. Whether it's as simple as saying "hi" to someone I recognize or if it's reaching out to a professor for guidance, one of Cornell's most valuable resources is the people that attend, teach, and have graduated. In my short time at Cornell, I will work hard to make the most of this resource and get to know as many people as possible.
Have you joined any student clubs?
I spent my fall semester recruiting various finance and consulting clubs. While I did devote lots of effort to getting into these clubs, my main purpose was to learn about as many clubs as possible while improving my application and interview skills. I now know what clubs I want to apply to–clubs that will help me hone my skills and passions.
Are you participating in any extracurricular activities or athletics?
I'm not currently in any non-career-related clubs, but I enjoy being outdoors, so I took this semester to enjoy the Ithaca area and to be intentional about developing friendships. As far as next semester goes, I may try to get my pilot's license for the fun of it! I also plan on rushing through Cornell University's Interfraternity Council (IFC).
What words of wisdom do you have for future and current Dyson students?
Make the most of your short time on campus. Be intentional about how you mold your Cornell and Dyson experience in order to achieve your goals and pursue your passions. Whether you're passionate about a certain extracurricular activity or want to double major or minor in something, don't waste your time with things you're not passionate about. If you pursue your passions, you will graduate from Cornell with no regrets and an exceptional education, network, and skillset that will propel you into your future.