Student Voices: Meet Alethia Chan '22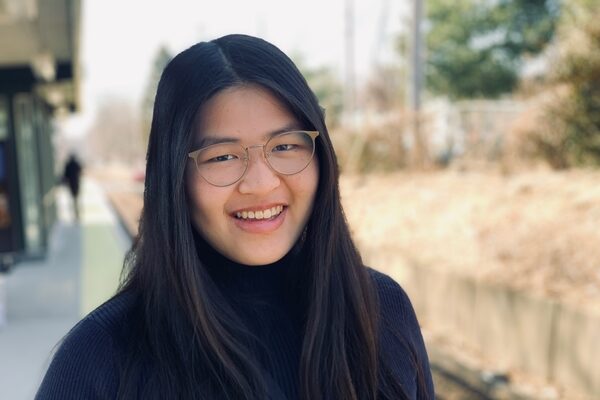 The Charles H. Dyson School of Applied Economics and Management's motto of "Our Business is a Better World" is what drew Alethia Chan '22 to learn more about the school initially. She wanted to better understand how she could use business as a vehicle for positive change around the world. Now immersed in her studies in Applied Economics & Management, concentrating in finance and international trade & development, she hopes to do just that.
Why did you decide to pursue a degree at Dyson?
The fact that Dyson's roots are within agricultural economics really appealed to me, as I thought this unique history would truly allow students to use classroom knowledge about business to make change in surrounding communities and abroad. Furthermore, I really liked the idea of having small class sizes because it would give me the opportunity to interact more directly with professors and students, thus creating a tighter-knit community.
What career goals will it help you achieve?
Dyson truly opened my eyes up to the potential that business has in spurring on social and environmental change around the world. After having taken on research projects at the intersection of business and development and/or agricultural economics, I learned about several issues, like poverty and food insecurity, that many countries are having. The supportive faculty and numerous programs that students can get involved with pushed me to explore how I could use business to make a change within these countries.

I was able to leverage the Dyson alumni network to learn about careers that I could go through to help me achieve this end goal, and speaking to a few (along with taking some Dyson finance classes) prompted my interest in consulting and impact investing. I have been able to use the Dyson undergraduate network to practice case interviews for consulting interviews, and many of the classes I've taken taught material useful for interviews. I also received feedback on my resume and cover letters from the Career Management Center.
What aspects of Dyson's program do you most value?
I most value the numerous unique opportunities for Dyson students to apply the knowledge that they have gained in the classroom to real-life situations. One of the highlights of my time at Dyson has definitely been the SMART program, where I went to Beijing to analyze how much Chinese consumers are willing to pay for food safety certifications and blockchain technology. I was intrigued by the work that many of the other groups did in helping socially responsible businesses in emerging countries reach their greatest potential.

I have also been fortunate enough to work with Professor Miguel Gomez and the Center for Sustainable Global Enterprise at Johnson to help local fiber farmers increase consumer demand for their wool products. Through these projects, I have come to realize how business could be used as a vehicle for social and environmental change.
Is there a faculty or staff member that has gone above and beyond to help you?

I was very fortunate to have gotten to know Professor Basu through his Intro Macroeconomics class, and even after the class ended, he always offered to help me with any research inquiries I had about choice experiments (for the wool consumer demand project that I was doing). To this day, I am still very grateful that he took the time out of his schedule to teach me how to use the JMP software, which ended up being crucial to the development of my research project at the time.
What's one thing you've learned so far from your Dyson experience?
I learned the importance of being open-minded. Prior to joining Dyson, I did not expect that I would end up being interested in business, technology, and social impact. It was because of the fact that I was given so many opportunities within Dyson to explore my interests that ultimately led me to where I am today.
What have you most enjoyed about being a Dyson student so far?
I really enjoy Dyson's tight-knit community. During my time at Dyson, I have always felt supported in every endeavor, knowing exactly who I could speak to to get the help I needed. Everyone at Dyson is so supportive and willing to help.
What words of wisdom do you have for future/current Dyson students?
Keep an open mind and explore whatever peaks your interests. Try new things because you never know where it will take you. Get to know your peers and professors. Make sure to keep some time for yourself and friends—it is often very easy to get caught up in the busyness of Cornell!