Student Voices: Meet Daniel Johnson, Executive MBA Metro NY Class of 2022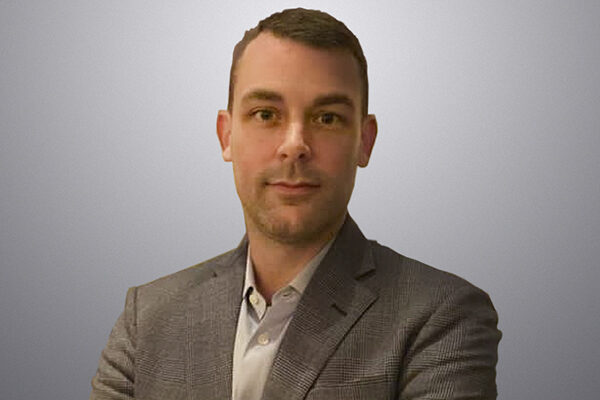 A private equity principal focused on African markets who has expertise in foreign policy, international markets, and the convergence of public and private sectors, meet Daniel Johnson, Executive MBA Metro NY Class of 2022.
Daniel is a principal at Baylis Emerging Markets, a pure play private equity fund focused on the middle-market manufacturing and industrial sector across African markets. The region's manufacturing sector presents not only a great opportunity set, he says, but provides critical lift to sustainable economic growth given the impact of the sector's multiplier effect and sticky job creation.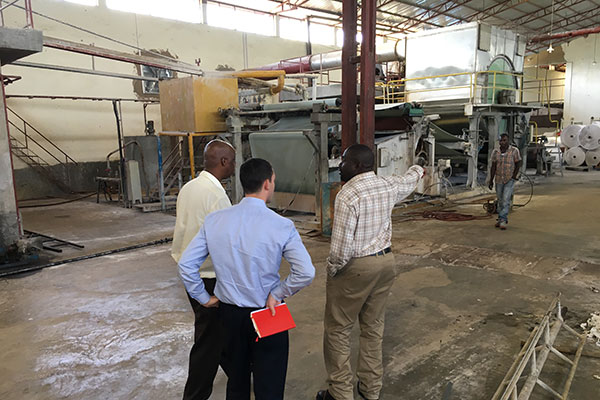 Daniel holds a bachelor's degree in economics from Fordham University in New York City and completed postgraduate studies in international relations and political economy at New York University's Wilf Family Department of Politics. As a student in Johnson's Executive MBA Metro NY program, he connects with classmates on alternate Saturdays and Sundays. Learn more about Daniel in this Q&A.
Why did you decide to pursue an Executive MBA? What career goals will it help you achieve?
Years ago, I made a concerted effort to pivot my career. I had developed a keen interest in the intersection of foreign policy, international markets, and, more broadly, the convergence of the public and private sectors. Pursuit of an MBA was always a critical piece of that intention.
I took the first steps in this new career trajectory through my prior master's curriculum at NYU, which provided me the academic footing to be a thoughtful contributor in the realm of international markets writ large, and granted me access to my first professional opportunities in the sphere of frontier and emerging markets.
Having, in the years since, helped build out a robust investible platform dedicated to African markets, my Executive MBA experience will level-up the hard skills brought to bear in project due-diligence efforts, as well as management and oversight at the portfolio company level as we close out our fund raise and increasingly shift toward deploying capital.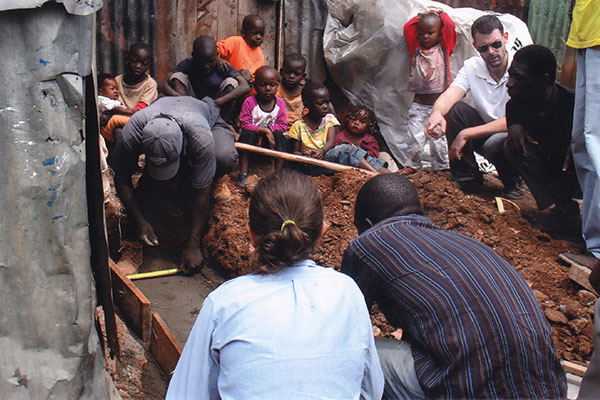 Why did you choose Johnson at Cornell?
I have had the great good fortune, in both my personal and professional life, to engage with exceptionally talented and smart individuals from all walks of life, including those trained at the finest academic institutions. Those peers and colleagues that proved to be among the most well-rounded, deep critical thinkers, and who displayed the most grace and humility, routinely revealed themselves to have spent time in the halls of Cornell.
Meanwhile, the Executive MBA Metro NY program presents a compelling offering unique among its peers in the upper echelon of MBA programs. I believed the comparatively small cohort would be conducive to more readily availing myself of both the world-class Johnson faculty, and the varied industry knowledge and personal backgrounds of my cohort. Likewise, I felt that the program design and hands-on, team-based approach would lend itself well to developing as a leader through practical, in-class programming, leadership development initiatives, and its entrepreneurial setting, while inhibiting the ability to "drift into the shadows" as might be more likely in other peer programs.
I also recognized the NYC-based Saturday/Sunday format as one that would provide an environment within which to tackle the curriculum alongside my peers in a truly collegial atmosphere and incorporate learnings real-time during the workweek. The residential sessions in Ithaca would provide the unique opportunity to occasionally depart from the grind of NYC and focus more intimately on interpersonal development with my cohort and the broader Cornell community.
While I entertained the idea of other top programs, I was ultimately resolute that I continue my education in New York City, as there is simply no more stimulating or enriching environment within which to gain an education. The opportunity set is here in New York City and Cornell's deepening of its relationship with the city through the Cornell Tech campus on Roosevelt Island confirms that belief. Cornell's Samuel Curtis Johnson Graduate School of Management is on the rise and now is the time to be here.
What aspects of the Executive MBA Metro NY program do you most value?
The staff. I have had a lengthy academic journey, I have engaged with many university admissions personnel, and I have laid my academic experience in the capable hands of several elite program teams. The Executive MBA Metro NY team is second to none.
From my first general inquiry through to matriculation, Sara Lynn Ianni and Christine O'Brien were the most engaged and supportive admissions officers I have ever encountered. They are indeed another genuinely significant reason for "why Cornell."
Meanwhile, the dedicated team charged with supporting our program, most notably Jane Smola, Andrea Rose, and Patrick Feeley, has been invaluable. The nimbleness and attention to detail with which they have managed to transition the program to an entirely virtual environment, administer ad hoc testing protocols, and generally accommodate every nuanced need of students and faculty alike, has been something to behold. The seeming effortlessness with which they have kept the program on an even keel through incredibly choppy waters and ever-shifting winds has been, in its own right, a master class in crisis management.
The entire staff, from admissions and administrators to coaching personnel to our day-to-day support team has been incredible and no one can overstate that fact. Even fewer should underestimate its worth.
Did you have second thoughts about starting your MBA during the pandemic? If so, what tipped the scales in favor of starting this year?
I did not have reservations, per se, about starting the program in the current environment. I suppose I was not deterred—as some understandably were—given that I operate in a professional context where a significant portion of business is necessarily conducted in a virtual environment. That said, there was certainly a lot of hubris and naivety in my having assumed that sitting through a stats lecture via Zoom wouldn't be that much more cumbersome than trying to conduct a video conference with bankers in Uganda during an East African afternoon thundershower. It is!
Meanwhile, a part of me genuinely believed starting the program in this moment was a unique opportunity. The events of this past year have only expedited the eventual delivery of many social and commercial changes and evolutions.
Engaging with these ad hoc changes on the fly—having to break systems, bend modes, and massage traditions and norms within the context of an academic setting—will make those of us who go through it more adroit, adaptable, and accountable leaders.
What, if anything, surprises you about your virtual classes?
I am genuinely surprised by how flexible they are. One can argue that in-person classes are optimal. But the virtual environment has delivered certain advantages that are lacking in a traditional classroom experience. The tools are incredibly elastic.
Two examples are in-class polls and breakout rooms. These tools are more efficient and effective within a virtual context. The ability to audit classes taking place on other campuses or to draw in remote subject-matter experts are also obvious advantages. These are huge value adds that I think are likely here to stay.
Going virtual also meant that I finally had a stats course that employed Excel instead of a ream of graph paper per problem set—a feature I certainly hope is here to stay!
Are you connecting with your cohort and making new friends in spite of virtual classes and social distancing? Can you describe what it's like to make new connections in a purely virtual setting?
For sure! Of course, we are all going through something unique, and uniquely challenging, together. That always facilitates bonds. Indeed, this is also one of the strengths of Johnson's team-based approach.
Whether due to the moment we are all living through or some feature of engaging within a virtual context, people have tended to be more nakedly themselves. In my view, this has had the benefit of short-cutting some of the typical meandering down the traditional path toward friendships. Heck, we even have our first virtual wedding coming up and we are all invited!
Nevertheless, the traditional path remains alive and well, as some in the class have made a deliberate effort to connect with each member of the cohort for a virtual coffee or libation of choice. Others were able to make the most of this year's Indian summer and gather for responsible, post-class picnics in Central Park (thank you, NYC!). One enterprising classmate was even able to rally the troops to pull a modestly successful practical joke on one of our professors—the entire class joined in! The general ribbing and towel-snapping have managed to exceed expectations as well!
And of course, the bonds and friendships formed within our respective teams are fast and true and persist in spite of, as much as because of, our webcams.
Have you joined any student clubs? If so, which ones?
I am a fellow in the Emerging Markets Institute (EMI), led by Lourdes Casanova, the institute's Gail and Rob Cañizares Director and senior lecturer. EMI just celebrated its tenth anniversary with a fantastic, two-day forum that brought together thought leaders from academia and multilateral institutions, executives from leading multinationals operating in emerging markets, and journalists from marquis global news outfits. EMI is poised for another exciting ten years!
Johnson and the broader Cornell community offer an almost limitless set of clubs and organizations to support nearly any curiosity or ambition. I have participated in several events focused on venture capital and entrepreneurship through student accelerator eLab, hosted by faculty members Ken Rother and Tom Schryver, who is also the David J. BenDaniel Faculty Advisor for BR Ventures. In the Executive MBA Metro NY program, we have our own traditional clubs focused on mid-career development within the consulting industry and financial services sector, as well.
What's one thing you've learned so far from your MBA experience?
During our opening residential session, we were treated to a course in Critical Thinking for Business Leaders led by Professor Risa Mish. Professor Mish leverages her background and experience in the legal profession to introduce a bespoke approach to structured critical thinking more familiar to the legal academy and courtroom than the traditional business school classroom (to say nothing of  the boardroom).
I can think of no better way to launch into an MBA curriculum than to receive impassioned instruction in the value of well-structured, logical, critical thinking—invaluable in business as in life! Count me among the subscribers to the notion that this aspect of a legal education and analytical approach is entirely applicable and necessary to a foundational education in business.
The crux of the course is an introduction to what Professor Mish refers to as the "critical and strategic thinking problem-solving worksheet." I have taken to referring to it by its more appropriate title: "The Mish Framework." Having this framework in your hip pocket will prove invaluable. Indeed, I have already employed the Mish Framework while reviewing pipeline projects and as a powerful tool in conducting due diligence on potential investment projects. It is squarely "on all fours."
What have you most enjoyed about being a Johnson MBA so far?
The test. The stretch.
Nothing about this is particularly easy. But neither is it a matter of life and death or even rocket science. But managing to persistently "crack the case" on a given class weekend, against the fluctuating back drop of the current environment, while wrestling with new technologies and delivery  systems (to say nothing of balancing life) is a test that is beyond academic and requires feats of athleticism that stretch muscles.
Being able to draw upon the support of new friends, flexible staff and administrators, as well as agile, talented, and generous educators makes it all a rather enjoyably smooth sail.
Which is great because the actual athlete in me peaked in eighth grade!