Student Voices: Meet Luis Fernando Pérez Meneses MS '21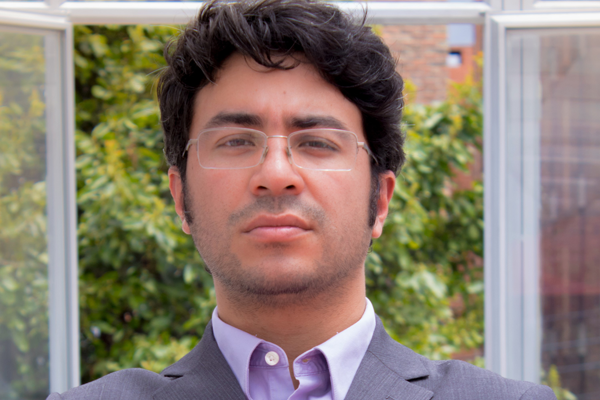 An experienced start-up entrepreneur who developed a Colombia-based avocado export company–meet Luis Fernando Pérez Meneses, MS in Applied Economics and Management (AEM) Class of 2021.
Luis Fernando Pérez Meneses MS '21 focused his avocado export business on empowerment–on helping smallholders get their products into international markets. Having studied economics and management at the Universidad de Los Andes in Bogotá, Colombia, Luis comes to Dyson with dreams of leading sustainable agricultural projects all around the world.
Learn more about him and his experiences at Dyson in the Q&A below.
Why did you decide to pursue a degree at Dyson?
It may sound crazy, but Dyson and I are a perfect match. I was looking for a school that would give me the right mix of academic exploration and real-life skill development, and when I found Dyson, I knew this was the place for me.

Dyson helps me grow as an economist, develop management tools that can be used as a professional, and allows for academic exploration that can help me bridge the gaps between different areas of knowledge such as agriculture and finance.
What career goals will it help you achieve?
I am convinced that we can achieve an equilibrium between business, social impact, and environmental sustainability, and Dyson is giving me the tools to design, implement, and manage the performance of projects with those three parameters in mind.
What's one thing you've learned so far?
The world is facing a lot of challenges, on many levels. Dyson realizes this and has built a learning experience that empowers people to get them to come up with solutions and implement them.
What aspects of the program do you most value?
Dyson's flexibility. We are a diverse student body, from many countries and with a plethora of backgrounds, and the fact that we can all come here to Cornell and be our best academically and professionally is all thanks to Dyson's belief on drawing bridges between areas of knowledge.

Similarly, the "applied" part of the program is very literal and I have enjoyed learning new methods that will allow me to bring my knowledge into the field.
Is there a faculty or staff member that has gone above and beyond to help you?
Everyone is very friendly. Professor Miguel Gómez comes to mind. He helped me find my way around Dyson when I first arrived and has guided me on which classes to take and how to make the best out of Dyson's resources. He also leads an amazing research group–one that I am thrilled to be a part of–and in it I've had the chance to meet people that share similar interests and have helped me shape my Dyson studies.
Are you participating in any extracurricular activities?
Before the pandemic hit, I was part of several soccer teams, and I had co-founded a theatrical improvisation group. I also try to join specific group projects, so, for example, this semester I was part of a team that participated in the Food Systems Innovation Challenge proposed by Wageningen University.
What have you most enjoyed about being a Dyson student?
I really enjoy meeting people from different programs while taking Dyson classes! They always bring fresh perspectives into my life, and I can't get enough of those.
What words of wisdom do you have for future or current students?
To be a part of Cornell University's Dyson School is a privilege and we should take every chance we get to build and improve, both for ourselves and for others.