Student Voices: Meet Mouna Allani, Johnson Cornell Tech MBA Class of 2021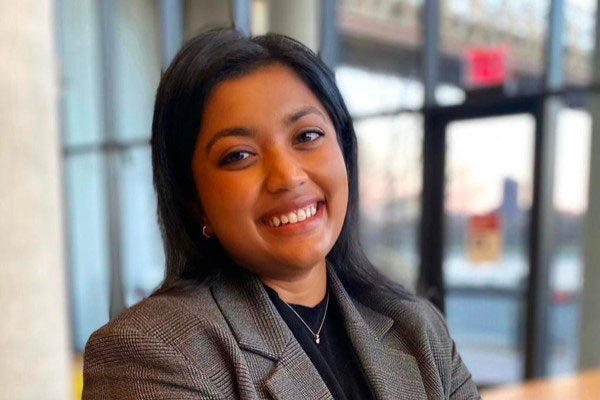 A former consultant who is passionate about technology and product strategy, a Forté Fellow, and a co-president of the Cornell Tech Student Government, meet Mouna Allani, Johnson Cornell Tech MBA Class of 2021.
Prior to enrolling at Cornell, Mouna was a consultant at Deloitte, where she had the opportunity to work alongside teams and clients from the public sector. She worked very closely with leaders from Federal government agencies to identify strategic technology opportunities, and envision and build products that improved and streamlined ways the government interacts with the public. Mouna holds bachelor's degrees in finance and information systems and a minor in technology entrepreneurship from the University of Maryland. ("Go Terps!" she exclaims.)
As a Johnson Cornell Tech MBA student, Mouna took core classes over the summer with students in Johnson's residential, Ithaca-based One-Year MBA program. She and her Johnson Cornell Tech MBA cohorts are continuing their degree program based on the Cornell Tech campus in New York City, working on cross-functional teams with engineering, law, and computer science students. Learn more about Mouna in this Q&A.
 Why did you decide to pursue an MBA?
I always knew I wanted to go back to school to pursue an MBA. Having studied business in college, I was looking for a "non-traditional" MBA experience and I spent a lot of time reflecting on and thinking about the type of program that would be best suited for me. As a consultant, I became very interested in and passionate about technology—more specifically, product strategy and management—and knew I wanted to bring that focus to my MBA.
What career goals will it help you achieve?
Post-MBA, I would love to work at a small or mid-sized tech company as a product manager. I think product managers play a really critical role in defining the vision for a product and owning the execution of that vision. That's something I'm hoping to have the opportunity to do!
Why did you choose the Johnson Cornell Tech MBA program?
As mentioned earlier, I was interested in product management, and began to use that as  criteria to evaluate MBA programs and determine program fit. Back when I was a prospective student, I attended an MBA fair in Washington, D.C. There, I approached the Johnson table and began to chat with the Johnson rep. He suggested looking in to the Johnson Cornell Tech MBA, and I'm so glad I did! This really is the MBA program I was looking for. The accelerated program timeline, the intimate class size, and the cross-curricular opportunities really confirmed for me that this is where I wanted to study!
What aspects of the Johnson Cornell Tech MBA program do you most value?
As an MBA student at Cornell Tech, I have the opportunity to take a number of technical courses with students from other master's programs, like computer science, health tech, and more. This creates a really diverse and engaging classroom environment because there's so much diversity of thought with respect to students' academic and professional backgrounds, career interests, and industry experience.
Did you have second thoughts about starting your MBA now, during the pandemic? If so, what tipped the scales in favor of starting now?
I actually didn't have second thoughts about starting this degree in the middle of a pandemic. I was mentally committed to getting my MBA this year, and I think that's why I was motivated to carry on despite all of the challenges that COVID has presented. I am incredibly proud of my class for stepping up and making the most of our MBA experience!
What, if anything, surprises you about your virtual classes?
I definitely had my doubts about what the virtual classroom experience would be like. One of the things that I have come to appreciate is that professors and students conduct active discussions during lecture through the chat feature on Zoom. Often times, the professor and students will post their live reactions to lecture topics, questions, and references to articles. For me personally, the supplemental conversations create a more engaging virtual learning experience. The chat also definitely helps mimic some of the informal interactions or "hallway discussions" that our class would have been able to have if we were in-person with the professor.
Are you connecting with people and making new friends in spite of virtual classes and social distancing?
Definitely—my class is small but mighty! Students who were extra committed to getting an MBA and were up for the challenge of doing that in the middle of the pandemic chose to carry on with this program this year. We have come up with creative ways to get to know each other virtually and in-person in safe and socially distant ways. Over the summer, when we were completely remote, our class organized coffee chats, virtual happy hours, game nights, and more to get to know each other.

Now, most of us are in New York City and able to take classes together and interact in-person, because our campus adopted a hybrid model beginning fall semester. Spaces are open on campus and we are all able to sit together and participate in class in larger rooms. (The professor, however, is not physically present.) I'm learning a lot from my classmates, and I think the shared experience of going through an accelerated MBA program during COVID has brought all of us closer together.
Have you joined any student clubs? If so, which ones?
In fact, I have! I am the co-president of the Cornell Tech Student Government. I am really enjoying working with our board, the program reps, the student body, and the administration on student government initiatives. This year has been challenging for both students and faculty alike, so we are working extra hard to ensure that we think of creative and safe ways to build community at Cornell Tech.

Also, along with two of my classmates, I lead an initiative at Cornell Tech called TECHTalks. TECHTalks are about reinforcing Cornell Tech's values and connecting students with industry leaders who are building meaningful products and creating an impact. We host the lecture events on a monthly basis and have been able to bring in some really exciting speakers this year!
What's one thing you've learned so far from your Johnson Cornell Tech MBA experience?
One of my goals for this year was to become more informed and educated about the process of starting, growing, and sustaining a business. My professional experiences thus far have primarily stemmed from large scale, corporate organizations. That said, I am very interested in and very eager to learn more about how startups are run and what steps to take to position a startup for success.

I took an Entrepreneurial Finance class with Professor Elizabeth Berger and thoroughly enjoyed the experience. I definitely feel more informed about how startups raise capital, types of fundraising channels, term sheets, etc. Professor Berger also invited many guest speakers who are founders, VCs, and lawyers to speak with our class. It's been really interesting to hear first-hand perspectives from these folks; they've offered a lot of candid advice and opinions!
What have you most enjoyed about being a Johnson Cornell Tech MBA so far?
I don't mean to sound cliché when I say this, but I am so in awe of my classmates! They have truly made my MBA experience so special and worthwhile! I also really appreciate how professors have made efforts to adapt to the virtual environment.  I'm excited about the rest of this year and am eager to see where all of us end up. I think there's a lot in store for the class of 2021, and many exciting opportunities to look forward to ahead!