Innovative Tech Platforms Facilitate Better Communication
Employee-Oriented Tech: Relevance, Risk, and Reward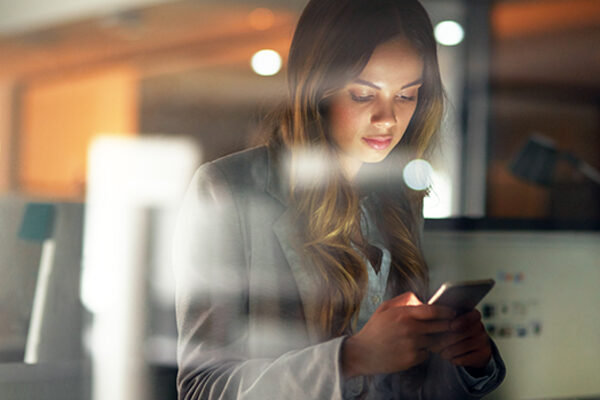 Introducing new employee-oriented tech solutions can be a double-edged sword for the hospitality industry. As technology becomes increasingly relevant for both employers and employees, it's important to consider the positives and negatives of engaging staff digitally. Hosted by the Cornell Center for Innovative Hospitality and Labor Relations (CIHLER),  this session brought together a labor lawyer, an industry consultant, and representatives from two innovative employee-facing tech companies, to discuss the relevance, risk, and reward of employee-oriented tech within hospitality.
David Sherwyn, '86 (ILR), JD '89, John and Melissa Ceriale professor of hospitality human resources, and CIHLER's academic director, moderated the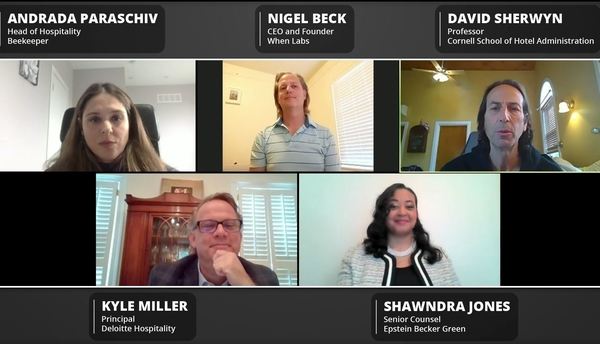 discussion, noting the pandemic's destructive effects on the hospitality industry, while invoking entrepreneurs' perspective on crisis as opportunity. This discussion addressed how to tackle ongoing and emerging concerns using innovative technology. Panelists included CIHLER Advisory Board members Nigel Beck, CEO and founder of When Labs, Andrada Paraschiv, head of hospitality at Beekeeper, along with Shawndra Jones, senior counsel at Epstein Becker Green, and Kyle Miller, principal, Deloitte Hospitality.
Trusted communications platforms don't reach the entire workforce
From a marketing perspective, guest technology is advanced; hotels are able to collect and use extensive customer preference data. Data on employees, however, is not as consistently available, and this affects communications. Workers with desks can rely on office-suite technology and the Human Resources (HR) systems to communicate and collaborate, but non-desk employees are practically off the grid. It was already true before the pandemic that only 20% of all employees could be reached directly within five minutes. Post-pandemic, the traditional ways of communicating with housekeeping staff (or employees in manufacturing, retail and construction), are simply not possible or advisable.  Many of these workers were furloughed, and even as they begin to return to work, daily morning meetings, Standard Operating Procedure binders, and visits to the HR office for forms or schedules doesn't make sense. "The non-desk employees were not really connected," said Andrada Paraschiv. Beekeeper, a modern mobile platform app for front-line workers, aims to remedy this, now that "smart phones" are common.
Employee-facing tech helps hospitality employers with accountability
Employee-facing tech is designed to respond to COVID-era challenges as well as ongoing ones, as employers seek platforms they can roll out effectively and with as much collaboration as possible. Newer platforms like Beekeeper and When Labs can work between the employee and employer, providing front-line workers with the most up-do-date information on job practices, and providing managers with help in overseeing the best and fairest assignments. For instance, rather than delivering paper or verbal updates, managers can transmit the latest information on scheduling, protocols, COVID testing, and contact tracing quickly via text. On their side, employees can interface directly with the product for schedule and health functions. When Labs also manages employee records on behalf of managers, including time-consuming scheduling (and re-scheduling) activities, and integrates multiple platforms for comprehensive data management.  Beekeeper is even using artificial intelligence (AI) to make assessments during prospective employee interviews.
COVID and related litigation are changing how  we work and communicate
Before the pandemic, companies were already turning to tech for cost-saving and efficiency benefits pre-COVID, new COVID-related legal issues are adding to tech relevance. Information emerges quickly, with crucial health and safety compliance guidelines being updated regularly. If a worker needs to perform a task differently tomorrow morning, an employer can know that workers have been informed and can act on the new information immediately.  "You used to hope people took notes; but now the employee texts a robot or vice versa, and information is automatically and efficiently transferred," said Nigel Beck. These communications use appropriate tech and language fluency, and create a lasting record of the exchange.
New tech and addressing legal gray-areas
Shawndra Jones observed that generally, these employee-facing tech products are seen as innovative communications platforms that make the employee's life easier, but cautioned that employers may encounter legal challenges or risks along the way.  They might face state or regional laws governing reimbursement and privacy issues regarding the smart phone. Equal Employment Opportunity (EEO) laws may be called into play, as tech can contain human biases, so employers should determine if the technology has been appropriately validated.  Employers should also establish a way for employees or qualified applicants to contact HR to request reasonable accommodations. Wage and hour matters may arise, as all hours worked by non-exempt employees must be counted, including time on the technology, and these laws are enforced more stringently than before. Since there may not be clear laws and practices for these innovations, lawyers may have to create analogies and argue for inferences. And, as all employee/employer relationships end at some point, employers will do well to plan for data retrieval at some point.
While all developing technology requires time for adjustment, these platforms hope to facilitate communication for all parties involved.  "Communication generally improves relationships," commented Beck.
Please watch this informative webinar in its entirety here: Employee-Oriented Tech: Relevance, Risk, and Reward