Student Voices: Meet Pearse Lenz, Johnson Cornell Tech MBA Class of 2021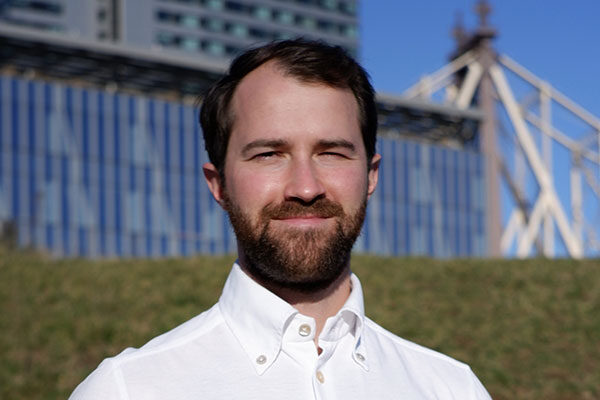 A former account manager and sales strategist for a tech firm and a movie and short film producer who aims to build entertainment media technology products, meet Pearse Lenz, Johnson Cornell Tech MBA Class of 2021.
Prior to enrolling at Cornell, Pearse worked as an account manager at a research and data analytics company in Houston, Texas. He has also produced short films and feature-length movies in his spare time since 2013. Pearse earned his BS from Fordham University.
As a Johnson Cornell Tech MBA student, Pearse took core classes over the summer with students in Johnson's residential, Ithaca-based One-Year MBA program. He and his Johnson Cornell Tech MBA cohorts are continuing their degree program based on the Cornell Tech campus in New York City, working on cross-functional teams with engineering, law, and computer science students. Learn more about Pearse in this Q&A.
Why did you decide to pursue an MBA?
The opportunity to study business in a structured learning environment and meet other great, ambitious people is very attractive.
What career goals will it help you achieve?
My post-MBA goal is to build media technology products that improve the entertainment experience for audiences. Studying in an MBA program deepens my understanding of how to assess and pitch the value of a product, how to work with engineers, and how to prototype products.
 Why did you choose the Johnson Cornell Tech MBA program?
I chose the Cornell Tech MBA program because it offered what I wanted in an MBA program, with a focus on building tech products, located in the media ecosystem of New York City. I also knew that success in media technology meant I needed to build my network of engineers, programmers, and designers, which is essentially the entire Cornell Tech student body.
What aspects of the Johnson Cornell Tech MBA program do you most value?
The frameworks learned in classes like Advanced Strategic Analysis, Managerial Finance, and Critical and Strategic Thinking (among many others) are going to be valuable for my entire life, and I have appreciated how they help me focus my time and efforts in school. I also deeply appreciate Product Studio's lessons on how to learn fast through experimentation and de-risking.
 Did you have second thoughts about starting your MBA now, during the pandemic? If so, what tipped the scales in favor of starting now?
If anything, I am more grateful to be in this program now than I was pre-pandemic. The pandemic is accelerating the development of media technologies now that we have to spend more time at home, so I have used this time to meet virtually with people who are currently building or managing products that address the new needs of these home audiences. Though it has been a different learning experience than what we expected, we're still learning and meeting however we can.
 What, if anything, surprises you about your virtual classes?
Taking classes from anywhere, in real time, is pretty nice. It gives you a new flexibility to participate in a class on your own terms that did not exist pre-pandemic.
Are you connecting with people and making new friends in spite of virtual classes and social distancing?
Yes. Though we cannot have as much of the face-to-face social experience we might want, we still participate in virtual social events. Alumni have also been great about making themselves available for one-on-one Zoom calls and occasional meetups in the city.
Have you joined any student clubs? If so, which ones?
I am one of the student leaders of a speaker series called TECHTalks, where we invite leaders in technology to meet with students over Zoom to talk about their work and industry. The talks are inspiring and reinforce the school's ethos of engineering products that matter.
What's one thing you've learned so far from your Johnson Cornell Tech MBA experience?
Maybe like others who are working from home or taking a full course load, it is very important to make time for yourself and find balance across your many pursuits and interests. It is not easy, but worth the effort.
What have you most enjoyed about being a Johnson Cornell Tech MBA so far?
Sharing the Product Studio experience has been really rewarding. I think we have around 70 teams of students all working on the same assignments and problems together, and it is great to see the different approaches people take to tackle them based on their backgrounds and interests.