Student Voices: Meet AJ Mackey SHA '23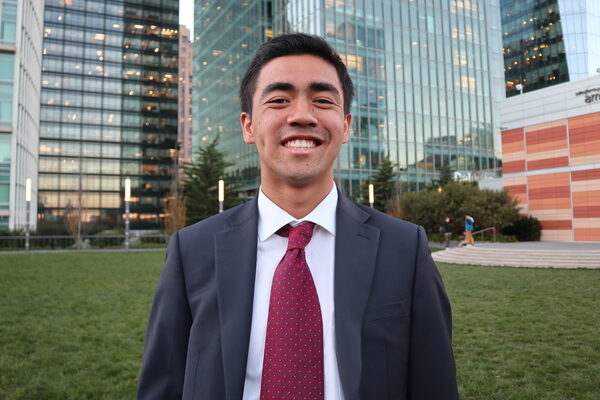 AJ Mackey SHA '23 from Irvine, CA is pursuing a BS in Hotel Administration with a minor in Real Estate & Inequality Studies. An active member of the Cornell and SHA communities, serving as the vice president of mentorship in the Cornell Real Estate Club, vice president of marketing in the Cornell Hotel Society, and a Hotel School Ambassador, he is working towards a career as a real estate developer in the theme park and tourism industry.
Why did you decide to pursue a degree at SHA?
I wanted to come to the Hotel School to be in an environment where I can explore and excel in whatever areas of business and hospitality I am curious about. I love being able to attend a school that fosters a tight-knit community, but also supports a strong alumni network with different passions. As someone who is definitely motivated, but curious, this school is perfect for me to stay engaged in any endeavor I come across.
What career goals will it help you achieve?
Coming to the Hotel School will provide me with a strong skill set that will allow me to navigate the working world, which is rapidly shifting and continues to change as time goes by. By taking the right classes, engaging with respected alumni, and learning about industry changes, SHA will allow me to build a solid path for establishing my first professional steps and instill a sense of motivation that will drive me to navigate my own career!
How many of your classes are in person and how many are virtual?
This past semester, I had three in person classes and three virtual courses. My two core in person classes were Managerial Accounting and Culinary, a class that I still got to cook real recipes in the kitchen for. My two virtual core classes were Human Resources Management and Hospitality Development, which both had a lot of group assignments which kept them very engaging. Aside from these courses, I enrolled in a policy class discussion and a course about the business on modern medicine.
Are you connecting with people and making new friends in spite of virtual classes and social distancing?
Yes! The number of people I've met through my virtual classes is much higher than expected, especially when it comes to asking for help and review meetings that I join with people in my classes. While it may have been a physically distant experience, the social engagement is still very much alive, which I love.
Is there a faculty or staff member that has gone above and beyond to help you? If so, who and how did they help?
Professor Stewart Harris! I had him my first semester coming to the Hotel School for Business Writing, and it was awesome being able to reconnect with him when I was applying for a job at the SHA Communication Center, which he recommended me for.
What's one thing you've learned so far from your SHA experience?
Cornell has a lot to offer, so make an action plan for things you want to do. What's even more important is to be ready for that plan to change. As I saw my freshman year, not all experiences will pan out the way we expect, so it is important to keep your hopes up, live in the moment, and continue to engage with your classmates as much as possible. This mindset will for sure open doors down the road.
What have you most enjoyed about being an SHA student so far?
Hotelie Weekend! This event was my first time exploring New York City, and I especially enjoyed connecting with other alumni and students in different industries and highly recommend it to anyone who has the opportunity to attend this event! It even opened the door for me to continue being involved in the Cornell Hotel Society.
What words of wisdom do you have for future/current SHA students?
Always Take advantage of opportunities in and around the school. You may underestimate the importance of just putting yourself out there, but it really does make all the difference in your experience as a student, even if it is just one event or conversation. Never underestimate when and where you can make a connection with someone!