Park Perspectives: Assembling the collaborative leadership toolkit, one experience at a time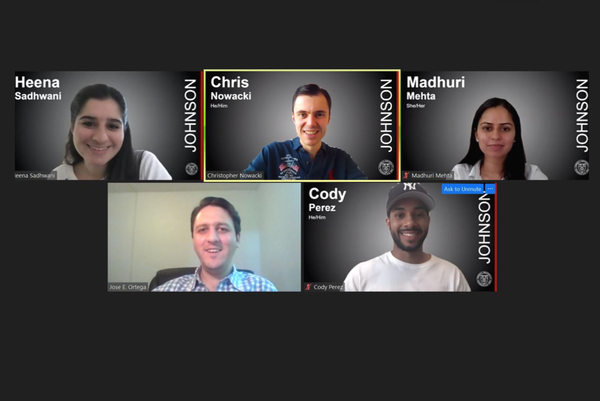 Missing the Call but Making the Decision
For many, February of 2020 is an anchoring point harkening back to a time when people could travel, groups could gather, and there was a whole lot less Zoom. But the specific time-period remains in my mind as the month I got one of the greatest calls of my life – an offer to join the Park Fellows program at Cornell-Johnson. A call, that I might clarify, I actually missed. Before the pandemic when business travel was a regular construct, I worked as a Strategy and Analytics Consultant for Deloitte in New York City. And, like many Thursday nights, when I got the call, I was still in the air – probably working on a client slide deck or cranking out an excel model.
Getting off the plane I was in much disbelief; I listened to the message that'd been left for me with the exciting news, sitting alone at a darkened gate halfway up the LaGuardia terminal D concourse. So much to take in and so many questions flooded my mind, all the while knowing that what Cornell had just offered was a ticket that I knew I was going to punch. Four months later in a world riddled with uncertainty as a global pandemic raged, I made the boldest announcement of my life to date. I told my employer that I would be leaving to attend business school in the fall. And with the warm support of my close mentors and colleagues, I saw to it.
Taking on Challenges Virtually and Leveraging Previous Experiences
"I actually went to Cornell for undergrad, too," I would tell people as I met new students in my class, "It's great to be back." Although, this time things felt a bit different. Orientation was shifted online, international colleagues braved nocturnal schedules, and we quickly got used to mixing via "breakout room." In one such room I remember meeting my core team for the very first time. Not more than a few days later we would be thrown into the business school deep end competing in the Leading Teams case competition, that would force us otherwise strangers to work together to solve a business leadership issue in a constrained 4-hour period of time with not much more than a packet of information and our brains. I remember sitting in the "classroom zoom" as the instructors read the high-level instructions before launching the case. As they ran through the final logistical items my mind switched from anxious bewilderment to a place of comfort and familiarity. As a consultant, I'd been here before – or at least somewhere like it.
As the instructors ended the zoom meeting and left us all to it, there was a moment of silence, everyone probably doing just as I was, staring at a blank screen in a quiet apartment. But I had a plan. Minutes later my newly acquainted core team was in a zoom with me. I suggested that we first read the case independently then turn cameras on in 20 minutes. In that time, I took the opportunity to set up a google document with a high-level framework and an outline. All we needed now were the ideas.
Banding Together a Team of Diverse Backgrounds and Perspectives
When we came back together, I encouraged we begin with a good old-fashioned brainstorm. An art learned in my previous experience. Not to bias the group with what I'd previously framed, I brought it into view after the ten-minute power session and mapped the key pieces from the brainstorm to it. And after just 30 minutes we had a framework, content, and a skeleton deck. Three and a half hours later we submitted, and after the adrenaline rush had calmed and we were able to take a sigh of relief and share a quick laugh, the strangers who had started the morning together were now a battle-hardened team, and confidence was – a scene closely resembling that of one of my old consulting project teams, an otherwise unfamiliar group jumping in head-first into the business problem, voices loud as well as reserved all providing ideas laying the foundation for the strategy.
The next day was the competition, I remember my heart racing as the judges tallied the votes and read out the three finalist teams, and when I heard our team's number called, I knew we could win.
Same as where we'd started the journey, we found ourselves in another breakout room, instructed that we'd be awaiting our team's turn to present our case in front of the panel of judges and the entire first year class. Conversation quickly turned tactical. And as the team exchanged perspectives, I offered up a potential universally benefiting option. Anticipating heat from the judges (and nerves from presenting in front of 300+ new peers), we'd present the parts that were closest to each of us, but as for questions from the panel, I'd receive and field the questions first. This would allow the group to ruminate on the question asked while I translated the question into terms synonymous to our narrative and storyline. Upon which I'd then handoff the question to the teammate most suitable to answer.
Moments later we were transported back into the class-wide room and were fast-presenting the deck. We didn't get more than a minute in before we were peppered with the first question from the judges. Remembering the strategy, I vocally acknowledged the question, restated it in terms that matched the vernacular of our narrative, and handed it off to a teammate. They then provided a clear, comprehensive response based on our analysis. Five more times this would happen, and five more times it worked.
After the two other finalist teams had gone through their respective presentations it was up to the judges to decide the champions. Hearts pounding and beads of sweat along temples, the teams awaited the deliberation. "And the winning team is, team 47! Please come back on camera for everyone to see you!" Five smiling zoom faces filled the class-wide screen, astonished at what had just happened, wondering what might else come of this whole business school experience.
After that day Pre-Term quickly faded as the semester hit and the Johnson core curriculum commenced; the five recent strangers were now a high functioning team. We would continually come back to the approach used that day in pre-term, modifying, augmenting and fitting to the assignment at hand – an instrument of the consulting ensemble tuned for the MBA.
Translating Experiences Across the Business School Landscape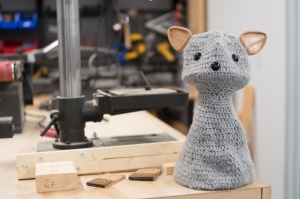 And as extracurricular activities kicked off, I found myself in yet another new but interestingly familiar place – this time not in a classroom setting. Part of another team of five, our goal was quintessentially simple in description, yet broad in scope – to help a PhD student with a technological invention craft a commercial strategy. I remember that old same feeling of anxious bewilderment sitting on a zoom with four new faces that I'd not meet in person for months but had quick deadlines to meet and value to create for our commercialization fellow (or simply our "fellow").
An impressive bunch, the team comprised experience in financial services, education, technology, and management consulting. The invention we were tasked with commercializing was a piece of that would be fit into a robotic doll for a youth target segment. With week 1 almost behind us and the mid-semester presentation to Cornell faculty on the horizon, the team shuffled to get traction and consensus around the business situation, plausible project scope, and strategic direction. Though limited in my facility with the core product technology, as I pondered the puzzle at hand, instinct yet again kicked in. A framework and an approach to tackling the problem was needed. Starting with taking a proverbial step back.
Daring to Find a Fresh Perspective and Change the Course
Something that I remembered from my consulting experiences was the real value in providing a fresh perspective. A lot of times the clients that hired us had ten to fifteen years of experience and deep understanding in their respective niche. But it was creativity rooted in structured thinking that was what eventually drove them forward – ignited by our engagement. Reflecting on this, I noticed a wrinkle in our project's question. If we were to build a commercial strategy, we'd certainly need to understand whether there was even a commercial opportunity (and how large) for what our fellow wanted to develop. Like most teams, I'd imagine, energized by the looming first deliverable deadlines, our first instinct was to dive deep into analysis and to begin building a wrapper around a potential commercial strategy for "it". But I challenged my team. What exactly was "it"? And who exactly was "it" going to serve? Our fellow's team had done an extensive amount of customer discovery research in the elementary education space. The thinking was that we would take such interview output as gospel and keep marching in that direction. But, like any former consulting analyst, I dug into the data and wove together a common thread. For this robotic doll to be used in schools it would first require a curriculum to be built around it, by grade, by application, and would need to be tailored to the specific district – a high hurdle for one PhD and no real operations team behind him, and certainly one that would wear heavily on margin potential. I pocketed this finding and then asked the more fundamental question, what were the estimated unit economics? Upon hearing how thin the margin potential likely would be, the team and me knew that we had to consider alternative segments. By the next meeting, I'd devised a market attractiveness assessment framework, and then leveraged the knowledge of the team to do a rapid assessment across four key target segments. Within two weeks we had the ship steered back on-course – a risky investment of time but one we knew would pay dividends.
The project went on to be a success, not only because we were able to provide a better analysis and a better strategic recommendation for our fellow, but because the team was able to actually bring to bear its constituent talents and pockets of expertise.
Using My MBA Experiences as a Cornerstone for the Future
Now almost a full academic year into my MBA I come back to experiences like these – inside and outside of the classroom, reflecting on what worked, what could have been augmented, and what were the commonalities that I can carry forward. And in most of the cases like those articulated here, it involves lighting a fuse under a group of high-potential individuals and providing the apparatus to facilitate the combustion of progress, enabling those around me to execute on their potential and make their impact. And as I look toward the journey ahead, I'll keep this in mind, bringing a mechanism for creative problem solving and effective teaming and collaboration – a toolkit built in the office, on the client site, on planes, and in Ubers, and honed here at Johnson.