At a glance: 2021 SHA Celebration Week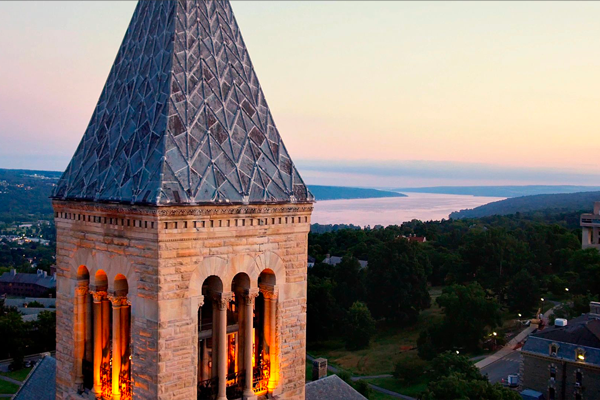 Hotelies far and wide showed their pride for the School of Hotel Administration (SHA) during an exciting week of virtual programming–known this year as SHA Celebration Week. Beginning with the 12th annual Cornell Hospitality Icon and Innovator Awards, SHA Celebration Week offered several thought leadership programs that featured alumni leaders as well as recognized icons and innovators in the world of business and hospitality.
Alumni were also encouraged to participate in a virtual wine tasting, professional education, and other events that were co-offered during the 2021 Cornell Reunion at the Cornell SC Johnson College of Business.
Get a glimpse of the events and celebrations below.
Leading Through A Pandemic
Dean Kate Walsh joined Anthony Capuano '87, chief executive officer (CEO) of Marriott International, for a candid discussion about his first 100 days as leader of the world's largest hospitality company.
"Here, there is literally no playbook," said Capuano as he discussed the economic impacts of the COVID-19 pandemic. "I think we've got to continue to be vigilant because all of us in the industry–we see in real time through our data. You see a spike in infections in a given market and you almost immediately see demand fall off a cliff. You see consumer confidence shaken in a given market because of reports about a new variant emerging."
He also took a moment to encourage current students to take advantage of every opportunity they have at Cornell University.
"Take advantage of all that certainly the School of Hotel Administration has to offer," he said. "Really take advantage of the opportunities that have been created by the integration with the broader business school. And take advantage of the broader University–the offerings that Cornell affords you are really a once in a lifetime opportunity."

Sustainability in the Hospitality Industry
Leaders in sustainability joined Professor Aaron Adalja for "Sustainability in the Hospitality Industry: Challenges and Opportunities," a panel discussion that included experts and specialists from numerous businesses, including Salesforce, JLL, Marriott International, and Deloitte.
"Companies across industry are thinking about risk differently," said panelist Jake Shirmer MBA '12, senior manager and sustainability specialist at Deloitte. "Coming out of COVID-19–that's really spearheaded thinking about climate-related risk and its reputational aspects."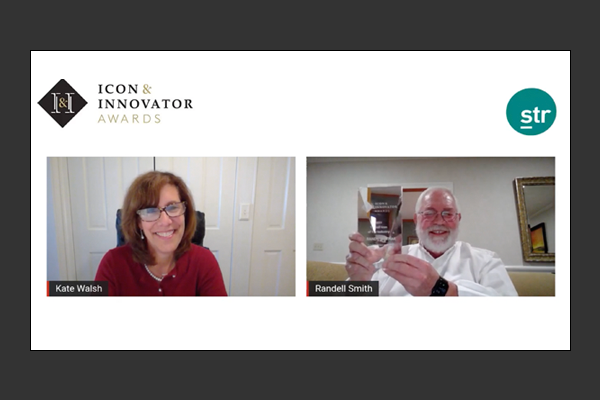 Icon and Innovator Awards
The 12th annual Cornell Hospitality Icon and Innovator Awards celebrated Randy Smith, co-founder and former chairman of STR and the recipient of the 2021 Cornell Hospitality Icon of the Industry Award.
"Randy brought analytics to the hotel industry, making market and competitor analysis and performance benchmarking possible," said Dean Walsh. "He changed the game and set the standard for data intelligence and global benchmarking, allowing hotels, owners, and operators to compete strategically, plan for the future, and understand their customers."
"It is very gratifying to have this opportunity to honor him for the tremendous impact he has had on the industry," she said.
The ceremony also featured the celebration of two alumni from SHA's Baker Program in Real Estate–Shaily Patil MPS-RE '21 and Jacob Tannenbaum MPS-RE '21, the winners of the 11th Cornell Hospitality Business Plan Competition.
The duo earned the $25,000 first prize for Life After Life, a concept that addresses the problem of unaffordable and unsustainable funeral practices in the U.S. Life After Life leverages natural burial conservation cemeteries at the center of new community developments as a tool for ecosystem rehabilitation.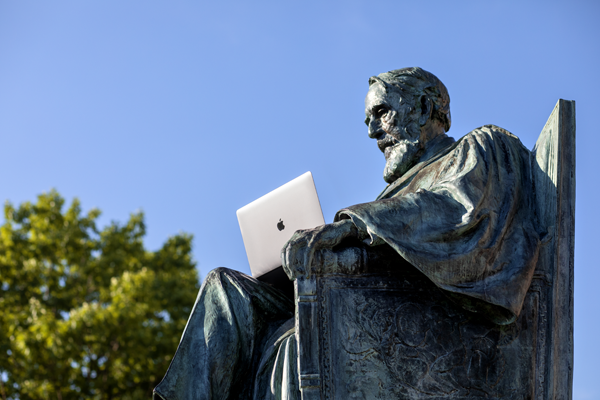 2021 Cornell Reunion
SHA Celebration Week and the 2021 Cornell Reunion co-offered events that brought together the greater SC Johnson College community. A virtual wine tasting, professional education, and an alumni panel of startup experts were among the highlights of this year's fully virtual celebrations of all things Cornellian.
College Dean Andrew Karolyi gave remarks on the state of the college, an event that followed individual School updates from Dyson Interim Dean Edward McLaughlin, Johnson Dean Mark Nelson, and Dean Walsh.