At a glance: 2021 Cornell Reunion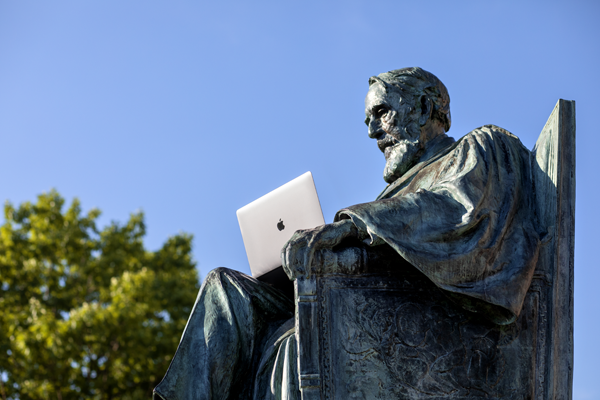 The Cornell SC Johnson College of Business joined the greater Cornell community in its celebrations of alumni and all things Cornellian during the 2021 Cornell Reunion. This year's events, which were held virtually, allowed SC Johnson College graduates to collectively reflect on their time at Cornell as well as the impact of their experiences.
Get a snapshot below, which includes remarks from alumni as well as leadership from the College and its three schools–the Charles H. Dyson School of Applied Economics and Management (Dyson), the Samuel Curtis Johnson Graduate School of Management (Johnson), and the School of Hotel Administration (SHA).
Leading startups for a better world
Andrew Karolyi, dean of the College, joined a panel of alumni who are making their marks in the world of startups, including Johnson's Natalie Grillon MBA '12 of Open Apparel Registry and James Bradley Edwards '96, MBA '03 of Cloudbreak Health, LLC; SHA's Samay Bansal '21 of the Million Meals Mission; and Dyson's Moussa Paye '19 of UniPantry.
"It takes a kind of special perspective and, honestly, a special kind of leader to take what looks like chaos and shift it into innovation," said Dean Karolyi in his opening remarks. "And more and more, ladies and gentlemen, you're seeing Cornell University alumni leading the charge in startups focused on improving lives and building a better world."
Take a moment to read some of the notable quotes from "Leading Startups for a Better World: Cornell Alumni Take Charge for Change."
On Sustainable Shared Prosperity
"When you think about Unipantry, we are working with low-income families–people who are living in food deserts–and we are providing them a sense of passive income. How are we doing it? By taking on a policy in social environmental strategy. This is one of the strategies that I learned about in one of my core classes at Cornell and now I'm applying it to an actual business." – Moussa Paye
"Coming out of Johnson, coming out of Cornell, and coming out of the Sustainable Global Enterprise program, I think that it was never a question for me–that [sustainable shared prosperity] wouldn't be centered in any sort of problem that I was approaching. In fact, I came to Johnson wanting to focus on sustainability and positive outcome." – Natalie Grillon
On Cornell's Impact
"I remember very fundamentally taking the entrepreneurship and personal enterprise class with Professor BenDaniel, who became a mentor to me. In that class, he taught me what really the art of entrepreneurship was all about, which is taking something–an idea in your head–and making it real and making it impact people." – James Bradley Edwards
"There's a lot of conversation at the Hotel School about the asset life business model and how that's what the industry is moving towards and it's something I found myself saying over and over again about the Million Meals Mission… So I didn't at all expect that to be what I took from our hotel operations classes, but that probably served me the best." – Samay Bansal
Watch Leading Startups for a Better World

Class of 2020 celebration
The accomplishments and resilience of the Cornell University Class of 2020 was celebrated during a fully virtual ceremony on Sunday, June 13, 2021. "The pandemic may have taken away our chance to celebrate together your transition from Cornell students to Cornell alumni," President Martha E. Pollack said in a live address. "But it can never take away your Cornell education, or your Cornell community."
Read More at the Cornell Chronicle
State of the College and Schools addresses
Dean Karoyi gave remarks on the state of the college, an event that followed individual School updates from Interim Dean Edward McLaughlin, Dean Mark Nelson, and Dean Kate Walsh.
"Our College is stronger together," Dean Karolyi said in his inaugural address to the Cornell community. " We need to renew our focus on our foundation, but also to build on it–to further develop what I think is special about our culture, which is that it is inclusive. It is respectful to our diversity of views. It draws on the wisdom of our individual voices."
"I know I need to focus my energies on continuing to build a work and learning environment to help us celebrate this diversity of backgrounds–the brilliant school legacies that make us up–and to build our sense of belonging, inclusiveness, in this College as a whole."