Meet Sonia Fajen, CEMS-MIM '21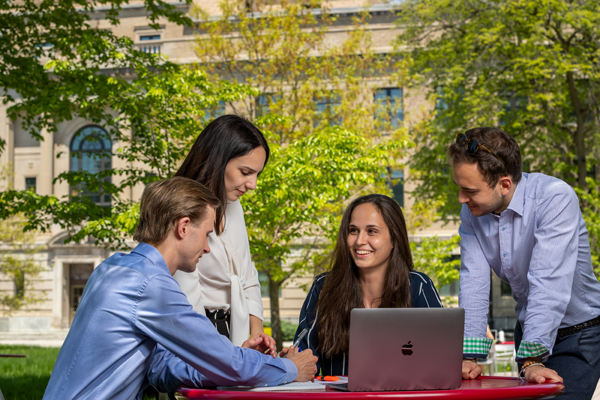 A passionate global strategist and leader who calls Bremen, Germany, home–meet Sonia Fajen, a Master of Science in Economics and Business Administration student at the Norwegian School of Economics and member of the inaugural class of the CEMS Master in International Management (MIM) program at the Charles H. Dyson School of Applied Economics and Management.
Learn more about Sonia in this Q&A.
Tell us about your experience.
We were the first cohort to ever join the CEMS program at Cornell University. This circumstance alone already made it quite unique. We were able to bring in ideas that will help shape the program for future cohorts.
For instance, we founded the CEMS Club USA, a student organization that runs social events and makes sure that social responsibility is always at the core of our behavior. It was great to see that Cornell is very open to our ideas and already so passionate about the CEMS community.
How has this experience impacted your work?
I think that the greatest influence that the CEMS program has on any student is the development of a truly global mindset. The program brings together people from multiple backgrounds who all unite in the common goal of becoming responsible leaders.
This is especially cultivated in class discussions where, for instance, ethics are discussed. The different perspectives in these conversations are highly insightful and helped us to fully embrace varying points of view. Also, courses such as Global Strategy and Leadership, as well as the international internship contribute to the development of a global mindset.
What course or idea particularly excited you?
For me, the most exciting part of my CEMS degree was the business project. It is a consultancy-style project, where the CEMS students solve a real business problem for one of the corporate partners.
In my case, I was working on a team that developed a go-to-market strategy for a Siemens Healthineers product meant for the U.S. market. For that purpose, we engaged with multiple stakeholders, including internal product owners and existing customers.
I particularly liked my group's spirit as well as the great support we received from Cornell and the corporate partner, which helped us to tackle this challenge successfully. It is a pleasure to hear that Siemens Healthineers is now working on implementing our project's outcomes, confirming that our hard work paid off.
Is there a faculty member who particularly inspired you?
While at Cornell, I got the chance to participate in a course named Food and Consumer Packaged Goods Industry Dynamics. It was led by Daniel Hooker, a senior lecturer who we considered to be a part of the CEMS cohort by the end of the semester.
He made the classes highly engaging and provided us the opportunity to talk to leading experts in the U.S. consumer packaged goods industry. This included representatives from businesses such as Wegmans, PepsiCo, and Unilever. He also took his time to meet us on a one-to-one basis to discuss career plans in the U.S. and invited a number of "CEMS-ies" to join him on The Food Institute podcast.
Describe your favorite moment or memory at Cornell.
My personal highlight at Cornell are the evenings at Libe Slope. Once the temperatures got warmer, we often gathered there to have dinner while watching the sunset.
This was truly special not only because the sunsets are breathtaking as they overlook Cayuga Lake, but also because it was a great way to meet with friends to spend some quality time relaxing, especially during the stressful study periods towards the end of the semester.
The atmosphere at the Slope is unique. Some people join with their puppies, others use the downhill lanes to skate. It was also a nice way to get to know non-CEMS students, especially during the pandemic when social events were rather limited.
Imagine your future self. Tell us about her.
I don't know yet– and I believe it is just right this way. Cornell and CEMS have taught me to be open-minded, flexible, and ready to take opportunities as they come. So, while I am about to start working in the fast-moving consumer goods (FMCG) industry after my studies, the CEMS business project raised my interest in the healthcare market.
What I know for sure is that I will always strive for a career in an international environment as I learn and grow from people with diverse backgrounds–and the CEMS program confirmed this once more.
Is there anything else you'd like to share with us?
I think that the greatest strength of the CEMS program is its people. Being so warmly welcomed by the Cornell community, especially during such unprecedented times, is not a given, and all of us are extremely grateful for this amazing opportunity.