Glamping: The Present (and Future) of Alternative Lodging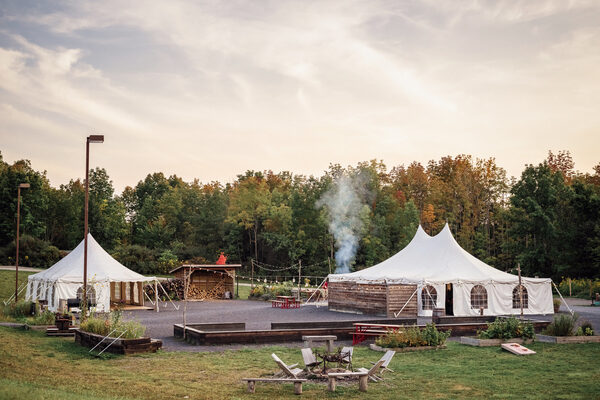 In the last few years, an unlikely marriage has occurred between nature and luxury that has spurred an entirely new industry (and word): "glamping." More and more people want to feel immersed in the outdoors without having to forgo modern conveniences like heating or electricity. Glamping allows for camping with amenities, ensuring even the most outdoor-averse can find comfort among wildlife.
Bobby Frisch, MBA '13 has capitalized on this trend with Firelight Camps, where he is co-founder and chief executive officer (CEO). Frisch shared his story and talked Firelight Camps as part of the Center for Sustainable Global Enterprise's Leaders in Sustainable Global Enterprise speaker series.
Revitalizing Camping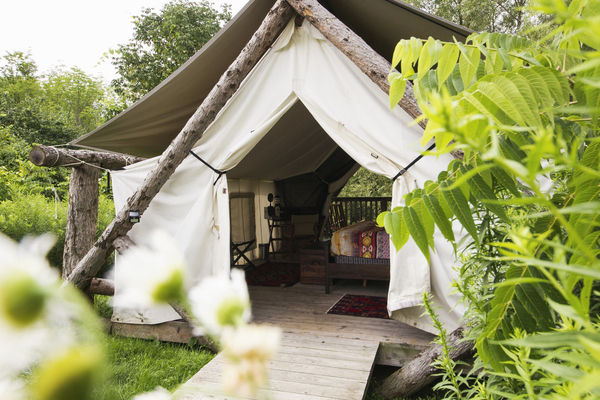 Based in Ithaca, NY, Firelight Camps creates comfortable, stylish, and revitalizing camping experiences for their guests while pioneering low-impact infrastructure. Firelight Camps combines a traditional campground with a boutique hotel, offering guests hotel-quality linens inside large canvas tents with large beds and private bathrooms. There's even a centralized lobby where guests are given breakfast in the morning and can take advantage of a full bar at night.
Despite providing these creature comforts, Frisch remains committed to the spirit of traditional camping: fostering a love of the outdoors.
"We are a mission-driven company, and our mission is to get more people outside to help create a reverence for the natural."
From Conception to Reality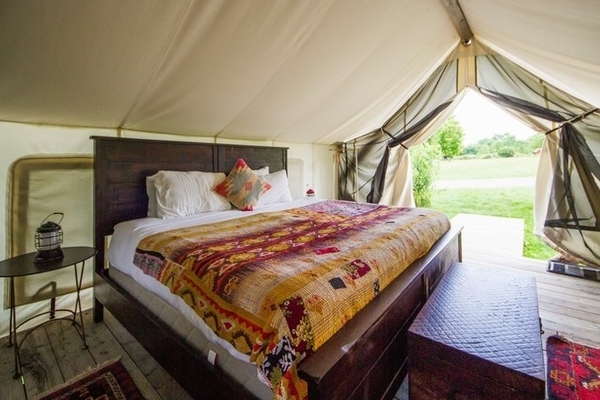 Frisch first dipped his toe into the hospitality industry when he co-founded a hostel in Matagalpa, Nicaragua, where he was living as a Peace Corps volunteer. After that, he consulted for a company that focused on setting up and transporting temporary lodging for large music festivals like Coachella and Bonnaroo.
Wanting to start a business of his own that incorporated his love of nature, Frisch began putting together a business plan for what would eventually become Firelight Camps, winning the Stein Family Prize in the 2013 Cornell Hospitality Business Plan Competition during his MBA.
As a result of his placement in the competition, Firelight Camps was able to launch with the help of a small team of investors, though recently their investor pool has grown significantly. After launching a crowdfunding campaign last year, Firelight has raised over $460,000 on Wefunder with the help of more than 190 digital investors.
Forging into the Unknown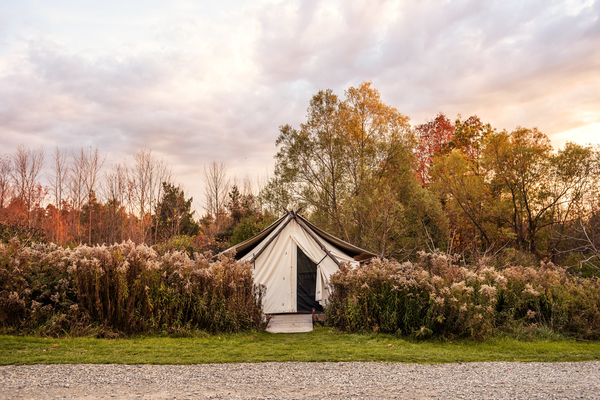 Although their future is bright, Firelight's journey to success has not been without adversity.
"We've been in front of many state and municipal planning boards who don't know what to make of us. We get questions like, 'Is this a hotel? Is this a resort? Is this a campground? Is this a motel?' The way the zoning laws are written makes it so that Firelight Camps doesn't cleanly fit into any of those categories, which can slow down approvals processes."
Despite these challenges however, Firelight Camps continues to grow and the company plans to expand to Phoenicia, NY, in the near future.
"We're so excited to begin servicing the Phoenicia, NY, community, and build upon the business we've created in Ithaca. If you're looking for a new way to experience nature, we hope to see you around the campfire one of these days."
—Amanda Hartman '22 is a writer for the Center for Sustainable Global Enterprise