Virtuelly helps companies, events organizers adapt to a virtual-first world
Startup Snapshot: Ankit Dhawan, MBA '16, founder and CEO, Virtuelly

Ankit Dhawan, MBA '16, is founder and CEO of Virtuelly, a platform that helps companies, events organizers, and others adapt to a virtual-first world. Virtuelly is a marketplace that curates virtual experiences for remote and distributed teams to do team building and other fun activities, says Dhawan.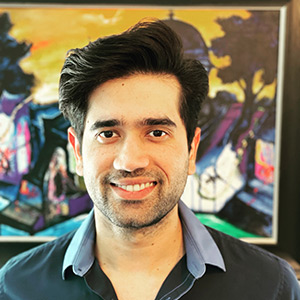 Before launching Virtuelly in December 2020, Dhawan was a product manager at Amazon, where he led product, go-to-market, and growth strategy for the company's Polly AI service (text to speech). Before that, he led Amazon Global's personalization and localization efforts for its international shoppers. At Johnson, Dhawan led the Entrepreneurship and High Tech clubs, and was selected to participate in Life Changing Labs, Cornell's summer accelerator for top, entrepreneurially-minded students.
Learn more about Dhawan and Virtuelly in this Q&A.
What does Virtuelly do? What problem or opportunity does it address?
Virtuelly is a platform to discover, book, and host the most interactive virtual events and experiences. We help distributed and remote teams do team building and other fun activities, all virtually and facilitated live by world-class hosts. On the supply side, we help creators or hosts manage and deliver engaging virtual experiences seamlessly, including a patent-pending virtual venue (video platform) to host live events.
With 36 million people expected to be working remotely by 2025 and virtual events expected to grow to a $774 billion market by 2030, there is a huge opportunity in the market to enable creators and hosts to connect directly with their audiences in a seamless manner from one platform.
What inspired you to launch Virtuelly?
After graduating from Johnson I worked as a product manager at Amazon, where I spent most of the time in distributed teams (pre-pandemic as well). Working became very transactional and I always wished there was a better way to connect with my team virtually. When the pandemic hit everyone was in the same shoes as me. Everyone I spoke with validated the idea and at the turn of the new year, in December 2020, I quit Amazon and launched Virtuelly. Since then, the idea has evolved to become a more holistic platform to help creators and hosts monetize and manage their virtual events while connecting them with customers through our marketplace.
What are some of the most memorable moments in your startup journey?
Even in this short time there have been so many—from getting the first booking to almost deleting our whole customer database by mistake and from looking at the first prototype to getting our first investor check—the journey has been filled with ups and downs. One great high point came in May 2021, when we won the "Hottest remote and work startup of the year" award, including $25K in prize money, at the world's largest remote work conference, Running Remote.
What obstacles did you face and overcome in your startup journey?
The biggest obstacle I had was being both a non-technical founder and a solo founder. However, I did not let that stop me, as I very strongly believe in what we are doing and where we are headed. I went to market using an outsourced development agency to prove the feasibility. We launched a minimum viable product, got customer bookings, and grew in revenue 100 percent most months. I am happy to share that I have an amazing technical co-founder coming on board who has two successful exits under his belt. We are already a team of seven people and we look to grow further.
Did you draw on any Cornell resources to help launch Virtuelly?
If I had to point to one thing only that played a key part in where we are today it would be all my Cornell connections—people who have selflessly helped me. Whether it's connecting me with angel investors, with their companies, or just opening doors, the Cornell network has been the biggest blessing for Virtuelly. I estimate 40 percent of our bookings have come through some Cornell connection. It still amazes me how close-knit the Cornell community is, even after graduation.
Is there any particular faculty member who influenced you on your path to becoming an entrepreneur?
I would like to give shout-outs to several: Vishal Gaur, Emerson Professor of Manufacturing Management, and professor of operations, technology and information management; Bill Schmidt, assistant professor of operations, technology and information management; Steve Gal, senior lecturer and career technology entrepreneur. But the biggest shout-out is reserved for Angela Noble-Grange, senior lecturer of management communication, whose oral communication class was my favorite! She put in so much effort and gave one-on-one coaching that really helped me improve my oral communication skills. I now find myself using those skills on a daily basis as I am pitching to customers, investors, and companies.
What are the most valuable things you learned at Cornell that helped in launching Virtuelly? And what's most helpful now, in running your new business?
One of the most valuable lessons I learned at Cornell was the ability to drive change you want to see. I was lucky to be part of such an amazing peer group that drove real change while at school, whether it was introducing a tech immersion, coursework on data analytics, or re-invigorating clubs, everyone got shit done and delivered results without excuses. "Get Shit Done" is a mantra I use daily in my startup (and it was our core team's at school). You either find a way or find an excuse.
What advice do you have for other aspiring entrepreneurs?
To cite a quote attributed to Henry Ford: "Whether you believe you can do a thing or not, you are right." Just get started! It might be counterintuitive to a lot of advice out there that recommends you do a detailed user study, etc. Just do your homework on the idea, see if it solves a problem enough people have, then go speak to a few of those people, validate your hypothesis, and just get started. Once you start you will find so many opportunities. And if you are determined enough—you will get there.