Veteran Voices: Meet US Marine Corps Captain Edmund Fuentes MBA '22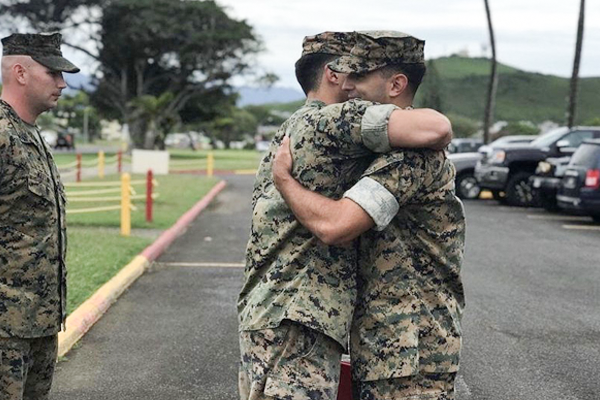 Captain Edmund Thomas Fuentes MBA '22 is a US Marine Corps and US Naval Academy veteran who is enrolled in the Cornell Executive MBA (EMBA) Americas program at the Samuel Curtis Johnson Graduate School of Management.
"Being a veteran means being an ambassador and representative for all service members," says Fuentes. "And I understand many people I interact with professionally may not know any service members personally, so it's important for me to share their stories and our collective experiences."
Learn more about Fuentes in this Veterans Voices Q&A.
Tell us about your life before Cornell and your military service.
I come from a family that is dedicated to public service. My paternal grandfather served in the Navy during World War II. My maternal grandfather served in the Korean War. My father enlisted in the Marine Corps at the height of the Vietnam War, and my brother served in the Navy after graduating college. I was shown the value of military service both in its ability to shape and grow me as an individual and the commitment to my country.
What were your first days of service like?
The first day with my first unit happened during the fall of 2021. We participated in a memorial service for seven Marines who were killed in action during the battalion's most recent deployment to Afghanistan.

This experience set the tone for me and my military career. This was not training. Real-world mistakes had real-world consequences, and the life and safety of my Marines depended on my willingness and ability to devote myself to my craft.
To what parts of the world did your service take you?
I was an infantry and intelligence officer in the Marine Corps. I served as a platoon commander in Marjah, Afghanistan. In 2014, I was the lead intelligence planner for the US Embassy evacuations in Juba, South Sudan, and Tripoli, Libya. During that deployment, I spent tie in North and Eastern Africa and parts of Spain.

My third deployment was spent in the Western Pacific—primarily in Japan, the Philippines, and South Korea. I conducted bilateral training exercises with host nation militaries. During my fourth deployment, I was a planning and strategy officer in support of counterterrorism operations in Northern and Western Africa.
Tell us about your transition to civilian life. What inspired you to pursue your degree at Cornell?
I spent eight years in the Marine Corps and nearly four-and-a-half of those years were spent deployed or otherwise gone for training exercises. My transition to civilian life was exciting, and I initially focused on decompressing and preparing myself for my next career. I knew I had to continue my education in order to complement my military service experience and to be more competitive in the private sector.

Cornell was recommended to me by one of my classmates from the Naval Academy. I really liked the idea of the boardroom concept coupled with on-campus sessions spread out across the 18 months of the program. This allowed me to pursue my professional ambitions and a degree at the same time.
Is there something you're particularly excited to learn and experience?
I have a month remaining in the formal class portion of the program. My boardroom has begun its initial research and planning for the global business project. I'm looking forward to applying everything we've learned throughout the program. I also look forward to demonstrating the value we can bring to our boardroom business partners' long-term strategic goals.

Also, the meetings I have with my team every other weekend in downtown Dallas, Texas. It's always a great opportunity for us to kick back after a long week and spend time together. I've loved the relationships I've developed with my team since starting the program.