Hospitality Hackathon promotes interdisciplinary, data-driven solutions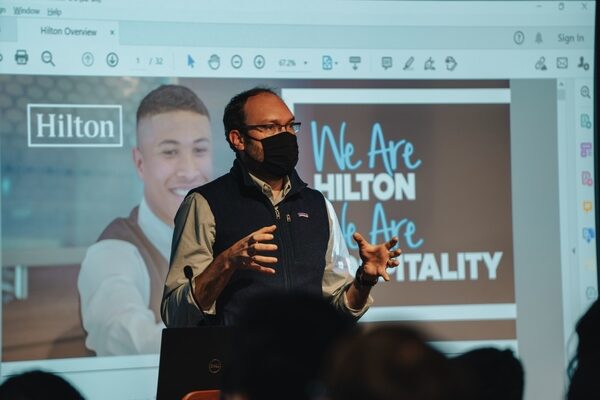 The COVID-19 pandemic has forced the hospitality industry to consider two major issues it's currently facing: 1) limiting guest-employee interaction to stop the spread of the virus and 2) attracting employees back into the industry as travel begins to return to pre-pandemic levels.
Combining diverse perspectives and academic backgrounds, 120 students from across Cornell University came together through 21 teams to model, prototype, and present their solutions for these unique issues at the Cornell Peter and Stephanie Nolan School of Hotel Administration's Pillsbury Institute for Hospitality Entrepreneurship's (PIHE) Hospitality Hackathon. This event, which happened from November 5-7, was developed in partnership with industry leaders at Hilton and SalesForce.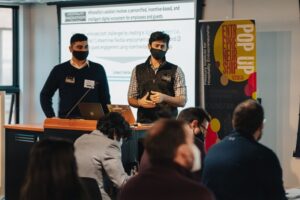 Perhaps one solution is a gamified digital ecosystem that would solve the post-pandemic labor shortage crisis and simultaneously increase digital engagement for hospitality companies, according to team Hiltonality, who took home first prize at the three-day event.
"I thought the Hospitality Hackathon would be a great opportunity to meet like-minded people and solve some cool problems," said team Hiltonality's Armaan Goyal '22, whose team included fellow Hotelie Hamid Warnaich '22 and engineering students Kalil Allon '22 and Tanaya Yadav MEng '22, fully embracing the interdisciplinary concept of the hackathon and learning how effective a good team culture can be.
"Each member of our team knew their own strengths and weaknesses and contributed to the team without encroaching on each other's ideas," he said. "We also focused less on winning the event and more on getting to know one another and having fun."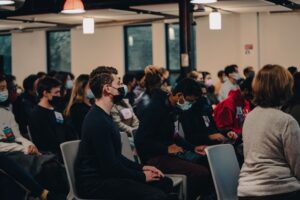 Hiltonality focused on Hilton with a personality—a personified, incentive-based intelligent digital ecosystem through an integration with the existing 'Hilton Honors' app for the guests and an additional iPad app 'Hilton Hires' for their employees. The proposed application was a curation informed by visualizing Hilton's real-time data through Tableau, an interactive data visualization software company focused on business intelligence, who participated in the event.
For Hiltonality's Yadav, who also echoed the importance of learning team building and relying on unique member-strengths to succeed in an industry setting, she was intrigued to explore the avenue of solutions for the hospitality industry through the engineering lens.
"I wanted to understand the impact of COVID on the industry and also learn from the sessions conducted by the industry leaders," she said. "The experience also gave me an even playing field to experiment with business ideas and pitch them to the industry leaders. [It] provided a playing ground for those quintessential skills and the scope of making mistakes without any serious repercussions."
Teams who won select categories for their pitches, taking home part of the $6,000 in total prizes included:
Best Data Visualization: Faria, which recognized the problem of low app engagement and various levels of efficiency across markets. They proposed an online check-in/check-out solution as well as a digital key integration with Apple Wallet to enable guests to avoid using the existing app. Their data visualizations, created in Tableau, show line charts, pie charts, and area graphs to highlight key challenges.
Best Digital Solution: Team Johnson, who explored the entire customer journey from booking to next-trip planning and identified key areas of opportunity to integrate digital solutions. They proposed enhancing the existing Hilton Honors app with more features, such as a real time live folio and food and beverage ordering, to create a more seamless guest experience.
Best Labor Solution: notliH, that proposed a solution to flip the current recruitment process around, by partnering with local educational institutes to attract part-time talent and expose students to the industry early on. They referenced a real-use case of a high school that currently implements this program and expanded on the potential of more co-op programs and how this will help combat current labor challenges.
An interdisciplinary endeavor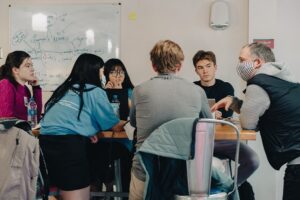 According to Cornell Nolan and PIHE organizers, the hackathon is an exciting way to bring together teams of motivated students from various academic backgrounds, including business, hospitality, arts and sciences, labor relations, human resources, real estate, and so on, in a determined push to answer these questions through self-expression and creative use of technology.
Specifically, the pandemic has transformed the way guests want to interact with hotel employees, and therefore, accommodating guests who want less human interaction during their stay is crucial. Students were prompted to enhance existing technologies, such as digital key, digital check-in and check-out, to increase participation.
In addition, with the return to travel, hotels are struggling to fill open jobs. The teams were instructed to develop an industry-wide campaign highlighting the opportunities available and benefits of a career in hospitality, giving hotels a new competitive advantage over other job options.
"What we love most about this event is that it is interdisciplinary," said Kate Walsh, dean of the Cornell Nolan School of Hotel Administration, who appreciated the robust cross-university representation of students taking part. "The different perspectives, knowledge, and skills students brought together created an outcome that's just really impressive and truly exciting."
Similarly, for Linda Canina, Georges C. and Marian St. Laurent Professor in Applied Business Management and Academic co-director of PIHE, the hackathon provides the opportunity for students to work across disciplines to provide fresh perspectives and innovative ideas.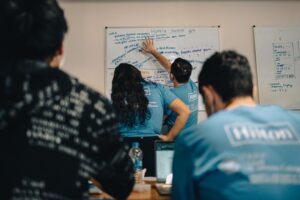 "This really gives our students an opportunity to work together across disciplines and to ideate and develop solutions to real-world problems over a short period of time," Canina said. "This is what learning, especially experiential learning, is all about; you can actually apply what you've learned in the classroom to live problems. and these are real-life issues that these companies, Hilton and Salesforce, are trying to resolve."
Industry insights, entrepreneurial spirit
As student teams built their solutions, industry experts from Hilton and Salesforce Tableau, as well as faculty from Cornell Nolan, specifically Professors Asis Martinez-Jerez, Andrew Quagliata, and Vince Slaugh, organized breakout groups and presentations that helped students on their whirlwind weekend of hacking these industry problems. For Jess Petitt '05, SVP, Commercial Strategy, Insights & Analytics Hilton, this was his third-year hosting and mentoring at the event.
"This is a lot of fun for us," said Petitt, who considers the annual Hackathon as a truly one-of-a-kind event for the industry. "While we work on these questions every week, to partner with interdisciplinary student groups and share in their energy for problem-solving is really energizing."
Students were able to leverage real-time data provided by Hilton to develop an approach to raise guest usage of these platforms and make them more conducive to their hotel experience. Provided through Salesforce Tableau, with access throughout the weekend for students to analyze, the event demonstrated that the future of the industry is data-driven.
"There's so many changes happening right now and travel is volatile," said Dan Pinault, Sales Consultant with Tableau. "We can't operate necessarily on gut feelings, but through the data and see what the data is telling us, and make good decisions based on that."
"Everyone needs to make decisions every day regardless of what role they have in a company, and so, if you have the ability to use those tools and understand the business domain that you're in, you have a huge advantage."
According to Hiltonality's Goyal, Cornell is full of entrepreneurially-driven people who are not afraid to make a dent in the universe. Events as the hackathon promote experiential learning for those with such a spirit.
"Giving those people a chance to "test-drive" their skills in different contexts—like the Hospitality Hackathon—will allow them to discover and learn things beyond the classroom," he said. "In my opinion, this is incredibly important."