Cheick Camara '22 Talks Entrepreneurship and the Future of BlackGen Capital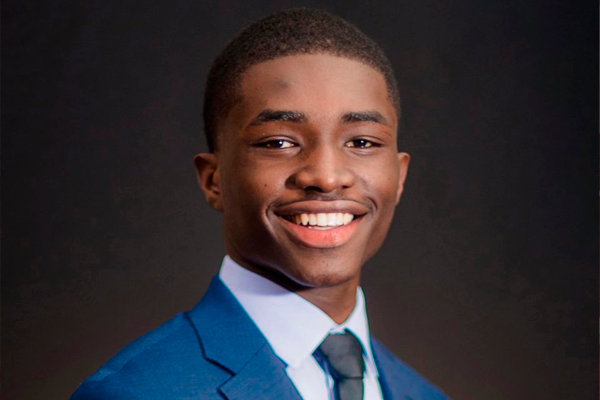 Cheick Camara '22 is the cofounder of the investment fund—BlackGen Capital. Established in 2019 with cofounder Ermias Tadesse '22, BlackGen Capital was developed to address the lack of representation within Cornell's financial clubs.
In its two years of operation, BlackGen Capital has a growing team of students at its helm, expanding the talent pipeline for Black and Brown students who want to enter the financial services industry after they graduate. The investment fund's groundbreaking success is epitomized by its expansion with new chapters arising at other college and university campuses across the country.
For their part, Camara and Tadesse have received national recognition for their innovation and leadership. In 2021 alone, the entrepreneurs made Ebony Power 100's list and were recognized as Black leaders who are shaping history by NBC Make It.
Camara is in his last semester as an undergraduate student at the Charles H. Dyson School of Applied Economics and Management. Learn more about his experience as an entrepreneur and the future of BlackGen Capital in this Q&A:
How have you grown as a person and as an entrepreneur since cofounding BlackGen Capital?

I have learned a lot not only from helping build BlackGen Capital but also through my incredible teammates. Through our complementary skill sets, we were able to support each other in different ways and help each other grow on this two-year journey. Specifically, I have learned how to delegate more effectively, have greater trust in my teammates, and become more a compassionate leader.
What part of developing, launching, or growing BlackGen Capital surprised you the most?

The traction that BlackGen Capital has received globally has completely surprised me. Our initial vision for BlackGen Capital was localized to Cornell as we wanted to tackle the finance landscape here.

However, other student leaders across not only the United States but even internationally in locations such as Canada and London, have expressed interest in replicating BlackGen Capital chapters at their universities.

We have seen a massive shift of students recognizing similar issues prevalent in their own communities and they are now being empowered to spark change and provide meaningful solutions.
What advice do you have for peers who want to inspire change through entrepreneurship?

If you don't solve these problems, then no one else will.
Don't be a victim to analysis paralysis. Oftentimes students overthink by building very extensive plans and even try to predict all of the possible problems they will face. This slows them down and can lead to irreversible traps.
Start small. It's great to have a massive vision but starting small allows entrepreneurs to execute with greater speed, quality, and conviction.
Don't lose sight of the problem you are solving.
Your team is arguably the most important part. Don't underestimate the power of building a strong team.
Self-diagnosis is key.
Be humble and receptive to feedback. Pride can be your biggest downfall. Don't be afraid to ask for help.
What do you believe it means to be an entrepreneur or business owner in 2022?

An entrepreneur is someone who solves a problem. An even better definition is someone who solves a problem they are passionate about.
Tell us more about BlackGen Capital today. How has it evolved since its founding?

BlackGen Capital's mission has expanded beyond Cornell.

Although we were founded at Cornell, we now have chapters at five schools as of spring 2022, including Columbia University, Georgetown, New York University, and the University of Michigan.

We are extremely excited to continue spreading our impact and work toward closing the access gap. BlackGen Capital will continue to evolve to provide the best career opportunities, intercollegiate networking for our members, and establish even more corporate partnerships in order to help firms diversify their talent pool.
What excites you the most about BlackGen Capital's future?

I am most excited about seeing student leaders across the country and the entire world continue to take initiative in starting a BlackGen Capital chapter. This exponential growth will increase not only representation but also retention in the financial services industry.

We also look forward to continuing to engage in philanthropy, supporting URM-owned small businesses, and spreading access to financial literacy in our underserved communities.
How do you plan to carry on the values and mission of BlackGen Capital after graduation?

We plan on serving as advisors to the next leadership team in order to guide them through strategic decisions and support them through any foreseeable challenges.
Celebrating Black entrepreneurs and innovation
The Cornell SC Johnson College of Business is celebrating Black History Month by sharing stories of Black entrepreneurs from across the college's student and alumni communities. To read more stories from this celebration, go to ow.ly/NZJ450HJOlm.