Rumbidzai Mangwende '23 is Finding Leadership in Community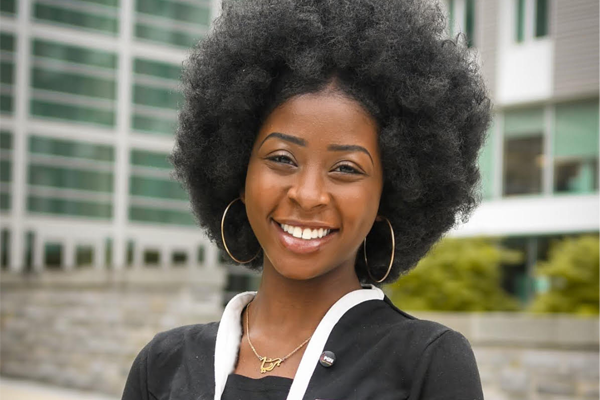 Rumbidzai Mangwende '23 is learning what it means to lead. In her pursuit of better understanding leadership and its evolution in the world, Mangwende, who is the founder and owner of the startup EthosSphere, discovered—much to her surprise—that she is widely considered a student leader in the Cornell community and beyond.
"Rumbi is an extremely impressive and impactful leader," says Yasmin Watt '22, an undergraduate student at the Charles H. Dyson School of Applied Economics and Management. "She has become the youngest Black woman founder to work with the world's largest private equity group—Blackstone. Her work is an inspiration for the whole Dyson community."
Founded in 2021, EthosSphere is an online retailer and marketplace within the Blackstone Launchpad network that serves Black college students and individuals who need more convenient access to specialized hair care products and education. Under Mangwende's leadership and vision, EthosSphere is also more than a store—it's a community.
"It's a community space where anybody with textured hair or anybody who's been a little bit marginalized in the hair care industry can find all of their needs," Mangwende told Blackstone Launchpad in a 2021 interview.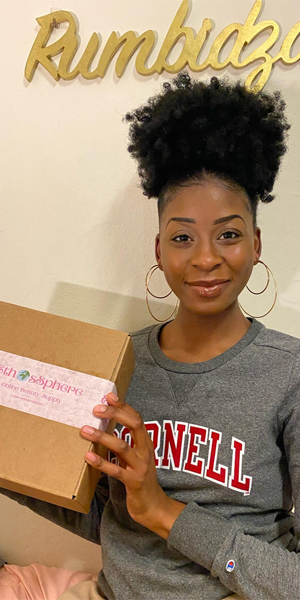 Mangwende has led the startup through numerous successes. She has expanded delivery to 40 US states and has more than a 30% customer return rate. EthosSphere's digital reach has also grown significantly under her leadership with over 14,000 website visitors, 4,400 Instagram followers, and 900,000 TikTok views in just 13 months of operation.
This success has pushed Mangwende to see herself as a leader.
"I didn't stop to think I could be leading anyone," admits Mangwende. "I'm not sure that anyone on the frontier of anything really considers themselves qualified for a leadership title, but over time I have become more confident in my abilities, and in seeing myself as someone worthy enough to follow."
But Mangwende makes sure her leadership and focus on community are felt far beyond her customer base. She is the senior vice president of recruitment at Cornell University's chapter of the business fraternity, Phi Gamma Nu. She has also devoted time to BlackGen Capital as a mentor to her peers and previously held the executive vice president role for the Professional Fraternity Council at Cornell.
All of her practice in leading a startup and her peers across Cornell University has cultivated  Mangwende's understanding of leadership as a commitment to integrity, humility, authenticity, and courage.
"I am continuing to cultivate these traits within myself," she says. "And I am also aware that my mistakes feel magnified because of who I want to be, and especially because of who I represent. But I remind myself that leadership is about relentlessly learning from mistakes with a good amount of humility. It is also about not being afraid to be the first."
Mangwende finds these characteristics in many of her peers at Cornell—a definite source of inspiration and motivation for her.
"Cornell teems with kind, courageous, and brilliant woman leaders—all of whom I look up to, and some of which I have been lucky enough to call my friends."
Among the many names of leaders she lists—including Anjali Siromani '23, Darla Andoni '22, and Jahnay Bryan '23—is Yasmin Watt, who Mangwende says has been one of her most reliable mentors during her college career.
"Yasmin is a national board member and the chief operating officer of BlackGen Capital," explains Mangwende. "I admire how she manages to balance such heavy responsibilities with a light-hearted and kind spirit. She's helped me through interviews, given me career guidance, and has advocated for me in spaces where I otherwise wouldn't have been mentioned."
To Mangwende, women leaders at Cornell can progress the meaning and definition of leadership—they can collectively push cultural expectations of leadership to evolve.
"I think we're changing the colors and genders we associate with leadership," says Mangwende. "Society is slowly starting to see that leadership is an internal trait—not a preordained phenotype."
Celebrating Women Student Leaders Across the College
The Cornell SC Johnson College of Business is honoring Women's History Month through stories from women student leaders across the college's three schools.