Celebrating Women Leaders: Meet Stefanie Cainto, MBA '23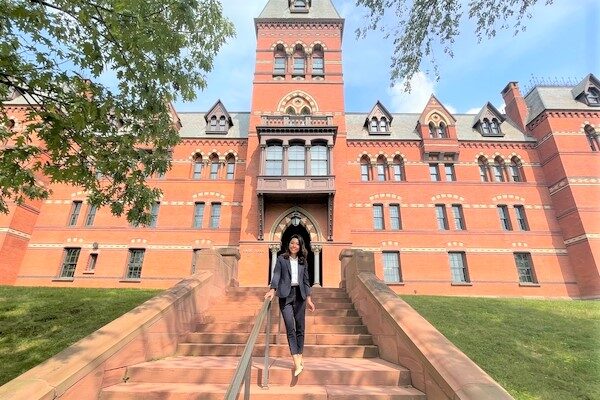 Prior to starting her MBA at the Samuel Curtis Johnson Graduate School of Management, Stefanie Cainto, MBA '23 spent eight years in the journalism and marketing space. While working at a social media agency focused on hospitality and tourism, she started to become more and more aware of the intersection of business and sustainability—particularly as she started to market destinations and realize how much impact, both positive and negative, tourism could have on a region.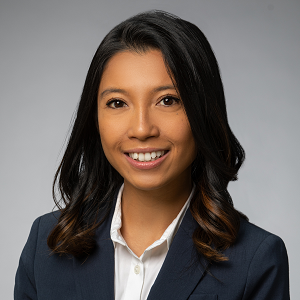 This led Cainto to explore how she could combine her personal passion for sustainability and social impact within the career space. Ultimately, she decided to return to school to pursue an MBA with a focus on sustainability. On campus, she is president of the Women's Management Council, a student-run initiative dedicated to fostering a supportive, encouraging community that aims to address relevant topics concerning women both in and outside of Johnson.
Below, Cainto discusses her views on what good leadership looks like, her goals for growth as a leader, and advice she's received as a future business leader.
What do you think makes a good leader?
Perhaps one of the key moments in my career was when I moved into a management position and realized how managing and leading were more distinct than I originally thought.
I think a good leader is someone who can one, set a vision and align people around that vision, two, inspire both confidence and action in people, and three, face challenges without losing sight of both that vision and the people they lead.
One of the biggest things I've had to unlearn is that leadership requires perfection or at least something close to perfection. The reality is that being a leader can sometimes be messy. From my experience, an important part of leadership is having uncomfortable conversations and making tough decisions amidst ambiguity—and that inherently cancels out perfection.
Read About the Students that Inspire Cainto
Do you think women student leaders are held to a different standard than their male counterparts?
I don't think they're necessarily held to different standards, but there's research that shows the same characteristics are perceived differently in women than in men. On top of that, COVID[-19] has made the difference in household responsibilities more evident between men and women.
Do you have any leadership-related goals for your time at Johnson?
I'm hoping to help build community and a sense of belonging at Johnson. As a board member of the Women's Management Council, I'm also incredibly passionate about getting more women to pursue an MBA and increasing the percentage of women at Johnson.
What's the best leadership advice you've received?
Leadership isn't a title. Being a leader is about the consistent actions someone takes, especially in the face of difficulties. I don't know that leading is necessarily ever easy, but it's definitely a lot harder when situations aren't going according to plan. Two pieces of advice that have helped me through tough situations is to assume best intentions and remember that situations are not always as they appear.
Do you think anything about leadership will change in the future?
I'm already seeing it come to the forefront: diversity, equity, inclusion, and belonging being a key part of leadership.
Celebrating Women Student Leaders Across the College
The Cornell SC Johnson College of Business is honoring Women's History Month through stories from women student leaders across the college's three schools.