Elizabeth Blau, MS '97 Named 2022 Cornell Hospitality Innovator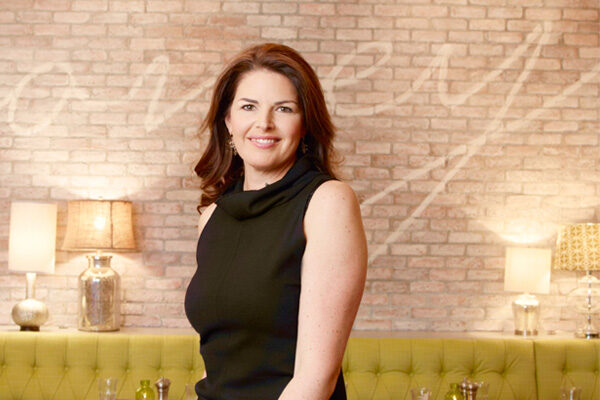 Elizabeth Blau, MS '97 has been named the recipient of the 2022 Cornell Hospitality Innovator Award by the Leland C. and Mary M. Pillsbury Institute for Hospitality Entrepreneurship (PIHE) at the Cornell Peter and Stephanie Nolan School of Hotel Administration.
Blau is the founder and chief executive officer of Blau + Associates, a globally recognized strategic restaurant planning and development company. It is one of the most prominent companies in its field and is widely credited for transforming Las Vegas, Nevada, into a premier culinary destination.
Transforming Las Vegas
Blau began her career in New York with legendary restaurateur Sirio Maccioni, the proprietor of the iconic restaurant brand, Le Cirque. Blau facilitated the brand's expansion beyond New York, bringing  Le Cirque at the Bellagio to Las Vegas in 1999.
After its successful opening, Blau was recruited by Mirage Resorts and named vice president of restaurant development. In this role, she developed and oversaw all aspects of food and beverage—from concept creation and development to operations and the promotion of hundreds of restaurants. These responsibilities we amplified in 2004 when she was promoted to executive vice president of restaurant development and marketing for Wynn Resorts. Her vision and leadership ultimately inspired award-winning chefs to venture to Last Vegas, transforming the city into a world-class dining destination.
In 2002, Blau took a big step as an entrepreneur with the founding of Blau + Associates, an international strategic restaurant planning and development company, which she cofounded with Cornell alumnus Jason Lapin '90. Blau + Associates continues to be one of the most prominent companies in the industry. It has a wide range of clients that include nearly every luxury brand hotel, master plans located worldwide, professional sports arenas, international cruise lines, Fortune 500 campuses, casinos, and hotels.
Blau has also established a collection of her own successful restaurants in Las Vegas and beyond. In 2008, she and her husband, award-winning Chef Kim Canteenwalla, launched Society Café at Encore, which was among Esquire Magazine's Best New Restaurants of 2009.
In 2012, Blau and Canteenwalla opened their brand flagship, Honey Salt, a popular farm-to-table restaurant in Las Vegas. A year later, they partnered with Buddy Valastro, "The Cake Boss," and opened Buddy V's Ristorante at The Venetian® Resort Las Vegas. By 2017, Blau conceptualized, developed, assembled, and managed a world-class portfolio of five restaurants—including the second location of Honey Salt at the JW Marriott —for Canada's Parq Vancouver Resort & Casino.
For Blau, this year also marks the beginning of additional restaurant partnerships and openings that include Conrad Nashville's Blue Aster, Blue Aster Lounge, and Thistle & Rye. It also involves a new local partnership with Illumuniarim Las Vegas, a tech-driven entertainment experience, and the opening of Lumin Café & Kitchen, a contemporary dining concept designed by the Rockwell Group.
Leaving Her Mark
Her role in Las Vegas' transformation has made Blau a respected, trusted, and beloved figure in the industry. She has appeared as a judge on Food Network's Iron Chef America and was also featured on the Travel Channel, The Martha Stewart Show, CBS This Morning's The Dish, and season three of CNBC's Restaurant Startup. In addition, Blau is an annual judge for HOTELS magazine's "Great Hotel Restaurant" list. In 2018, Honey Salt: A Culinary Scrapbook, which Blau and Canteenwalla coauthored, was named Best Cookbook of 2018 by Food & Beverage Magazine.
Her professional achievements also involve numerous honors and recognitions, including the 2006 IFMA Gold Plate Award, the 2017 MMH Outstanding Alumna of the Year Award from the Cornell Nolan.
School of Hotel Administration, and the 2019 Stevie Award for Women in Business. In 2020, she was named the recipient of the Silver State Awards' Innovator Award, an award that honors excellence in the state of Nevada. Blau was also named one of "The 20 Most Influential Female Chefs and Restaurateurs" by OpenTable in 2022.
While she remains focused on her restaurants, consulting, and family, Blau is committed to serving the community and enhancing education—in hospitality and beyond. She serves on the Dean's Advisory Board for the Cornell Nolan School and is an international advisory board member for Ecole hôtelière de Lausanne. She is also the chairwoman of the Culinary Council of Three Square Food Bank in southern Nevada and serves on the State Board for Communities in Schools. Blau also serves as an Emeritus Board Member for the Culinary Institute of America and the William F. Harrah College of Hospitality at the University of Nevada Las Vegas.
In 2020, Blau cofounded the Women's Hospitality Initiative (WHI), a Las Vegas-based nonprofit that is committed to accelerating the development and advancement of women as leaders in the restaurant industry. Despite launching the organization just weeks before the beginning of the COVID-19 pandemic, WHI has successfully established an education platform. This platform features "From the Classroom to the Boardroom: Leadership for Women in Hospitality," a course offered at four universities nationwide.
Blau also cofounded Delivering with Dignity as a response to the global coronavirus pandemic. The program brought together local restaurant partners, nonprofit agencies, and volunteer drivers to provide thousands of meals every week to food insecure communities in southern Nevada. This effort safely delivered more than 600,00 meals to community doorsteps and helped restaurant staff remain employed during the most challenging periods of the pandemic.
About the Cornell Hospitality Innovator Award
The Cornell Hospitality Innovator Award is a tribute to the extraordinary leaders who have developed new approaches to hospitality industry enterprises. The Cornell Nolan School presents this award at the annual Cornell Hospitality Icon & Innovator Awards gala. This event brings together hundreds of influential leaders in the global hospitality and travel industries each year.
The 13th Annual Cornell Hospitality Icon and Innovator Awards will take place on Tuesday, June 7, 2022, at the Ziegfeld Ballroom in New York, New York.