Business Impact Symposium Explores the Need for Climate Finance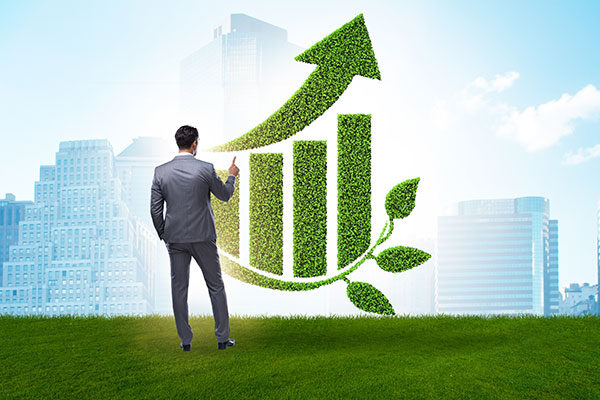 The world needs to spend trillions of dollars to meet the goal of reaching net zero greenhouse gas emissions by 2050. Yet funding for climate change remains far below that target and more investment in new technology is needed to address global warming.
Three climate finance experts who spoke at the kickoff panel for the Cornell Business Impact Symposium (CBIS) said investors need to thoroughly evaluate companies in the climate technology sector to ensure they are supporting firms that are directly addressing global warming.
Rating companies solely on environmental, social and governance (ESG) criteria is no longer adequate because firms can adopt the label while not engaging in any environmental initiatives, said Neil Yeoh, the founder and CEO of OnePointFive, a sustainability advisory firm working on solutions to keep global warming below 1.5 degrees Celsius.
"Climate finance is doing justice by focusing very much on the 'E' and what we need to do in order to transition existing companies into a net-zero future," Yeoh said during the symposium's first panel, "Climate Finance with OnePointFive Experts," on April 11.
Strategies for aligning company growth and climate change solutions
The online symposium runs through April 28 and features sessions on the blue economy, small business, fintech, and business sustainability. The event was organized by the Center for Sustainable Global Enterprise (CSGE) at the Cornell SC Johnson College of Business and six student groups at Cornell.
This year's symposium highlights the strategies businesses are adopting to align company growth and climate change solutions. "The Cornell Business Impact Symposium is a great opportunity for attendees to hear directly from and engage with some of the professionals on the front lines who are trying to make that happen," said Mark Milstein, clinical professor and director of CSGE.
While climate finance impacts the entire spectrum of climate change solutions, investment needs to focus not only on mitigation measures but also on adaptation issues communities worldwide are facing as they try to manage the impacts of global warming, said panelist Matthias Muehlbauer, a founding partner of OnePointFive.
"We talk a lot about mitigation, decarbonization, and trying to reverse the impacts of climate, but we're not really talking about adaptation and some of these locked-in impacts that are already baked into our system because we've already exceeded a bunch of these thresholds," he said.
Needed now: A huge increase in climate risk investments
Muehlbauer estimated up to $322 billion a year needs to be invested in developing solutions to slow global warming to 1.5 degrees Celsius by 2050, the goal set in the Paris Agreement. The total amount spent on climate technology venture capital funding in 2021 was $40 billion, he said.
As the deadline for reaching net zero emissions approaches, Abby Dateo '23, an environment and sustainability sciences major who moderated the panel, asked how companies can translate their profit-driven incentives to meeting the 2050 climate goals.
Yeoh noted that 83 percent of companies are experiencing climate risk and their executives know their business practices aren't sustainable. What is forcing many companies to change the way they operate is the pressure Gen Z is putting on them, he said.
Creating more accurate benchmarks to show how companies are addressing climate change will also have an impact. "The better that we get at modeling out what climate risks are and being able to label or measure that in a standardized way for different companies," he said, "the more accountable these companies are going to be towards what they're doing when it comes to climate impact."
Julia Akker '14, a panelist and senior associate at OnePointFive, said climate finance is a growing sector and students who are interested in sustainability can find their niche in the field. "Ultimately, I think your passion for it and wanting to work there can go miles," said Akker, who joined OnePointFive last year. "I think the sector is booming and companies across the board are going to be working on this."
You can watch all Cornell Business Impact Symposium panels at eCornell Keynotes: