Park Fellows alumni spotlight: Sharad Daswani MBA '03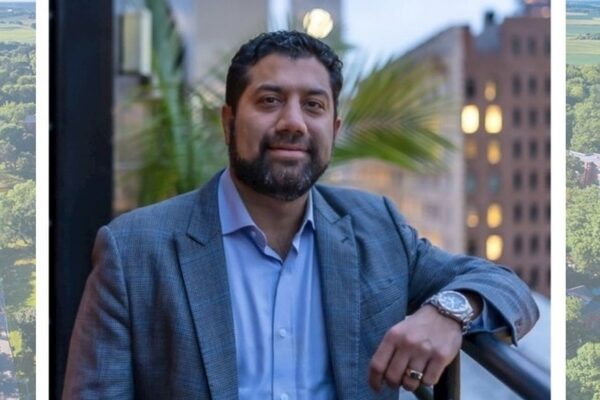 We caught up with Roy H. Park Leadership Fellow alumnus Sharad Daswani, MBA '03, to learn more about his journey and impact since graduating from Johnson. Sharad  is a native of Northern Virginia, outside of DC.  He is currently living in NYC with his wife and two kids. Sharad has primarily worked in structured real estate finance since Johnson and has been fascinated on how technology has changed since starting at Cornell in 2001.  From smartphones to Amazon Prime to social media to crypto to EV — it is a different world. He enjoys skiing, running, and frequents the Poconos in PA. Sharad received his undergrad from the University of Virginia and MBA from Johnson. He still stays in touch with many from the program.
Q: The Park program focuses on increasing our capability as leaders to make a broader impact. Tell us about your journey after Johnson, what you're doing now, and how you are seeking to drive impact.
A: After Johnson I moved to NYC and have been working in commercial real estate finance.  Financing offices, retail centers, hotels, multifamily and self-storage, etc. and then building bonds to securitize.  It has been an interesting journey to say the least with the ups and downs of the financial markets since graduating in 2003.
Personally, I have been focused on driving impact in building community.  As examples, over five years ago I started the Spru Ventures investor circle which is a group of like-minded folks interested in discussing alternative investments.  It is based on three pillars.  Community.  Education.  Access.
We have done a variety of deals together that range from commercial real estate, to private credit to secondary shares.   We did Coinbase in 2018 before the IPO.  A member that put in $10K back then is now sitting on $55K of Coinbase stock.  It is nice to know that members benefited by gaining access to something they traditionally would not have had exposure to in the past.  Interesting fact is I could barely get $100K of interest in Coinbase three years ago. The investor circle ecosystem has organically grown and mutually benefited the members of the Spru Crew.  Really nice to see and experience.
Also, when my son was born, I created a virtual Facebook group called Brown Papas Unite (BPU).  A fun group of South Asian dads that discuss random topics from college saving plans, travel recommendations, best car to buy, tips on electronic gadgets, etc.. The group has grown to over 1,100+ BPUs across the country.  We even had T-shirts made.  Nice to see the how the community grew and the "Collective Wisdom" that is shared.
I strongly believe in community and a sense of belonging.  Traits deeply engrained at Johnson and the Park program.  I feel fortunate to be able to apply it in the real world even 18 years after leaving Ithaca.
Q: What experiences do you recollect from the Park program that have increased your effectiveness and ability as a leader?
A:  I recall the activity, I believe it was called the "beehive" where we had to write some questions down that we wanted answered about ourselves and then a fellow Park went around asking the questions on our behalf.  It was candid and anonymous feedback.  I ended up finding the sheet a few weeks ago and realize that outside perception can be very different than self-perception.  It is important to bridge the two in order to optimize your ability to communicate.  I also remember the multiple personality tests we took and then debriefing with the other Parks about what we learned.  It is quite impactful to understand everyone's story and what drives us.  As a leader it is vital to understand how others view you and how each person you lead may require a unique style tailored to them.
Q: To continue evolving as leaders and to expand influence and impact, what advice would you share with other Park Fellows based on your evolution as a leader.
A:  Stay humble and grounded.  The collective is greater than just you.  Follow your gut.  As time passes the value of your diplomas decrease while the value of your character is what counts most.  Things are changing at hyper speed.  Be nimble and fail fast where necessary.