A SPAC Built to Bridge the Gap between North America and Asia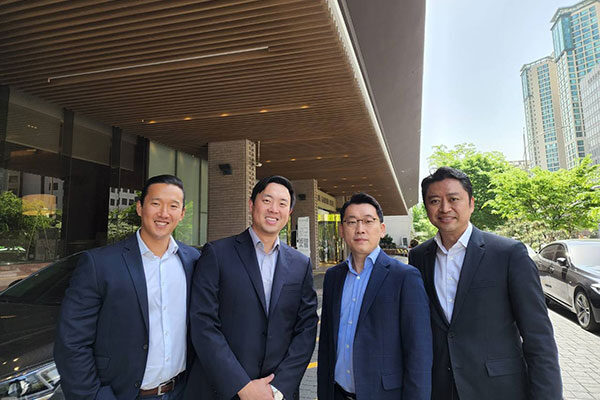 This spring, five Korean Johnson MBA alumni completed a landmark transaction: They combined their expertise in finance, private equity, investment banking, and cross-border transactions and launched a special purpose acquisition company (SPAC) targeting breakthrough technology in the life sciences and sustainable technology sectors in Asia (excluding China, Hong Kong, and Macau). Their SPAC, Valuence Merger I, raised $200 million in its IPO on March 1, 2022, and began trading on the Nasdaq Global Market. It is the first of several SPACs they envision launching to connect stellar Asian companies with investors around the world via the U.S. stock market.
"Korea and many countries in Asia are trying to do more business outside of their own countries," says Sung Yoon Woo, MBA '08, managing partner at Valuence Capital, the venture capital and private equity firm that manages this first SPAC and will manage any future SPACs Valuence launches. "Bridging the gap between North American and Asia is the core value proposition of Valuence's strategy."
The U.S. stock market is the largest capital market in the world, so companies that manage to get listed achieve greater visibility, greater access to investors, and better brand awareness among potential customers or clients, says Woo. All that makes it easier to raise capital and to grow by scaling up their operations.
Valuation is another important advantage in listing on a U.S. exchange. "Valuation is typically a lot higher in the U.S., where you have a lot more investors," says Woo. "I can point to many examples of companies [in Asia] doing the same business with similar levels of revenue as their peers in the U.S. that have a very different market cap if listed in the local stock market compared to peers listed in the U.S. stock market."
The right stuff for a financial dream team
Making this SPAC a reality begins with Woo and Sung Lee, MBA '08, high school classmates in Korea who, to their surprised delight, reconnected at Johnson. Both focused their studies on finance and lived at Fairview Apartments in Ithaca, where their friendship grew deeper. After graduation, Woo returned to Seoul, where he pursued a career in private equity on the buy side at the largest private equity and hedge fund in Korea, while Lee moved to Boston and launched his investment banking career.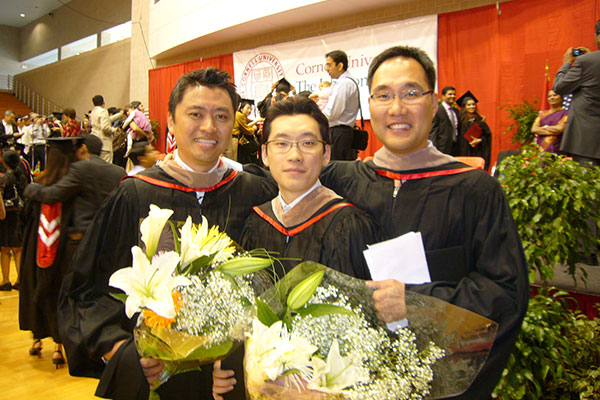 Woo gained valuable experience in cross-border transactions when he led his company's 2011 acquisition of the Acushnet Company, including top golf brands Titleist and FootJoy. In 2014, he launched his own private equity firm, Credian Partners, which specializes in strategic acquisitions, corporate divestitures, recapitalizations, and growth capital investment. Through many transactions, Woo honed his expertise in cross-border transactions with many countries. "It's just ever-more important, nowadays," he says.
After Boston, Lee moved to SunTrust Robinson Humphrey in Atlanta, and later, in 2019, moved to California to join SK, a Seoul-based conglomerate. There, he led the firm's global corporate development and global sustainability investment teams.
Being close friends, Woo and Lee stayed in touch regularly throughout the years. "In our calls we caught up on each other's personal lives and pursuits and interests," says Lee, "and because we share a common interest in finance, we also just naturally talked about our work, the deals we were working on, and new developments in our industry."
Meanwhile, both Woo and Lee developed friendships and professional relationships with other Korean Johnson alumni in financial services.  Several would become key players in launching Valuence Merger I.
Woo got to know Wondo Yoon, MBA '14, CEO of Crystal  Biosciences, a venture capital firm that specializes in financing new technology projects, through the Johnson Club of Korea. (As an active participant and a club vice president, Woo helps club president Chulyong Cho, MBA '98, organize events.)
Lee first met Andrew Hyung, MBA '16, when Lee was recruiting at Johnson. They reconnected some years later at a business meeting between their two firms, when Lee was leading SK's global corporate development and global sustainability investment teams and Hyung was a vice president at Nomura Greentech. As fellow Cornellians and Johnson graduates, they stayed in touch, talked about the deals they were doing, and a friendship developed.
It was Hyung who texted Lee one day about launching a SPAC to open up bioscience and sustainable technology companies in Asia to U.S. to global investors via the U.S. stock market. It was an idea they'd touched on before. "SPAC deals were going on in the market and ESG investing was common ground professionally between me and Andrew—he was focused on the sell side and I primarily worked on the buy side," says Lee. Hyung's text read: "Maybe we should do this." Lee says, "I replied in like five minutes: 'Yes, we should.'"
The first person Lee thought of to help make the deal happen "was just naturally Sung Yoon [Woo]," he says. So he called him and within the first 10 minutes of what turned out to be an hour-long conversation, Woo stopped Lee and said, "I'm in," says Lee. "So it just began from there."
Next, Woo reached out to Yoon, an investor who could provide the anchor investment funds for the SPAC. And Hyung contacted his Johnson classmate, Michael M. Kim, MBA '16, a director at Baird, to be the investment banker for the SPAC's IPO. Both Yoon and Kim said they were in.
They had assembled their team.
Other than his two years at Johnson, Woo has lived and worked in Korea throughout his professional life, developing familiarity and expertise in Asian markets. Lee and Hyung, now both managing partners at Valuence Capital along with Woo, have worked in the U.S. and Canada, developing expertise in the U.S. market. "Sung and Andrew understand how the SPAC mechanism works," says Woo, "and together, we could bring that mechanism to Asia. So by combining each member's capabilities and expertise, collectively we make a great team."
Woo underscores the importance of the founders' shared Johnson connection. "The whole idea for this project started from a conversation among us Johnson alumni who were or are at different companies, yet we're closely connected by the bond that started from our times at Johnson," says Woo. "I believe nothing is more important than trust in business, but it's not difficult to find among us in the Johnson community."
What is a SPAC and why so many are launching?
Nasdaq reports that 2021 saw 613 SPAC listings, representing more than 59 percent of total new listings and raising a total of $145 billion—an increase of 91 percent from the amount raised in 2020.
Investors are more likely to invest in SPACs, or blank check companies, if they know and trust the SPAC's managing partners, respect their expertise, and are confident they will deliver on merging with innovative companies in the sectors they target. In this case, Merger Valuence I has a team familiar with new and established bioscience and sustainable technology companies in Asia that seek to broaden their reach, deepen their capital, and grow. "Once Asian companies make their Nasdaq debut," says Lee, "the whole information package and reliance level will be there; investors can deploy due diligence to really ensure themselves that this is the right target. So those companies' commercial expansion will be accelerated."
"Companies everywhere want to get listed as their businesses grow," says Woo. "And traditional IPOs are not as popular as before because they take longer, which escalates uncertainty, and can cost more than if they were listed through a SPAC." IPOs usually take more than a year and some take as long as three to six years, with no guarantee of success. As Woo remarks, "many things could happen in between the time a company starts and completes the actual process." A SPAC, on the other hand, typically takes about six to seven months—a significantly shorter time frame and, consequently, involves less uncertainty.
"For a lot of the Asian companies we're targeting to merge with, a traditional IPO is not an option," says Lee. "They don't have the luxury to deploy all the resources and capital required for a traditional IPO without knowing how long it will take, what the valuation will be, or whether it will succeed." A SPAC can't guarantee everything, but it's in a different class in terms of certainty, Lee adds. "A SPAC enables a company to list on the Nasdaq exchange in a shorter time frame and become the full beneficiary of the consequences: access to larger capital and a long-term, sustainable investor base that understands what the business is about and who's running it."
Established practice is for one SPAC to merge with one company, and the cofounders envision Valuence Merger I as the first of several SPACs they aim to launch to connect Asian companies with the U.S. stock market.
Advancing excellence in life sciences and sustainable technology
The founders decided to focus on life science and sustainable technology companies in Asia because they are leaders in research and development and they are undervalued compared to Western firms of the same caliber.
"The most attractive companies are the ones that have innovative technologies, which can be found in the life sciences and sustainability sectors now more than ever," says Woo. "Life science technologies have been growing really fast as life expectancy is increasing and people care more about their health. Many companies are developing new drugs, healthcare services, or healthcare devices as they try to conquer COVID, cancer, high blood pressure, and other diseases."
New technologies focused on sustainability, from batteries for EVs to generating and storing electricity, are also rapidly developing, says Woo. "So from an executive investor's point of view, these two sectors are very attractive; I see a lot more opportunities and growth potential in these two sectors than in any other sectors." Woo also points out that companies committed to addressing ESG values and metrics constitute "the most sought-after areas of investment. So it was only natural for us to focus on these."
The prevalence and sophistication of companies throughout Korea and Asia focused on these sectors also made them naturally attractive to Valuence Merger's experienced and savvy investors. "Nowadays, more developed companies producing cutting-edge technologies come from Asian countries," says Woo. "It was easy for us to convince our investors to invest in our SPAC because they know where these new technologies are coming from.
Valuence's target companies in the sustainable technology and life sciences sectors "are not necessarily solving tomorrow's problems, but problems they anticipate 10 years from today," says Lee. "And they have a defined milestone towards it." Investors who understand the market can convert that long-term horizon and milestone into today's valuation—and that degree of understanding, combined with deep pockets, is hard to find in a local market, Lee says, but not in U.S. markets. "That's the U.S. global investor base, largely, for the life sciences and sustainability sector," he says.
What's next for Valuence? The post-launch plan
Valuence's cofounders are in talks now with different companies in Korea, Japan, Singapore, and other parts of Asia, both to learn more about them and to enable both sides to gain a greater understanding of one another. While regulations allow for two years from launch for a SPAC to secure a merger partner, realistically the time frame is closer to 15 months, says Woo, because investors have a strong voice and they want that time period to be shorter.
Although Valuence partners identified merger targets before launching, the SEC prohibits SPACs from contacting potential target companies until after an IPO. So now the clock is ticking. While it might appear that competition is intense because SPACs have become so popular and numerous (Woo says right now more than 600 SPACs are actively looking at merger targets), the Asian market is not nearly as crowded. In fact, only three SPACs are focused on the Asian market, Woo says. Up to now, Asian markets have been virtually untapped for SPACs. "Even excluding China, at least 20 to 30 percent of unicorn companies in the world are located in the region that is our area of focus," says Woo.
In the weeks leading up to the IPO of their SPAC, Valuence Merger partners held close to 60 meetings with investors. While Zoom made it possible to hold all these meetings across great distances within a short time frame during the pandemic, it also meant that Woo's work hours shifted dramatically; given that most investors are in the U.S. and Woo is in Korea, his meetings were held between 11 p.m. and 3 a.m., Korean time. "Last December was very tough for me, because I had to do the calls at night and I worked regular daytime hours with my private equity firm," says Woo. "But it was it was worth it."
How Korean students formed deep connections to each other and Johnson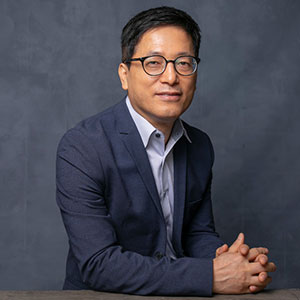 Young-Hoon Park, Sung-Whan Suh Professor of Management and professor of marketing at Johnson, has long been an important mentor, advisor, and source of support for Johnson's Korean students, and he stays in touch with many alumni, including Woo and Lee and all the alumni involved in launching Valuence. "I am very proud of them," he says.
It was in 2008 that Johnson's Korean students, including Woo and Lee, launched a new student club at Johnson, the Korean Business Association, with Young-Hoon Park as their faculty advisor. "Sung Lee and Sung Yoon and many others, all smart and energetic students, did a lot of work to formulate what would be the Korean Business Association," says Park. "They thought about how they wanted to contribute to the Johnson community and about how they could help new Korean students at Johnson do better." Park approached Joe Thomas, Johnson's dean at the time, and Mark Nelson, then associate dean, about launching this club. "I give a lot of credit to Joe and Mark," says Park. "They were huge supporters for the Korean Business Association."
That year, the club's founders created a 100+ page booklet for newly admitted students—most of whom, like Woo and Lee, had never lived outside their own country. They included everyday logistics about living in Ithaca; how to prepare for their studies at Johnson; and how to pursue a career in the U.S. Johnson's Admissions team collaborated with them to send the booklet to admitted students from Korea. Park believes this material made a big impact on students, many of whom had concurrent offers from other top MBA programs. "It allowed them to see that this is a really caring place," Park says. The booklet has been updated by club members every year since then and is still sent out to admitted students from Korea. Club members also organized sessions to share Korean culture with other Johnson students, including doing business in Korea.
Both Woo and Lee are deeply grateful for the support Park provided to them and their Korean classmates. "He really supports the Korean Asian community at Johnson," says Lee. "I could easily just knock on his door and ask for a consultation. He was always willing to spend time sharing advice and encouragement."
"Young-Hoon is a living example of bridging the gap between the U.S. and Korea," says Woo. "He was like a mentor to me; he gave me advice about school life in general." It meant a lot to Woo that Park was from Korea and had completed his undergraduate degree there—"just like myself," says Woo—before going on to earn his PhD at Wharton. When Johnson's Two-Year MBA class of 2008 honored Park with the Apple Award for Excellence in Teaching, "I realized that people who have been educated outside of the U.S. can be successful in the U.S." says Woo. "That's a lesson I took from him."
Park is still the faculty advisor for Johnson's Korean Business Association. "In essence, a professor's job is a public good, and I really appreciate that aspect of being an educator," he says. "I always enjoy interacting with our students. They are amazingly good students, and our role is to figure out how we can make them a little bit better. At Johnson, we are small by design; we care about community and emphasize the community aspect of our program. I think that value has a lot of impact on the way every member interacts." 
Learning and connecting through the Johnson Club of Korea
Woo places a high value on the strong network among Cornellians in Korea. "I have always felt that I can connect with other Cornellians very easily and they're always welcoming," he says. "It's a really great experience."
Woo gives a lot of credit to Johnson Club of Korea president Chulyong Cho, MBA '98, who reinvigorated the club and recruited more club officers to ramp up club activities and make them educational as well as social. Under Cho's leadership, the club began to host speakers at quarterly dinners—emulating that combination of learning, exchanging ideas, and socializing so familiar to all Johnson alumni. The club also holds golf outings and organizes lunch gatherings for alumni who work in the same business district. As a result, the club increased active membership and grew so strong that it remained active even throughout COVID-19, holding gatherings via Zoom, notes Woo.
In recognition of the success of its events and the consequent increase in active alumni engagement, the Johnson Club of Korea won the Henry P. Renard '54, MBA '55 Regional Club of the Year Award in 2016. "When I became the president, I set my vision to make the club a good community where the Johnson alumni in Korea can interact with, and learn from, each other," Cho said in the article announcing the award.
Woo also credits Suh Kyung-Bae, MBA '87, president and chairman of multibillion-dollar global cosmetics firm AmorePacific. "Suh Kyung-Bae is very enthusiastic about school affairs and at the center of all the Cornell Club and Johnson Club activities in Seoul," says Woo. "He is the biggest supporter and mentor for the alumni community and actively engages with the alumni association activities even though he is one of the busiest people in business. He is always willing to give advice to alumni."
Suh is also a generous benefactor to Johnson: Young-Hoon Park's professorship is named after Suh's father, Sung-Whan Suh, founder of AmorePacific. In recognition of his exceptional demonstration of vision and leadership, sound business sense, and commitment to community, Suh was honored in 2015 with Johnson's L. Joseph Thomas Leadership Award.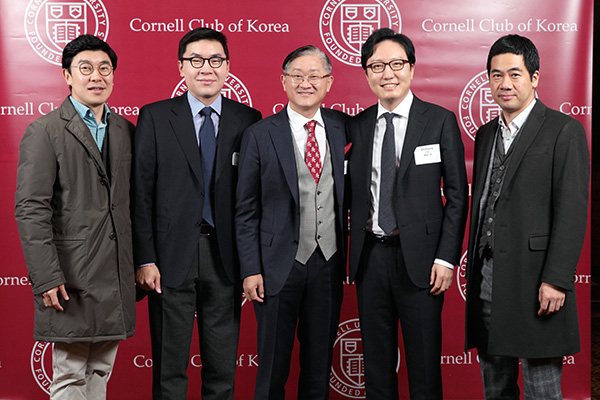 A very meaningful two years at Johnson
Woo and Lee are both deeply grateful for their Johnson experience and the strong and growing network that they are a part of because of Johnson. "You couldn't expect to have better interactions with all your classmates and faculty as in Ithaca at Cornell," Woo says. "That was a very meaningful two years to me." That experience has been helpful in many ways, Woo adds, including developing familiarity with the language and culture.
Lee recalls what it was like to graduate right when the Great Recession hit, and he's still grateful to Johnson for the job support he got then. "It was a tough job market for the class of 2008," Lee says. "Everybody's job offer was either cancelled or adjusted; the same case for me. Without the support from the whole school at Johnson, it would not have been possible for me to achieve what I have."