The Nolan School's Hotelies Show Up and Give Back
Hotelies Give Back returned to campus last month, highlighting the role of service in hospitality and beyond.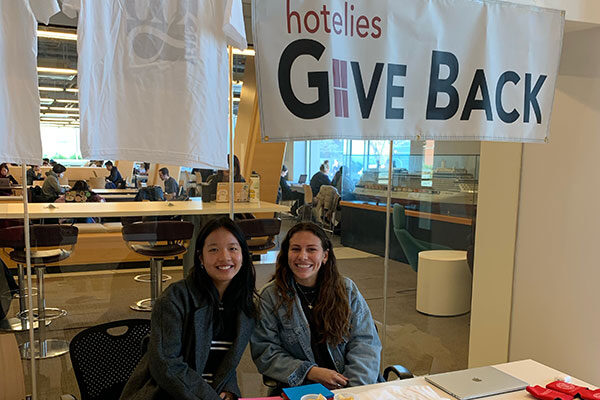 For Hotelies, "life is service," and never has that been more apparent than with the reemergence of Hotelies Give Back (HGB), a week-long philanthropic event that marked its return to campus on Monday, April 25 at the Cornell Peter and Stephanie Nolan School of Hotel Administration.
Organized and led by four student-run groups—Hotelies Serving Society, the National Society of Minorities in Hospitality, the Cornell Hotel Society, and the Dean's Student Advisory Board—HGB featured volunteering, service, and faculty and staff appreciation events, all promoting the integral role of service in hospitality and in society.
"Hospitality is rooted in service, and as Hotelies, it's who we are," says Abigail Tsay '22, president of Hotelies Serving Society. "So many of us are grateful to be able to attend such an amazing school, and we want to ensure that we are using that opportunity to benefit more than just ourselves—we want to make a difference in the greater community."
The week-long celebration began on Monday with a kick-off event in Statler Hall, providing Nolan School students a chance to learn more about HGB, its purpose, mission, and fundraising goals. Throughout the week, club members staffed an information station, serving as a central location for volunteer sign-ups, T-shirt and cupcake sales, raffles, and more opportunities for students to participate.
Service through volunteerism
On Tuesday and Wednesday, HGB focused on service through volunteerism, encouraging students to donate their time at Loaves and Fishes, a Tompkins County ministry dedicated to providing meals, hospitality, and advocacy for those in need. In addition to volunteer opportunities, Hotelies had the opportunity to contribute to another far-reaching organization, Saira Hospitality, a national nonprofit committed to transforming the way hotels connect with communities through education.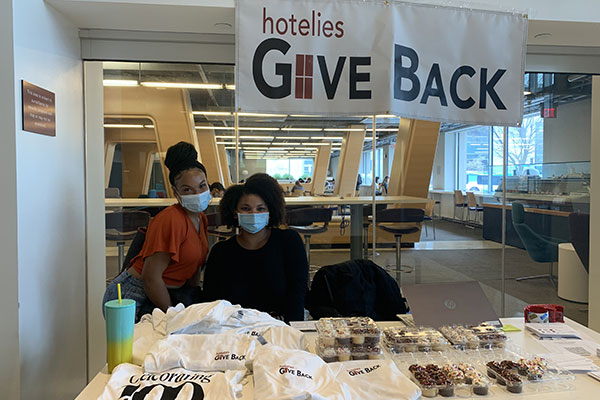 On Thursday, with a new, virtual take on Bring Your Child to Work Day, Hotelies distributed pre-packaged do-it-yourself craft kits to Nolan School faculty and staff, as well as employees of the Statler Hotel, to share with their children, each kit focusing on different lessons such as kindness, creativity, and hospitality. The week concluded with a Staff Appreciation Day on Friday, giving students the chance to express their gratitude to Nolan School faculty and staff with a handwritten thank you note.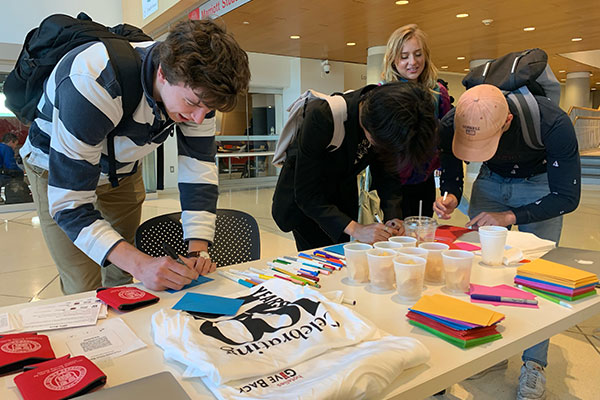 "Hotelies Give Back week shows the passion and dedication our students bring to the school and the greater community," says Heather Kolakowski, lecturer in Food and Beverage Management and faculty advisor for the student-run hospitality showcase conference, Hotel Ezra Cornell. "Beyond the classroom learning, Hotelies seek to engage in activities that embody the motto 'life is service,' through volunteering, fundraising, and becoming advocates to support social well-being, helping lead the 'greatest good' mindset of the university."
Milestones to celebrate
This year's event had special significance as the Nolan School officially kicked off its 100-year anniversary celebration on April 22 in conjunction with the 97th Annual Hotel Ezra Cornell. On top of this milestone, HGB has been absent from campus since it was last marked in 2019, providing an opportunity for a new generation of Hotelies to bring the event back to life, according to Vikas Reddy '23, president of the National Society of Minorities in Hospitality.
"Bringing this event back allowed us to get creative and do something different. Only our senior class had the chance to experience this event three years ago, so for most of the Nolan community, it was really our inaugural year," Reddy says. "We had the chance to introduce HGB to a new group of students and build excitement in a really engaging and impactful way."
A testament to the Hotelie spirit
Students' reaction to HGB underscores that impact: More than 1,000 students participated in the week's events, including 100 individual donors who generated close to $1,000 for Saira Hospitality. Their collective spirit of giving back is more than a result of good marketing, says Tsay; it's a testament to the Hotelie spirit.
"Kindness is so important in today's world, and it was amazing to see how many people were willing take the time to donate, volunteer, or write a thank you note," she says. "It's simple, but so important, and it says so much about who we are as a community."
For Reddy, who, as a junior, experienced the event for the first time this year, HGB is a just another example of how the school's mission and vision extends beyond the classroom.
"As Hotelies, we think about service a lot in the context of our industry, but I think it's the exact same spirit that drives people to give back in our communities," he says. "I think it's important for all of us to remember that not only are we part of a powerful network at Cornell that supports us, but through service, we have the chance to do the same for others as well."