Nolan Gift and Challenge Funds Boost Scholarships for SC Johnson College Students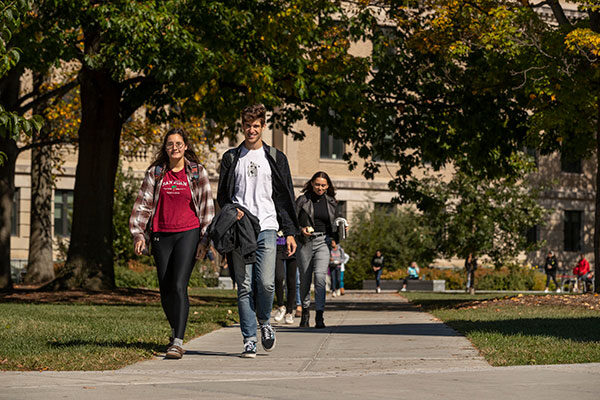 More than $66 million in scholarship funds, first announced last fall, are opening up possibilities for students across the Cornell SC Johnson College of Business, thanks to the generosity of alumni.
When Peter Nolan '80, MBA '82, and Stephanie Nolan '84 made their $50 million gift that named the Cornell Peter and Stephanie Nolan School of Hotel Administration, it was matched, one-to-three, by challenge funds from H. Fisk Johnson '79, MEng '80, MS '82, MBA '84, PhD '86, and the SC Johnson company as part of their gift to name the Cornell SC Johnson College of Business in 2017. The resulting more than $66 million in philanthropy provides scholarship funding to Nolan Hotel School students, as well as to students across the SC Johnson College through enhancements to scholarships the Nolans established with previous gifts: the Peter and Stephanie Nolan Veterans Professional Scholarship Fund in the Samuel Curtis Johnson Graduate School of Management and the Nolan Family Scholarship Fund in the Charles H. Dyson School of Applied Economics and Management. The additional funding brings the Nolan Veterans Scholarship Fund to more than $14 million, and the Nolan Family Scholarship Fund to more than $9 million.
"We are deeply grateful for the Nolans' philanthropy in making scholarships a priority across our college," says Andrew Karolyi, Charles Field Knight Dean of the Cornell SC Johnson College of Business. "Scholarship support is fundamental to living up to Cornell's '… any person … any study …' ethos. They have the power to change the trajectory of students' careers and lives and they uphold Cornell's commitment to need-blind admission and socioeconomic diversity. I am just delighted to see funds from the matching gift so generously donated by Fisk Johnson and SC Johnson directed to our students."
"The importance of scholarship support to students from less affluent backgrounds is clear: Rather than being debt-constrained in their career choices, they can focus more on immediate impact and less on immediate payback post-graduation," adds Karolyi. "As business leaders capable of envisioning and realizing a better world, graduates from across our college have more flexibility to choose a path that enables them to make the most difference."
Peter and Stephanie Nolan Veterans Professional Scholarship Fund for Johnson MBAs
The Peter and Stephanie Nolan Veterans Professional Scholarship Fund makes a big difference for Johnson MBA students who are veterans. "Money can be a huge constraint for a lot of veterans, especially during a tough period of time; getting back into what I call 'regular society' can sometimes be daunting for veterans," says Bob Reed, MBA '23, president of the Association of Veterans at Johnson. "The Nolans' selfless donation of their capital investment in veteran students' futures alleviates so much pressure." Reed joined the ROTC when he was an undergraduate at Michigan State and went on to serve an active duty tour of 10 and a half years in the U.S. Army. He's done four deployments to Afghanistan and also served at Fort Benning, GA, Fort Bragg, NC, Fort Drum, NY, plus stints in Italy.
Reed explains how the Nolans' scholarship is a key component in releasing additional funding for veterans. He describes three sources that can work together to cover veterans' tuition and fees: the Montgomery GI Bill, the Yellow Ribbon program, and Veterans Affairs funds. The Nolans' scholarship counts as a Yellow Ribbon contribution, which is a prerequisite to opening up funding from Veterans Affairs. "I'm proud that Cornell is a Yellow Ribbon institution," says Reed. "Within Johnson, we have what might be one of the strongest national programs, courtesy of the Nolans."
Reed, whose upbeat, outgoing personality came across clearly in the interview for this story, is focused on marketing—he calls himself a "marketer at heart"—and is drawn to the healthcare industry. He looks forward to his summer internship with Johnson & Johnson's orthopedics division, DePuy Synthes. "My mom was in the health care industry and I think it's a noble cause," he says. "It's an important, growing market that is trying to enhance the lives of others in our community, country and, really, globally."
The ultimate deciding factor
Jaimee Reidy, MBA '22, joined the ROTC when she was an undergraduate at Niagara University and went on to serve as a finance officer in the U.S. Army, where she was responsible for managing budgets for combat units. Reidy served both in the U.S. and overseas, at Fort Bragg, N.C., Fort Bliss, Texas, Fort Riley, KS, and in Germany and Afghanistan. Jaimee and her husband and classmate, Shawn Reidy, MBA '22, is also a U.S. Army veteran. Both are recipients of the Peter and Stephanie Nolan Veterans Professional Scholarship Fund. Both knew that a Johnson MBA was the right choice for them after attending the Johnson Military Preview, and the scholarship made it possible.
"Being awarded the Nolan scholarship was really the ultimate deciding factor for us to be able to come to this amazing school," says Jaimee. Noting that Peter and Stephanie Nolan are not veterans, themselves, Jaimee says: "They're just truly doing this out of the goodness of their hearts. And because they know what veterans can bring to the community."
Certainly military veterans who pursue MBAs at Johnson have a great track record, partly because they are already experienced leaders from the outset.
"As a finance officer, I was embedded in units of 1,000 or so people, and I spent a lot of time with very diverse functions and got exposed to a wide variety of people and leadership styles," says Jaimee. "I worked directly with the commanders who are responsible for thousands of people and millions of dollars of equipment, and being able to watch them and learn from them was really great for me."
After graduation, Jaimee and Shawn will launch new careers in Buffalo, NY, where Jaimee will join M&T Bank as an executive associate in their Leadership Development Program and Shawn will join Wilmington Trust's wealth management division.
 "I'm just so grateful to the Nolans, to the faculty and administration of Johnson, and to Cornell as a whole," says Jaimee. "I hope that I can give back a fraction of what the Nolans have given to me and what the community here has given to me. So I just try to do that every day."
Dyson's Nolan Family Scholarship
Scholarships are essential for Dyson to attract the best and brightest students, regardless of need. They also enable the school to achieve the diversity it seeks in its student body. In addition to scholarship support, Dyson also seeks to increase the size of grants vis-à-vis loans and work-study jobs in students' financial aid packages as a means for students to accrue less debt, thus expanding what they can do post-graduation.
Nolan Family Scholarships have made a big difference for several of Dyson's high-achieving students and helped them on the path to success. Now this new influx of challenge funds will enable Dyson to attract and offer financial assistance to a greater number of deserving students.
One Dyson graduate and Nolan Family Scholarship recipient discovered she had a passion for finance when she was a student and is now a business consultant for a large firm in New York City. Another is a product designer for a fintech startup in Nevada. A current student who is concentrating on accounting and marketing is a fellow at a management leadership nonprofit and an analyst with a student-led investment fund. These students have played important roles in enriching academic life in class discussions and campus life through their involvement in volunteer activities and participation in student clubs.
"Peter and Stephanie Nolan's generosity, enhanced by the generosity of Fisk Johnson and SC Johnson, have far-reaching impacts at Dyson, beyond the direct financial help for individual student recipients," says Jinhua Zhao, David J. Nolan Dean of Dyson (a deanship that was funded by the Nolans). "Scholarships are key to advancing socioeconomic diversity at Dyson, where diversity in all its dimensions—including race, gender identity, different cultural backgrounds and perspectives, as well as socioeconomic status—is a priority. It's essential to have students from diverse backgrounds in the classroom, because they bring different ideas and perspectives to discussions and those exchanges generate new ideas and expand frontiers.
"From climate change to inequality to polarization, we are facing major challenges in the world today; at Dyson, our role is to prepare responsible, principled business leaders who can address these challenges and effect positive change. Attracting and enrolling a diverse student body is an important component in preparing such leaders."