Johnson Summer Startup Accelerator Encourages Innovation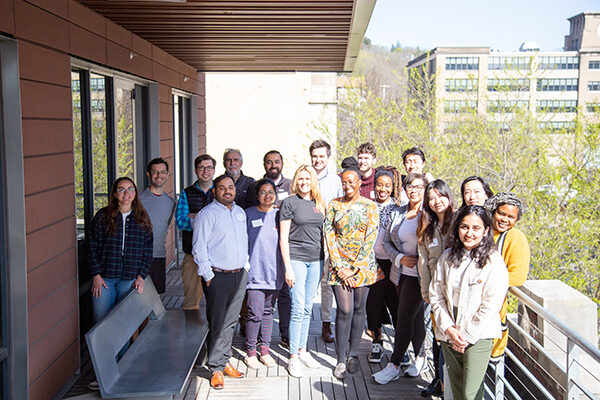 By Grace Collins
The Samuel Curtis Johnson Graduate School of Management is proud to introduce the newest cohort of innovative students and startups to participate in the Johnson Summer Startup Accelerator (JSSA). These students are a diverse group of founders with business concepts ranging from luxury ice cream to portable, solar-power charging kits.
Three phases of entrepreneurship education
Throughout the program, participants will go through three phases of entrepreneurship education: customer discovery, developing solutions, and testing. They will and meet regularly with a dedicated Entrepreneur-in-Residence who will help them to develop their goals and provide mentorship and advice. JSSA also includes a trek to New York City, where the aspiring entrepreneurs will learn directly from founders and investors.
Vrinda Kadiyali Student Entrepreneur Fund
To further support students who choose to work full time on their startups, Two-Year MBA JSSA participants entering their second year are also eligible to apply for a stipend from the Vrinda Kadiyali Student Entrepreneur Fund. Inspired by Vrinda Kadiyali, the Nicholas H. Noyes Professor of Management, and established by Stephen Smith '91, MBA '95, the Kadiyali Fund enables selected students to stay focused on their startups full time over the summer, when they might otherwise feel pressured to take a corporate internship. This year's Kadiyali Fund recipients are Mia Muschek, MBA '23, and James Duong, MBA '23.
Meet the cohort
"I'm excited to help build a community of like-minded entrepreneurs who hold each other accountable to progress while encouraging each other to grow the best version of both themselves and their companies," said Muschek.
Meet the startup teams participating in the 2022 Johnson Summer Startup Accelerator:
Hermia: A chatbot for small-medium businesses leveraging native chat capabilities, co-founded by Aayush Sharma and Michael Gorkin, both Executive MBA Metro NY class of 2023.
Greenfields Immigrant Financial Services: A platform that aims to elevate the susu structure—a West African community-based savings method—to a digital platform and eventually a bank. Founders include Alecia Edwards-Sibley, Nigel Franklyn, Vanessa Jimenez, and Konrad Kober, all Executive MBA Metro NY class of 2022.
 Trsto LLC: A democratized trust score enabling everyone to make data-driven decisions, founded by Rahul Sharma, Executive MBA Americas class of 2022.
Pendulum: A trend forecasting tool helping fashion businesses to make informed product and sale decisions, cofounded by Miao Kang and Yan Ren, both Two-Year MBA class of 2023.
Girls' Club: A multisided digital social media networking platform for women and non-binary people, founded by Rohini Manyam Seshasayee, Two-Year MBA class of 2023.
CheckOnMe: An app that uses real-time health data to create automatic wellness alerts, CheckOnMe is a mental-health safety net for the new age, founded by Steven Zychowski, Executive MBA/MS in Healthcare Leadership class of 2023.
Boxi: A portable solar-power kit that offers an affordable, sustainable, and reliable modern energy solution, founded by Ivy Ochieng, Two-Year MBA class of 2022.
Decadence Creamery: The first luxury ice cream company providing ultra-premium, small-batch ice cream products to sophisticated buyers, founded by Mia Muschek, Two-Year MBA class of 2023.
Pluto Street: A product-placement platform for consumer brands to grow brand awareness by leveraging restaurants across the U.S., founded by James Duong, Two-Year MBA class of 2023.
ScriptLink: An app where aspiring screenwriters can finding writing partners to hone their craft while expanding their industry network, cofounded by Christina Coleman, Executive MBA Americas class of 2023.
To Make More Money: A consultancy service working to remove barriers for small, diverse businesses and larger corporations to engage with one another by facilitating preparedness and assessing fit, founded by Tamika Money, Two-Year MBA class of 2023.
High Heel Help: A padded sock that is "like Spanx for your feet" offers a solution for heel pain for women, founded by Jordan Cohen, MPS in Management class of 2022.
"This summer, I hope to show the market's desire for the product," said Kadiyali Fund recipient and Pluto Street founder Duong. "By participating in JSSA, I hope to improve my entrepreneurial skillset and understanding of what it takes to build a company from the earliest of stages and to do this alongside a great cohort of similar-minded individuals."
Following a kickoff session in Ithaca in early May, the teams are now progressing through the accelerator's curriculum, meeting virtually on Mondays for content sessions with industry experts and mentors. The program will conclude with a demo day event in Ithaca on September 10, 2022, when teams will pitch their businesses and share progress they've made throughout the summer.
Grace Collins is a marketing and communications coordinator for Cornell's Center for Regional Economic Advancement.