Sri Lanka's Financial Crisis: Origins, Impact, and Next Steps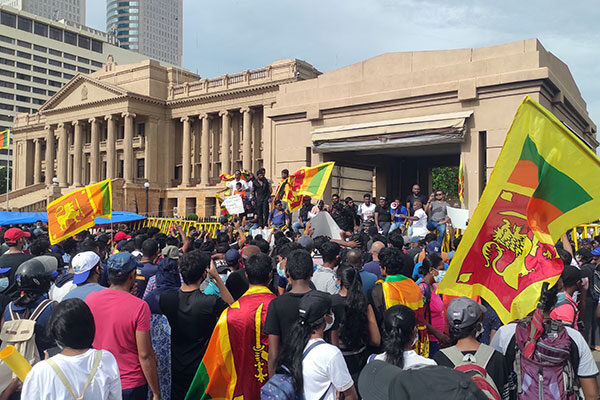 By Raghav Nath, MBA '22
Sri Lanka finds itself in a financial crisis that has led to a rise in external debt, depleted foreign exchange reserves, a currency in freefall, and high, double-digit inflation. I will look at some of the factors that have contributed to the nation's economic downfall, including consolidation of political power, hyper-populist policies, and an ill-thought push towards organic agriculture. Further, I will evaluate the impact that the situation has had on the nation in the form of political instability, shortages of essential items, galloping inflation, and disgruntled citizens.
How did Sri Lanka get here?
Sri Lanka has had economic trouble for the greater part of the last decade. It received a bailout from the International Monetary Fund (IMF), in 2009 and again in 2016, on the condition that it would control its debt and reduce it to 5 percent of its GDP by 2021. The situation worsened due to the twin impacts of the 2019 Easter bombings and Covid-19 on tourism, one of Sri Lanka's main industries, accounting for approximately 10 percent of its GDP. Below are some of the key events and policy shifts that led Sri Lanka into the economic turmoil it faces today.
Consolidation of political power | The Gotabaya Rajapaksa government first came to power in 2019, forming a caretaker government until the 2020 parliamentary elections, when Rajapaksa won a landslide victory as president, and his party, Sri Lanka Podujana Peramuna (SLPP), secured 145 out of 225 seats. This landslide victory allowed Rajapaksa to appoint members of his family to key posts including that of a prime minister and finance minister. Rajapaksa also initiated constitutional reforms that gave the incumbent government the ability to hire and fire judges and other members of the judiciary, further consolidating power and paving the way for major policy changes.
Hyper-populist policies | The Rajapaksa government enacted populist policies, including massive tax breaks, that had an adverse effect on government revenue. The Goods and Services (GST) tax rate was slashed in half from 15 percent to 8 percent. Additionally, the government also cut the income tax by increasing the taxable income band by 600 percent from 500,000 Sri Lankan Rupees (SLR) to 3,000,000 SLR. This resulted in a 33.5 percent decrease in the number of tax payers. The loss of revenue to the Sri Lankan government was estimated at 2 percent of GDP. The reduced revenue to the government hindered its path towards lowering its percent of debt of the GDP and instead increased it, resulting in even higher interest payments.
Organic agricultural methods | The government in Sri Lanka ordered a shift to organic methods of farming. They did this in a relatively short amount of time and in a very stringent manner, without rolling out support and help for the farmers to assist them in the change. What followed was a sharp reduction in output in agricultural items such as rubber and tea. Due to reduced output, Sri Lanka had to stop exporting these items and instead import them to ensure enough quantity to sustain domestic demand. This led to a negative impact on its balance of payments and increased debt that further weakened its currency, which in turn made these imports even more expensive. Sri Lanka was caught in a vicious cycle of rising debt and rising interest payments due to the mismanagement of its economy.
What impact has the crisis had on Sri Lanka?
The economic crisis has had a crippling effect on the country, with shortages of essential goods, high inflation, and more, leading to mass protests and resignations from the president's cabinet.
Shortages of essential goods | Sri Lanka has faced acute shortages of essential items such as fuel and medicines as it struggles to import goods due to its precarious foreign exchange reserves and mounting debt. This has had a compounding impact on the island nation as tourists have stayed away from the country amidst the fallout from the situation. Since tourism accounts for approximately 10 percent of Sri Lanka's GDP, the failure to see an uptick in tourism following the easing of the Covid-19 pandemic has hit the country hard.
High inflation | The country has struggled with high inflation owing to the vicious debt trap that it has found itself in. As a result, the interest payments on sovereign debt and the cost of imports have been rising steadily. The increase in inflation has hit every stratum of society hard, but has hit those with the lowest incomes the hardest.
What steps can Sri Lanka take to alleviate the situation?
Resumption of imports that help tackle the shortages of essential goods seems to be of the utmost importance. Without essential medicines, fuels, and food grains, any attempt to return to a state of normalcy will be futile. However, this will only be possible after it refinances its debt and gets a bailout either from its neighboring countries or the IMF. Without this, it will not be able to afford imports.
Sri Lanka estimates that it needs USD 1.5 billion to tide over the crisis immediately and resume its imports of essential items. An IMF bailout that mandates resumption of non-organic ways of farming, cutting back populist tax regimes, and increasing government revenue through more efficient tax collection will not only help the country in the short term but will also lay the foundation to build its future.
About Raghav Nath, MBA '22
Raghav Nath is a second-year student in the Two-Year MBA program at the Samuel Curtis Johnson Graduate School of Management. He grew up in India and takes a keen interest in South Asian geopolitics. Nath is passionate about fintech and the application of technology to increase financial inclusion in the emerging economies. Upon graduation, he will be joining Fireblocks, a cryptocurrency infrastructure provider, to help promote the adoption of cryptocurrency by institutions.