Meet Our New Faculty: Wendong Zhang
Wendong Zhang is an assistant professor of applied economics and policy at Dyson.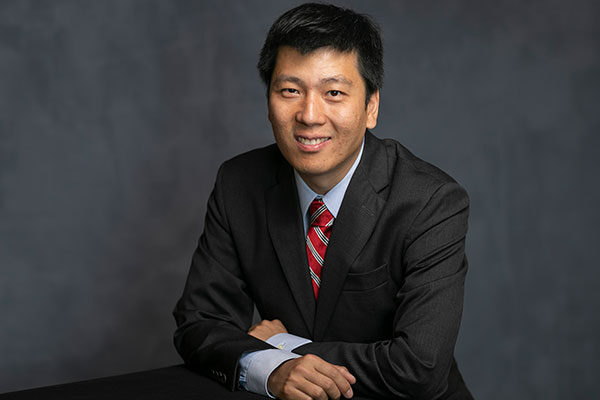 Meet Wendong Zhang, one of the newest faculty members from across the SC Johnson College of Business. Zhang earned his PhD in agricultural, environmental and development economics from Ohio State University. Before joining the Charles H. Dyson School of Applied Economics and Management, he was an associate professor in the Department of Economics and Center for Agricultural and Rural Development at Iowa State University.
Learn more about Zhang's areas of expertise, research focus, courses he will be teaching, and other interests.
Wendong Zhang | Assistant Professor of Applied Economics and Policy | Dyson
 What are your research and teaching areas of focus?
I am an applied and extension economist focusing on issues related to the interplay between agriculture and the environment, the U.S. farmland market, as well as the global trade implications of Chinese food and agricultural demand. I have taught both PhD-level environmental economics course as well as undergraduate-level farmland appraisal, environmental economics, and contemporary Chinese economy classes.
What class(es) will you be teaching this year?
I have a 50 percent research, 50 percent extension position, so initially I will not teach in the classroom setting this year. However, my extension responsibilities do mean that I will be able to present and teach agricultural professionals, producers, landowners, and policymakers in New York State and nationally, and I also hope to contribute to the executive education or summer workshop teaching if possible.
What attracted you to the Cornell SC Johnson College of Business and to the Charles H. Dyson School of Applied Economics and Management, specifically?
The excellent lineup of faculty and high-caliber graduate students are major draws for me to join the Cornell SC Johnson College of Business and the Cornell College of Agriculture and Life Sciences. I particularly appreciate the opportunities to elevate both my research and extension programs through collaboration with colleagues within Johnson and in other disciplines.
 I have long admired work done at the Dyson School and I am particularly excited about opportunities to collaborate with the Cornell Institute for China Economic Research as well as the Cornell Atkinson Center for Sustainability.
Have you adapted your research or teaching focus in any way because of COVID-19?
COVID-19 changed my research focus a bit, both in terms of the topics, but also how I communicate with colleagues. On the upside, I recently published several papers that examine how COVID-19 affected labor productivity in China and in U.S.-China agricultural trade, as well as the disparity in access to remote work and distance learning in developing countries such as Pakistan. I had many more late-night meetings due to COVID-19, but because of that, I also become more connected with friends and colleagues whom I haven't seen for a long time. For example, my paper on who can work and study from home in Pakistan was in collaboration with my graduate school classmate, who is teaching in Pakistan.
What first sparked your interest in applied economics and policy?
I grew up in a rural county in Shandong province, a northern Chinese province where Confucius was born over 2000 years ago. Farmers in my grandfather's village have been growing corn and wheat on their smaller-than-two-acre fields for over a thousand years; however, over the past 30 years, the production has shifted to table grapes, as well as cucumbers and tomatoes grown in greenhouses, making my home county one of the largest vegetable production counties in China. These grand transformations really sparked my interest in examining the role of agriculture in promoting prosperity, sustainability, and rural vitality across the globe.  
What are you most looking forward to during your first year at Dyson?
I have been living in the U.S. Midwest for over a decade now, and I am most excited to meet stakeholders across New York State and New England to see how I could develop my research and extension programs to foster a more vibrant, sustainable, competitive and equitable agricultural sector.
What's the best book you've read this year?
With two little girls (ages 8 and 5) at home, a lot of my leisure readings are juvenile fiction or board books. I did read an award-winning sci-fi novel by Chinese writer Liu Cixin this year: The Three-Body Problem. I won't offer spoiler alerts, but both the wild imagination involving space and aliens and the backdrop of Chinese historical context delighted me. I highly recommend it—and there are three books in the series if you are up for it.
What do you do to recharge?
I like to travel and to play with my kids.
Learn more about Wendong Zhang on his LinkedIn page and on his personal website.