Meet Our New Faculty: Shreya Kankanhalli
Shreya Kankanhalli is an assistant professor of marketing at Johnson.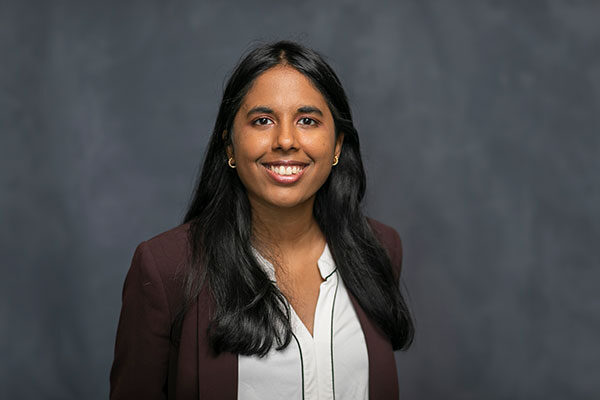 Meet Shreya Kankanhalli, one of the newest faculty members from across the Cornell SC Johnson College of Business. Kankanhalli earned her MS in economics at the London School of Economics and her PhD in quantitative marketing at Stanford Graduate School of Business. She joins the Samuel Curtis Johnson Graduate School of Management from the Smeal College of Business at Pennsylvania State University. Learn more about Kankanhalli's areas of expertise, research focus, courses she will be teaching, and other interests in this Q&A.
Shreya Kankanhalli | Assistant Professor of Marketing | Johnson
What are your research and teaching areas of focus?
I conduct randomized field experiments and econometric analysis to investigate firm strategies and consumer behavior in developing economies. Substantively, my current research focuses on how traditional, small-scale retail firms can modernize and adopt digital technologies. I aim to do policy-relevant research that uncovers mechanisms by which small-scale firms can improve their performance and climb the growth ladder. I create novel datasets in my research by collecting primary field data on understudied marketing variables, algorithmically analyzing images of firms, and obtaining electronic transaction data from traditional firms. This research agenda is driven by my broad interest in global poverty alleviation.
Additionally, I teach topics related to marketing strategy and research.
What class(es) will you be teaching this year?
I will be teaching the Strategic Product and Marketing Immersion this year. This course provides students with real-world experience in developing and testing marketing solutions by partnering them with consumer-product, high-tech, and service companies to solve strategic challenges. The course also provides a strong theoretical foundation in product and brand management, which can be applied to these client projects.
What attracted you to the Cornell SC Johnson College of Business and to the Samuel Curtis Johnson Graduate School of Management, specifically?
I was attracted to the Cornell SC Johnson College of Business and the Samuel Curtis Johnson Graduate School of Management for its ethos of encouraging ambitious projects to address important global challenges. The school prioritizes making a positive, sustainable impact on the world through businesses, without compromising on academic rigor.
When did you know you wanted to be a professor?
 I was raised in a family of academics, so as a young child I hardly knew about any other career path than becoming a professor! During my undergraduate years at Cambridge (England), I rebelled against this seemingly pre-destined path through internships in banking and economic consulting, but ultimately, by the time I graduated, I realized that nothing made me happier than pursuing academic research. My passion for teaching also grew concurrently during this time, when I was volunteering as a math tutor for local elementary-school students who were part of the free school meals program. I was laser-focused on becoming a professor since then.
What are you most looking forward to during your first year at Johnson?
I am most looking forward to getting to know the faculty and students at Johnson! Having heard of how collaborative this community is, I look forward to starting new projects and learning from my exceptional peers.
What do you do to recharge?
My go-to activities for recharging are playing basketball (despite my height), hiking, and listening to true-crime podcasts. I also love to travel, especially to Mexico. I am lucky to visit the country multiple times a year in order to manage my field experiments and I enjoy the incredible cuisine while I'm there.
Learn more about Shreya Kankanhalli and her research on her personal website and follow her on Twitter at @SKankanhalli and on Linkedin.