Consultant Olga Abrosimova Juin engages with diverse clients on global M&A deals
Celebrating 10 Under 10 honoree Olga Abrosimova Juin, MBA '17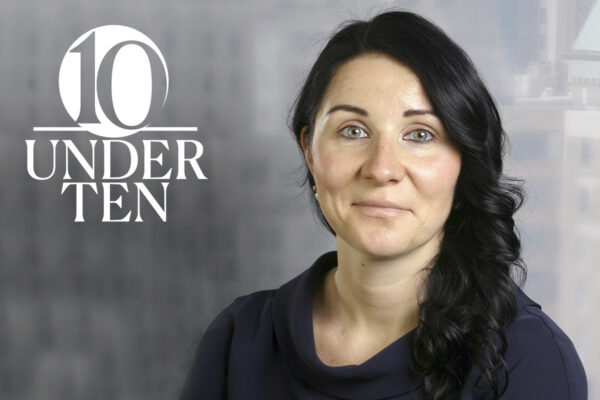 A strategy and transactions consultant who is committed to increasing diversity in business; a mentor, speaker, and recruiter for aspiring business leaders;  and a cofounder of the Class of 2017 Becca Blanco Memorial Scholarship, Olga Abrosimova Juin, MBA '17 (Two-Year MBA) is one of the 2022 10 Under 10 Notable Alumni honored by the Johnson Recent Alumni Council (JRAC).
Abrosimova Juin is a senior director in mergers and acquisitions at EY-Parthenon in New York City, where she has held positions of increasing responsibility since earning her MBA. While earlier in her career she founded a boutique agency and produced global events with high-profile speakers, now she works on some of the largest global deals in the market. A due diligence associate with Big Red Ventures at Johnson, Abrosimova Juin also completed a master's degree in public policy at Johns Hopkins University in 2017.
Abrosimova Juin hails from Eschweiler, Germany, and now calls New York City home. Her favorite quote is from Madonna: "Absolutely no regret."
Learn more about Abrosimova Juin in this Q&A.
A multitasker driven by cultural curiosity and a champion for the next generation of leaders
Q. What drives your commitment and focus in your professional career?
Abrosimova Juin: I always enjoyed working on multiple things at once. That was true during my pre-MBA years and it is even more true now. My job allows me to engage with clients all over the world and learn about things that I would not have come across otherwise, such as different industries and company cultures. Working with Fortune 500 companies as a consultant, I focus primarily on acquisitions and spend around six months with each client, so I get to learn about their culture and business processes. Basically, I get to try on a different firm every time I get on a new project.
This job also gives me a platform to champion people around me—people who are part of my engagement teams or who are working with me on internal initiatives or on recruiting. I am very appreciative of this opportunity and understand the responsibility that comes with it. I have been fortunate to encounter amazing mentors and sponsors throughout my journey with EYP and I am conscious about paying it forward to the next generation of leaders.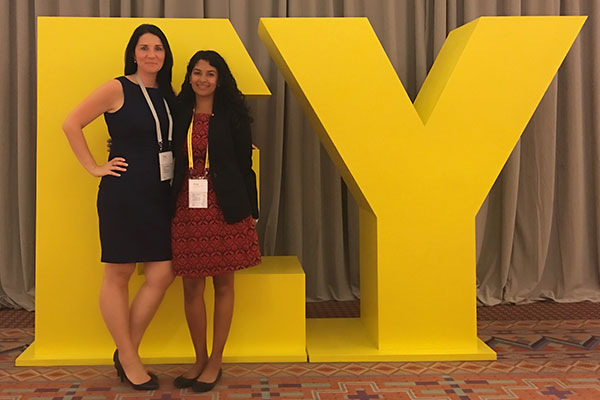 Giving back through mentoring and raising awareness for pets in need
Q. What inspires you to dedicate your time and energy to this community service? What impact do you want to have in the world?
Abrosimova Juin: The way we approach community service in the U.S. is uniquely American—at least, in my experience. The ability to engage with society at large through nonprofits and philanthropy allows every member of that society to leave a mark. Having been introduced to this concept when I first came here 15 years ago shaped my experience and the person I have become.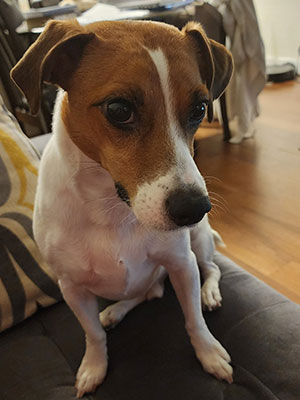 My efforts largely focus on education (Forté), increasing diversity in business (the Consortium, National Black MBA Association, and National Urban League), and animal welfare (Pound Hounds ResQ). All these organizations have had a lasting impact on my life and it's an honor to be able to support them in their work.
For Forté, I have mentored small groups of pre-MBA women through their business school application process as an MBALaunch mentor. I applied to Johnson through the Consortium; post-graduation, I attend Consortium events and mentor Consortium students (primarily Johnson MBA applicants). I donate to Pound Hounds ResQ campaigns and help raise awareness, and my husband and I adopted a special needs dog from them.
Life-changing Cornell experience inspires gratitude to pay it forward
I am a very dedicated Cornell alumna: I come back multiple times a year to recruit for EYP; I guest lecture in several classes, including Randy Allen's consulting class; I am a member of the regional alumni club of New York City; and I helped plan our fifth class reunion as a member of the reunion committee. My sister Valeria Kaplan, MBA '24, is a first-year student in the Two-Year MBA program at Johnson right now. Most importantly, I cofounded the Class of 2017 Becca Blanco Memorial Scholarship.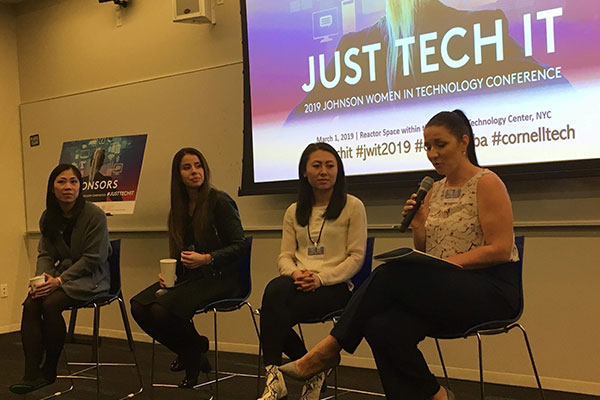 Q. What drives your continued engagement with and contribution to the Cornell community?
 Abrosimova Juin: Cornell has changed my life on so many levels and I will forever be grateful for that. I strive to give back and pay it forward as I benefited immensely from other Cornell alums who took the time to help and support me. That deep sense of gratitude is what drives my commitment and dedication to Cornell community.
Q. What does being selected for the Johnson 10 Under 10 Notable Alumni list mean to you?
 Abrosimova Juin: First of all, I am deeply honored to be recognized among such an esteemed group. Second, I feel a sense of pride and acknowledgment. It feels really good to know that my contributions are recognized and valued. But most importantly, it's incredibly motivating and energizing and it makes me feel even more grateful to be a part of the Cornell community.
People matter most: Transformative experiences in leading others
Q. What are the most valuable things you learned at Johnson that have helped you in your career?
Abrosimova Juin: People are what matters most. Johnson does a great job of creating opportunities to excel as a leader and pushing us to become better at communicating and navigating team dynamics. As a consultant, I deal with challenging situations and individuals every day and the skills I gained at Johnson help me to be successful at it.
The communications and critical and strategic thinking classes with Risa Mish, my time as a Johnson Leadership Fellow and Career Work Group leader—these were among my most transformative experiences. While coaching and leading others, you learn so much more about yourself—your weaknesses and strengths and the ways in which you can grow. Those roles are also a huge responsibility; you have to be nominated for them by multiple faculty members, so it's an honor and also a lot of extra work. Those experiences certainly made me the person I am today.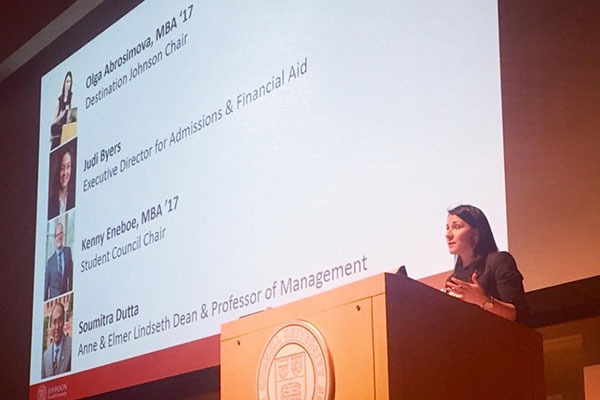 Q. Did any particular faculty member(s) influence you on your chosen career path?
Abrosimova Juin: Three professors at Johnson have undoubtedly changed me as a person: Risa Mish, Angela Noble-Grange, and Randy Allen. These three ladies selflessly give their time and energy to their students to ensure that we become the best versions of ourselves. I owe them a debt of gratitude and I am very fortunate to now call them friends and mentors.
Q. Describe a challenge you encountered as you built your career and how you overcame it.
Abrosimova Juin: My approach to my career has been somewhat unconventional. I have never tried to maintain strict boundaries between my personal and professional lives; those lines are very much blurred. My EYP colleagues and my Cornell classmates are my very dear friends and family, and there is quite a bit of overlap between those two groups. My wedding was pretty much a Cornell and EYP meet-up on my side of the aisle.
When I choose to be part of a community or organization, I am fully committed and I dedicate my whole self. That is why it is so important to choose the ones that share your values and that will support you in return. Knowing where you fit in and where you can thrive is critical; I learned that early on in my career.
Channeling loss and grief into the Class of 2017 Becca Blanco Memorial Scholarship
Q. What is the proudest moment of your career or of your personal life?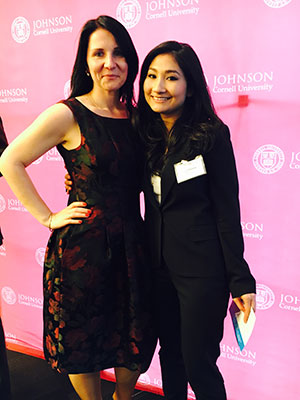 Abrosimova Juin: My proudest moment came about following a tragedy. In 2018, one of my closest friends, classmate Becca Blanco, MBA '17, was tragically killed in a bus crash. Her death impacted me on many different levels and made me reevaluate my entire life. But what I remember the most from the first couple of days after the accident was a strong feeling of anger and a sense of injustice. What happened should have never happened.
I would be lying if I said that the feeling of anger and injustice has disappeared. But it did inspire me to memorialize Becca and everything that she stood for. My Johnson classmates Kartin Prasad Sood, Steve Daddeo, and I came together to rally our class around the idea of establishing the Class of 2017 Becca Blanco Memorial Scholarship. I am incredibly proud of our class not only for getting the scholarship off the ground, but also for making sure we raised enough money in its first year (!) to ensure it can be awarded in perpetuity. We have been able to award the scholarship to four outstanding Johnson women to date, and we are incredibly grateful for being able to keep Becca's memory alive in this way.
Q. What do you do to recharge?
Abrosimova Juin: I travel. I love luxurious vacations to exotic places and I spend quite a bit of time researching and planning those trips (detailed itineraries in Excel, anyone?). Changes of scenery and new experiences help me recharge and reflect on the past, present, and future. I love exploring the unknown and I equally love coming back home and diving back into my job, my goals, my life.
The journey is more important than the destination
Q. What do you wish you'd known as a Johnson student and what advice would you give to Johnson students today?
Abrosimova Juin: You are going through one of the most transformative experiences in your life. Make sure you take the time to enjoy it. With business school, as with so many other things in life, the journey is more important than the destination. And if you have to pick between classes and hanging out with classmates, please choose the classmates. You will not really remember what you learned in any particular class, but you will never forget the fun times you shared with your friends.