Investing in Impact: Paul Kavuma is a champion of Africa's economic resilience
Paul Kavuma, MBA '93, inaugural recipient of the Emerging Markets Institute Cañizares Alumni Award, discusses opportunities in post-COVID Africa.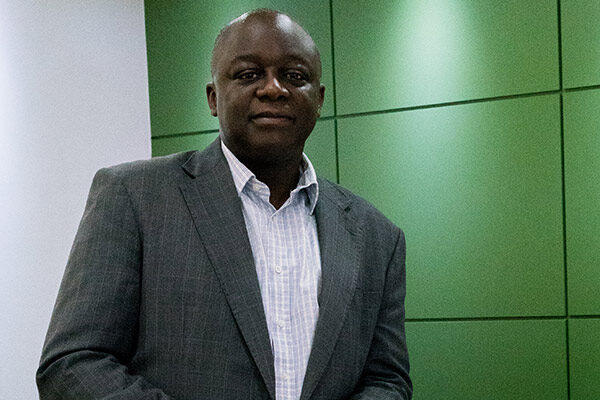 No one has greater faith in African resilience than Catalyst Principal Partners CEO and founder Paul Kavuma, MBA '93. In fact, he's built his career on it, leaving the U.S. for Africa in 2004 to lead private equity investing at Actis Capital. Even when COVID shook the global economy, Kavuma's confidence and commitment were unwavering.
After years of momentum, the pandemic brought economic uncertainty and extinguished much of the venture capital activity throughout the continent. Deals fell from a total of $4 billion in 2019 to just $1 billion in 2020. But after two decades of leading investments in Africa and watching companies overcome challenges ranging from economic downturns to civil war and terrorism, Kavuma knew there was reason to remain optimistic.
The International Finance Corporation (IFC) predicted that VC-funded companies in Africa would come back stronger than ever and already, all indications suggest a healthy recovery. Estimates point to nearly $7 billion in venture-backed deals throughout the continent with $500 million dollars invested in ESG products by the end of the year. This massive rebound is thanks—in no small part—to the dedication of local investors and thought leaders like Paul Kavuma.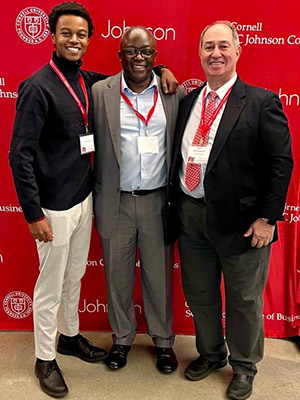 As the inaugural recipient of the Emerging Markets Institute Cañizares Alumni Award, Kavuma embodies the values of a true visionary, honored for his leadership, successful career, and contribution to human development in emerging markets. While, like many, he sees the potential surrounding emerging markets in Africa, what differentiates Kavuma is his deep understanding of what's actually required to unlock it—even in the midst of unprecedented challenges.
"Why do we need business leaders?" asked Emerging Markets Institute board member Roberto Cañizares, MBA '74, at Kavuma's award presentation ceremony, held in November at the Emerging Markets Institute Conference 2022: Reinventing Global Value Chains. "Leaders are the engines of human progress," said Cañizares. "Improvement in these countries wouldn't have happened without leaders. But even beyond that, you need leaders who can make meaning out of chaos."
Investing amid the chaos
While COVID rattled the world, Kavuma saw that it opened up a unique opportunity for investments in Africa. Because the pandemic created an urgent need to connect people digitally, technological innovation in sectors such as education, healthcare, and even agriculture flourished. Venture capital investments led to the emergence and rapid rise of new tools and solutions, which enabled businesses to leapfrog gradual digitalization out of sheer necessity. More than a third (33%) of telemedicine startups in Africa today were founded amid the pandemic, including Babyl (Rwanda), Vezeeta (Egypt), DRO Health (Nigeria) & Zuri Health (Kenya).
"Almost overnight, fintech was no longer the only industry with advanced digital capabilities. COVID provided the urgency that Africa needed for a technological boom," Kavuma explained during a panel discussion with Faridah Usman, director at Kuramo Capital Management, at the EMI conference.
And while Africa was not "unscathed" by COVID, the "bounce back" is shaping up to be an opportune moment for investment. Kavuma emphasized that despite Africa's continued reliance on capital flows, its defensive sectors are solid, as are education, food, and housing. "Local demand in these areas has remained strong," he said.
The consistent presence of development finance institutions (DFIs) in Africa is another key reason for ongoing resilience. These organizations account for over 75 percent of the private equity venture capital that flows through Africa, and have a keen focus on ESG. As the world gradually tunes into the need for ESG investing, it has been well underway in Africa for at least a decade. "These smart investments pay off in times of crisis," Kavuma explained, "and feed a more resilient ecosystem."
In short, what appeared to be chaos to an untrained eye was an opportunity to Kavuma. COVID had transformed many areas of Africa into growth hot spots, ripe and ready to thrive with the right investments. But making the right investments isn't simple. In Africa, it requires the right partners.
Local knowledge leads the way
One of the biggest misconceptions investors have about Africa is that it's a single market. But "Africa is not a country," Kavuma reminded the audience during the panel discussion. Investors without a local presence often fail to research the nuances of different countries and make uninformed decisions. Kenya and Nigeria, for example, are on opposite coasts and therefore couldn't be more different, Kavuma pointed out.
"Local knowledge is everything. It's not the only way in, but it's the best way in. Yes, you can technically invest without local insights, but it won't get you results. To maximize returns, local partners must be prioritized," Kavuma said.
Firms like Catalyst Principal Partners have a profound understanding of African economies and can guide investments, especially when it comes to ESG. Because ESG investing isn't new in Africa, separating the wheat from the chaff requires critical evaluation.
For example, Catalyst is increasingly driving investment in companies that don't just claim to prioritize ESG, but actually demonstrate true impact. "It's no longer just about safety standards or sustainability standards. We're looking at companies holistically to understand the role they'll play in their community and in society more broadly," Kavuma explained. In fact, some investors are even looking beyond "impact investing" and towards JEDI values: justice, equity, diversity, and inclusion. "DFIs are pushing for this, and others are following suit," Usman added.
Yet as firms like Catalyst become ever-more crucial for navigating African markets, there's a growing need to further mobilize local efforts to keep venture capital flowing. "We still have a high dependency on outside markets. We face so many impediments. Why is it so difficult to raise $4 billion for investment in Africa when we have institutions elsewhere that can raise this in a day?" Kavuma asked. "We have an obligation to do better."
An eternal optimist
It's this innate sense of obligation that brought Kavuma to Africa in 2004, and it's one of many attributes that earned him the Cañizares Alumni Award. "There are many investors that talk about African emerging markets and the potential there, but some have never even set foot there. But [Kavuma] moved there," said Lourdes Casanova, the Gail and Roberto Cañizares director of the Emerging Markets Institute.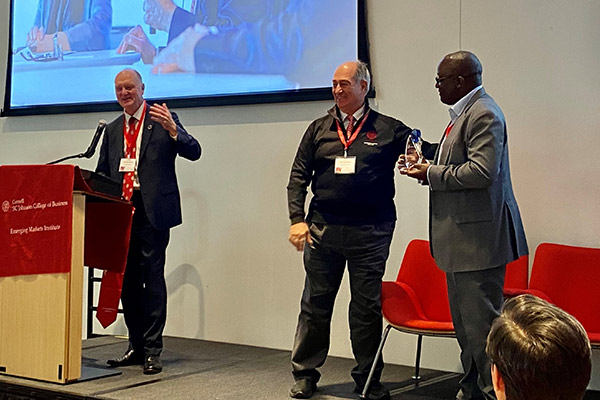 Over the course of his career, Kavuma has exhibited an undying commitment to acting in the best interest of the markets he serves, rather than solely his own. Not only did he leave the U.S. to work in Africa when he was leading investments as part of Actis Capital LLP; he also walked away from Actis when the deals the firm was pursuing grew beyond Kavuma's sweet spot. Focused on staying firmly planted within the mid-market, he embarked on a journey to found Catalyst where he could better serve smaller companies with greater needs—and in doing so generate greater returns for investors, too.
Perhaps Kavuma's most powerful trait, however, is his ability to see beyond what's directly in front of him, and imagine the possibility and potential of what's to come. It's what drives his business decisions as CEO at Catalyst Principal Partners, and what shapes his outlook on emerging markets in Africa in general.
"There's still a lot of chaos in the world. But for Africa, this again creates an avenue for growth. The dislocation of the supply chain is providing opportunities to localize production. Expertise is coming. Scale will be built. While the world is figuring out what it's doing, we'll be seeing an interesting and productive return environment over the next decade," he predicts.